Long exposure photography, a captivating photographic technique, enables you to capture the world in a way that transcends the ordinary. By extending the duration of your iPhone's exposure, you can create images that are truly extraordinary. In this article, we will unravel the secrets of long exposure photography on your iPhone, right from understanding the fundamentals to mastering the art.
What is long exposure Photo?
Usually, in general photo shots, the shutter opens for a fraction of a second, however, in long exposure photography the camera's shutter opens for a longer time, like seconds or minutes. It catches and mixes up all the light and action it sees. This makes things like car lights look like streaks, water turns smooth and dreamy and appears to flow like silk, moving objects of the scene draw lines across the image, and stars form trails. It's like a magical recipe for making your photos look artistic and special. This happens because the water or the other object is moving while the shutter stays open and it blurs across the image before the shutter closes but anything that is not moving will stay perfectly in focus. The following pictures are a few examples of long-exposure photography.
How to take Long Exposure Photos in iPhone 15?
First, prepare yourself and your Camera to take a perfect long-exposure photo.
Setting Up Your iPhone
Prioritize Stability: Place your iPhone on a secure surface or attach it to a tripod. Any movement during the exposure can compromise the shot.
Activate Gridlines: In your iPhone's camera settings, enable gridlines to assist with composition and balance.
Focus and Exposure Control: Tap on the screen to set your desired focus point, and adjust the exposure by sliding your finger up or down.
Capturing the Long Exposure Shot on iPhone 15
1. Open the iPhone camera, and select the Photo mode.
2. Tap the dotted circular icon on the top right corner to turn the live mode on.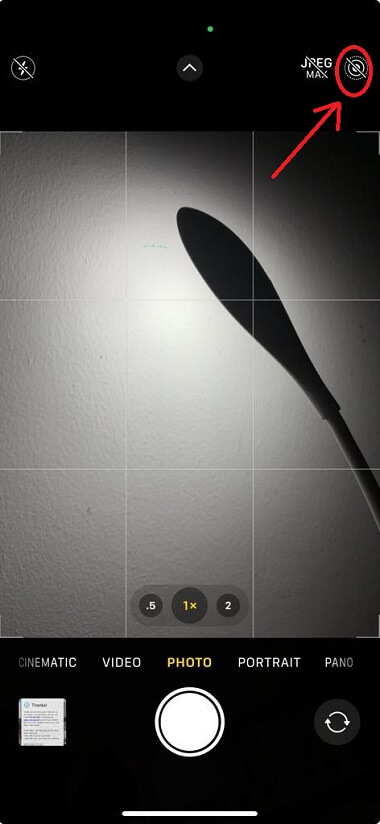 3. Now, On your iPhone, manually control the shutter speed by swiping your finger up or down. Aim for a shutter speed of at least 1 second or longer for optimal results. Alternatively, you can swipe up to see additional control and click the icon +/- icon in a circle, which opens a slider. use the slider to adjust the shutter speed to 1s or more.
4. Now capture the shot.
5. The magical part begins now. You need to open the photo and tap on the dropdown for the live option on the upper left corner. Select the option long exposure. Your iPhone will take a few seconds and turn the photo to long exposure.
That is it.! Using this technique with moving objects and under proper lighting you can take amazing and magical shots of the moving traffic, Natural scenery, and much more. Go ahead and try this yourself.
I hope you liked this article. You can also watch my YouTube video on how to take long-exposure photo using iPhone 15. There is another video on how to take a 48MP shot on iPhone 15?
Subscribe to our YouTube channel for amazing tips and Tricks on iPhone, Mac, Windows, and other Tech Gadgets.