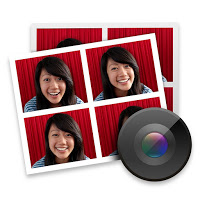 Photo Booth is an application developed by Apple Inc. and first introduced in OS X 10.5 for taking photos and videos with an iSight camera by Apple Inc. which is available in both Mac computers and iPads (on the iPad and iPad Mini available starting with the iPad 2). Videos captured by Photo Booth are by default saved in MOV or M4V extensions which are the video file format developed by Apple Inc. for its QuickTime Player. M4V files are very similar to MP4 file formats but it may optionally be protected by DRM copy protection. M4V files can be converted to MP4 format just by renaming its extension if it is not protected. Photo Booth is a recreational application, used for fun and personal video recording. It is very limited in features and not very robust: To do serious recording, it is highly recommended to use iMovie or QuickTime Video Recording or a dedicated third-party application. Photo Booth is mostly used in applying special effects like Swirl effect, frog , Chipmunks and replacing the background in the photo or video being taken or the one that has already been taken.
Photo Booth Pictures Effect
Pictures and videos taken by Photo Booth are saved to ~/Pictures/Photo Booth Library but to see the pictures or videos you will have to right click on the Photo Booth Library and select "Show Package Contents" From there you will find all your photos and videos inside another folder called "Pictures".Videos and photos you take with the program can be shared using iChat, email and social networks.
Photo Booth is also a memory and processor intensive program like any other video recording software.It is recommended to avoid using other applications during recording, as they can steal computing bandwidth and video quality can degrade.Most of the Mac users have reported that Photo Booth application freezes and crashes in the middle of recording a video or it may experience freezing/lagging issue. Sometimes the app freezes so often, even right after you begin recording,so for sure it's not an issue caused by length/size of a video being recorded. And if you press stop button when you are done recording you get the infamous "spinning wheel of death" or a Beach Ball sign.You may face following other issue with Photo Booth as reported by many users.
Photo Booth freezes after every 30 seconds while recording videos.
Photo Booth video recording is laggy.
Photo Booth freezes after taking picture and no picture shows up.

Photo Booth may experience all or any of the above issue due to multiple possible reasons which are majorly related to the limitation of memory and resources available for the program, permissions issue or a hardware fault with iSight Camera or other associated hardware. To fix such issues with Photo Booth you must understand the root cause of the problem and how the application works. Below here I have tried to collect all the possible reasons and their solution in order to fix Photo Booth freezing and crashing issue.
Photo Booth freezes and crashes
Solutions and Reasons to Photo Booth Freezing and Crashing issue
Photo Booth Freezes and Crashes due to limitation of Memory and processor
(1). Before troubleshooting Photo Booth 's freezing or crashing issue you must understand that video recording is a processor intensive task and so Photo Booth is too.Also Photo Booth's stored pictures are loaded into memory when you launch the application, so it has a direct correlation with the total picture count and the speed of the program.The more pictures you have, the more memory they utilize, and the slower Photo Booth will run.
If you are also running many more apps than only the Photo Booth app while you are recording, your Mac's processor may be working near its limit.Try recording after quitting all other applications.

Disconnect all peripherals while you are recording video to help reduce processor power requirements while recording.

Restart your Mac before recording video to ensure you are not having interference from multiple user accounts or apps/widgets running by them.
Remember that things like widgets and Time Machine backups, Dropbox, automatic checks for Mail, iCal alarms, iCloud Synchronization etc., and other background activities also add to your Mac's workload. The actions for the apps mentioned (and for most other such apps) can be disabled in "Preferences" for the apps that control them.
Quit any incompatible application that require a different processor or graphics card. See the documentation that came with the application to find out what it requires.
Many users have reported that they have fixed this issue after uninstalling Dropbox and disabling iCloud storage synchronization as they keep utilizing the computer's memory and resources while uploading stuff in the background.
Check your computer's startup disk to see if it has enough free disk space. Use your Mac's Finder > File > Get Info menu command to check available free space.To make disk space available, you can move files to another disk and then delete files you no longer need on the startup disk.
Move the pictures and videos from Photo Booth application to another directory (or load them into iPhoto), and relaunch the program.
(2). If none of the above suggestions work and Photo Booth still freezes or crashes then try to run the application in 32-bit mode.
(3). The other cause of  these symptoms may lie in your system software.Update the system software with the latest available update.

(4). Reset NVRAM / PRAM. 
Photo Booth Freezes and Crashes also due to Permissions issue
(5). If none of the above suggestions work, you may have permissions issue on the hard drive or with system files that needs to be repaired by Disk Utility.
Repair Disk Permissions using Disk Utility.
Right click or Control + Click on Photo Booth in applications folder and select Get Info to see if you have read and write permissions on it. If not, give yourself permissions to read and write.
Similarly, go to ~/Pictures/ and Right click or Control + Click on Photo Booth Library and select Get Info to see if you have read and write permissions on it. If not, give yourself permissions to read and write. Some users have fixed this issue by deleting the default Photo Booth Library located in the default pictures folder as it creates a fresh new Library which will already have the read and write permission to the creator / Owner.


Check the permission on photo booth App if it freezes or crashes
Your iSight Camera might be experiencing some technical fault causing the Photo Booth to freeze or crash.
(6).  Another reasons why Photo Booth freezes or crashes is a faulty iSight webcam or if there are software conflicts. Photo Booth can work with both built-in and external webcams.
Whether you're using an external iSight webcam or the built-in iSight camera that comes with your Mac, or a webcam developed by another company other than Apple only one program can work with the webcam at a time. Photo Booth might crash or close unexpectedly if you launch or use another program that also requires the webcam. Closing the other program and relaunching Photo Booth may solve the problem.
Check if the camera works in iMovie when you record a video with it (from the camera icon somewhere down the left hand side). If it has the same problem in iMovie it would suggest a fault with the camera hardware which will require the Mac being returned to Apple.


Check the camera in iMovie if it freezes with Photo Booth

If it works fine with iMovie try deleting the Photo Booth preferences: Delete com.apple.PhotoBooth.plist from ~/Library/Preferences.
Check if the camera is detected by the Mac as a USB hardware device in your Mac's System Profiler utility, which can be accessed from More Info button at About this Mac utility.  If your iSight Camera does not show up under USB devices in Hardware sections, contact Apple or an Apple-Authorized Service Provider for service.


Photo Booth freezes or crashes

According to Apple, QuickTime Player version 7.5.5 can cause media conflicts with Photo Booth. The conflict can cause the application to crash and quit unexpectedly, especially when you click the "Record" button to record movies or view photos. If you're using version 7.5.5, update the player to the latest version. Also remove any third party application which has a know issue with Photo Booth like AirParrot, QuickTime Player Ver 7.5.5 , Dropbox.
If nothing works try in different user account to see whether it work with.
Increase Memory of your Mac to fix freezing and crashing issues due to low on memory.
(7). Install the maximum amount of RAM your Mac can use to boost the performance.
(8). Reinstall OS X if you have tried all the above method and your Photo Booth still freezes and crashes.