The MacOS Ventura operating system offers users the ability to perform a range of actions using a Multi-Touch trackpad or Magic Mouse. These actions include tapping, swiping, pinching, or spreading one or more fingers across the trackpad. Users can customize these gestures by accessing the System Preferences through the Apple menu and selecting Trackpad.
Despite this, several Mac users on Apple's support website and forums like Reddit have pointed out that a bug specifically impacts the widely-used pinch-to-zoom trackpad gesture. As one of the most frequently employed gestures on the Mac, its malfunction can significantly disrupt users' workflow.
Recently, a user reported on the Apple forum that he experiences periodic issues with the pinch-to-zoom functionality on his MacOS Ventura, despite using an Air M2. He has tried turning Pinch to Zoom on and off in the Trackpad settings about 6-7 times to fix the issue, which takes up about 5 minutes of his workday. As a product designer, he relies heavily on this functionality and has found it frustrating and disruptive to his workflow. He is curious if anyone has found a solution to this problem, and has also noticed similar threads about this issue on other Mac models and operating systems dating back five years.
There can be different reasons why the pinch-to-zoom gesture may stop working sporadically on a Mac running on MacOS Ventura or other operating systems. Some possible causes include:
software bugs
conflicts with other apps or programs
outdated or corrupted system files
hardware issues with the trackpad or mouse
In this article, we will provide you with effective solutions to solve the pinch-to-zoom not working issue on MacOS Ventura, allowing you to get back to work without any interruptions.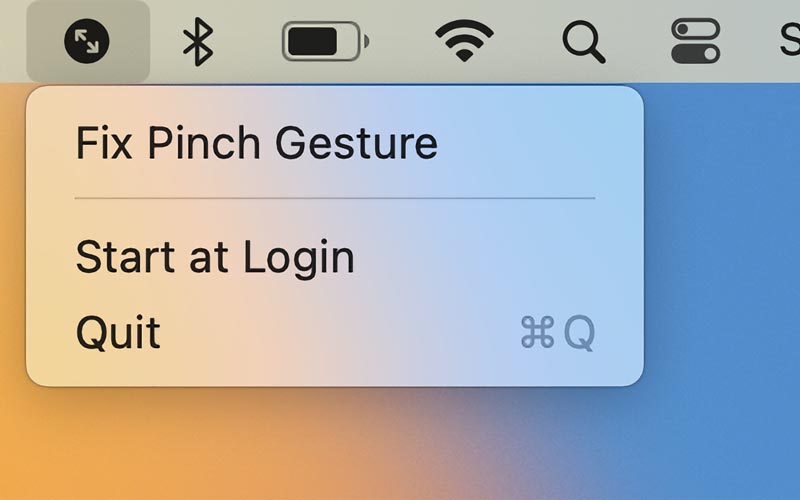 Fix 1: Download a menubar app
This solution involves downloading a menubar app using the attached link. It allows users to fix the faulty Mac trackpad pinch gesture with just one click. One of the users recommended this fix on the Apple forum which turned out to be workable for several users. This solution was provided on GitHub by the web dev, Dan Liu.
The issue of the pinch gesture not working is a bug that was foremost introduced in Monterey and has not been fixed yet. However, the solution that has worked for the app developer is to kill the Dock process utilizing a command in the terminal. This command is now integrated into the app, making it easier for users to fix the issue with just a click.
It is worth noting that this solution may not work for everyone, so the developer has updated the app to also toggle the preference on and off. This provides users with an alternative fix in case the command does not work for them.
Also Read- How To Turn off "Link Preview" In Mail- macOS Ventura
Fix 2: Keep your Mac updated
Another suggestion on the Apple forum is to update the Mac to the latest software which releases recently. Apple frequently releases updates for macOS software, which can provide necessary security updates. And improvements to the performance, stability, and compatibility of your Mac. It is highly recommended for all macOS Ventura users to install these updates. As the latest update includes crucial bug fixes and security updates.
To download macOS software updates, adhere to the steps below:
Begin by clicking on the Apple menu located in the top left corner of your Mac screen. After that, to access the System Preferences pane, choose "System Preferences" from the options list.
In the System Preferences window, locate and click on the "General" option in the sidebar. After that, tap on "Software Update" to open the Software Update window on your Mac.
Finally, to download and install the available updates, click on the "Upgrade Now" button.
Also Read- Perpetual "Background Items Added" After Updating To macOS Ventura: Fixed
Fix 3: Ensuring Proper Gestures Recognition
A gesture, such as the pinch-to-zoom gesture, requires specific finger movements on the trackpad to recognize by the computer. If anything is blocking the trackpad, such as a portion of your hand or another object. The gesture may not be recognized by the computer. Therefore, to ensure the gesture works properly, you need to make sure your hand is not blocking any part of the trackpad.
Also Read- How To Back Up Your Mac With Time Machine In macOS Ventura
Fix 4: Check the system settings on your Mac
You can check your Zoom in or out setting on your Mac by following the steps given below:
Simply, tap on the Apple logo located in the top left corner of your Mac's screen. Choose System Preferences from the options menu.
Once the System Preferences/Settings window opens, click on Trackpad and finally tap on the Scroll & Zoom tab.
After that, check if the Zoom in or out option remains toggled on, but If not, you can toggle it on.
Also Read- File Can't Be Found Error macOS Ventura [Fixed]
Conclusion
In conclusion, the issue of pinch to zoom not working on MacOS Ventura can be solved by trying out a few simple solutions. These solutions include checking system settings to ensure that the "Zoom in or out" option remains toggled on. Thus, making sure that nothing is obstructing the trackpad. Also downloading a menubar app to fix the issue. It is important to note that the issue may also cause by software bugs. Or hardware issues, and in such cases, contacting Apple support may be necessary.