Switch Users is available on Windows 11 for people who work on a computer that is shared. If you want to use Windows 11, like Windows 10, you have to use a Microsoft account on your computer and other things. But it's true that these accounts have some benefits, like being able to sync and having built-in support for a lot of Microsoft services. Even though, it also means that you might be worried about giving Microsoft access to some of your personal information. It's good that you can change your account in Windows 11 from a Microsoft one to a local one at any time. So even if you have Windows 11 Home installed, you can still do this. Microsoft almost forces you to sign in or set up an account with them when you set up Windows 11. 
The Switch User tool comes in handy when there are more than one user account on a single PC. Switch user lets you switch between accounts without having to leave your account or close apps and files. Your open apps, files, and folders are all kept. When you switch back to your old account, you can pick up where you left off. 
If someone is on your computer from afar, they won't be able to see how quickly you switch between users. Remote Desktop Connection has this feature turned off. Another thing you should do before switching to a new account is to save your work. There is a chance that any user account that has logged into your computer can shut down or restart it. This means that you could lose any work that hasn't been saved on your account. 
Users can switch between each other in a number of ways on Windows 11. We'll go over them one by one.
Also read:How To Fix No Internet Secured Error In Windows 11
How to change users from the start menu?
Step 1: Click on the Start button on the taskbar or type in the Windows key on your keyboard to open your Start menu. 
Step 2: Click on the profile picture. Then, choose the account you want to switch from the list that comes up when you do this. 
How do I change accounts from the Shut Down Windows?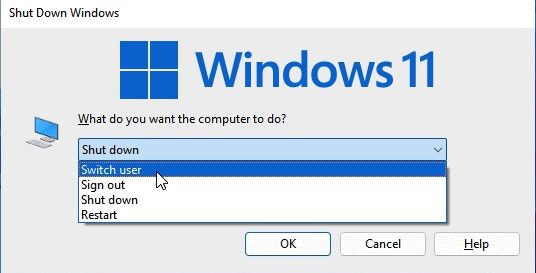 Use the shortcut keys Windows + D to minimize or close all the open applications, files, and folders. 

Then, press the Alt + F4 keys on your keyboard. 

When you're done, click OK.
How to Switch Users using CTRL + ALT + DEL keyboard shortcut?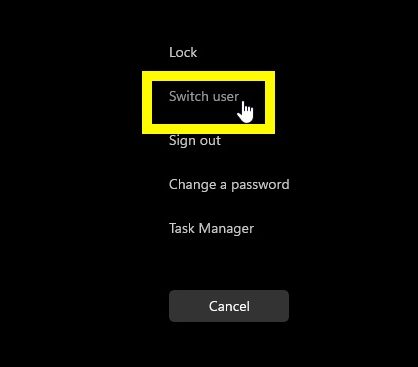 To switch users on Windows 11, press CTRL + ALT + DEL on the keyboard to do it. On the Windows that show up, choose Switch user from the drop-down menu that shows.
Also read:Steam Overlay Not Working In Windows 11? Try These Fixes
When you switch users in Windows, what happens to all of the running processes? 
In the long run, the first user's processes will stay in memory. Even if new methods are used for the same things, they will be used again. You can think of it like this: If the second person opens Chrome, the first person already has it open. Each will be running its own process. 
How many users can log in the same time?
It is possible for only one person to use an operating system at a time on a PC. Even though many people have accounts, only one person can be online at a time. 
Server versions let more than one person log in from a text or graphical terminal and use the server's resources from afar. 
Also read:How To Fix Minecraft Black Screen Issue On Windows 11
How to Make a One-Click Shortcut for Switching Users? 
There aren't any shortcut apps in Windows that let you switch users. You can, however, use the Windows Key + L combination to get to the login screen and change users there. 
Do Different Windows Profiles Run at the Same Time?
There is a tab called Users in the Task Manager that shows other users and their resources. You can check how often they use by going there. You can keep something running even when you switch users. Think about getting a Professional or Enterprise version of Windows (or at least until they stopped simultaneous logins). So, you could use the same computer as both your "console" and a remote desktop at the same time. 
The last thoughts. 
So these are the methods you can move to a different user in Windows 11 without having to lose any data or close any apps. It's easy for most people to switch users from the Start menu, but if you want more options like shortcuts and commands, we have also talked about that. There you go.