Any conversation on Microsoft Edge must start with a discussion of Chromium. Google was the original developer of this web browser project. Like other successful open-source projects, it remains continually improved by numerous third parties, and Microsoft is only one of them.
Besides, in comparison to Chrome, Microsoft's switch to Chromium for the Edge browser has quickly garnered momentum. Microsoft Edge is an amazing substitute for Chrome for macOS users looking for an alternative to Safari thanks to its speedy performance and insignificant impact on battery life.
Google has always promised a "lightweight and quick" online experience with Chromium. After that, it has mostly been up to others to convince people that browser-specific features are worthwhile.
Microsoft Edge's initial Chromium-based iteration is brimming with notable features. Those that appear on the front will undoubtedly get the greatest attention. The most impressive aspects, though, are those that take place behind the scenes. Let's talk about some notable aspects of the new Edge…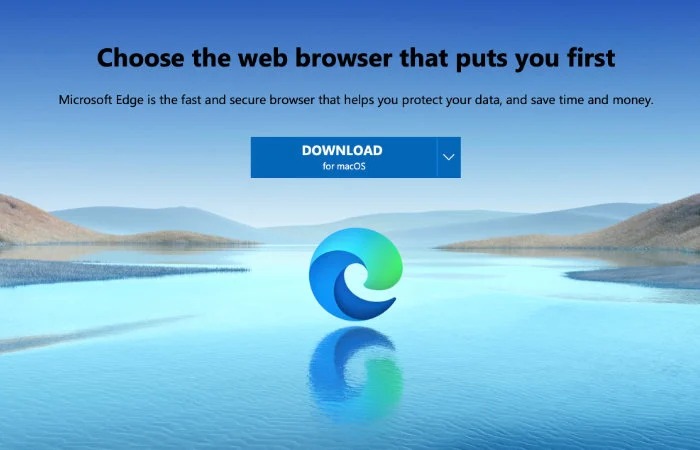 Also Read- How To Enable Or Disable Split Screen Feature In Microsoft Edge
Tracking prevention for privacy-conscious users
Tracking prevention is an integral element for privacy-conscious users who want to limit the amount of data that is gathered about them while they browse the web. Microsoft Edge's three levels of tracking prevention give users more command over their online privacy, while still allowing for some personalization and a good browsing experience.
Microsoft's built-in Defender SmartScreen technology
In the meanwhile, Microsoft Edge's built-in Microsoft Defender SmartScreen technology can shield you from unintentionally visiting websites that have been flagged as phishing or malware websites. When you attempt to download potentially harmful files, the program also alerts you.
Microsoft has offered IT pros considerably more control over SmartScreen for people who work in an office setting. There is also the Application Guard, which uses hardware isolation to help protect enterprises from web-based threats.
Also Read- 8 Reasons Why Microsoft Edge Is The Best Browser For Mac
Plenty of Extensions and Compatibility
Compatibility is one of the benefits of using the Microsoft Edge browser, which is supported by Chromium. You can use the new Microsoft Edge extension, but you can also download files via the Chrome Web Store. Further, you now have access to more than 190,000 extensions and web apps thanks to compatibility. On the other hand, Safari has fewer than 100 options.
Unfortunately, just like other browsers, Edge also has some limitations. Two limitations that come with the Chromium version of Microsoft Edge may make it tough for users to adopt it, at least initially.
Also Read- 8 Reasons Why Microsoft Edge Is not the best option for Mac users
Limitations Of Microsoft Edge for Mac Users
Sync, which maintains your browser history, bookmarks, passwords, and other data the same across all of your devices, is one of Microsoft Edge's most crucial features. Sync is sadly not completely supported at launch. Microsoft will undoubtedly address this gap shortly, but it begs the question of why it was overlooked at such a high-profile debut.
For the second restriction, which only applies to Apple users, there is no simple workaround. Unlike Apple Safari, Microsoft Edge does not support iCloud. Your iCloud Keychain login and passwords cannot transfer to the new browser as a result. Apple Pay also isn't an option. Due to the former, individuals have had a difficult time accepting Microsoft Edge as their preferred browser over Apple Safari. This restriction doesn't matter, though, if you use a third-party password manager like 1Password.
Besides, these limitations several users faced errors on Edge such as connectivity issues, slow browsing, unable to locate downloads or favorites, and many more. For that reason, we gathered some of the common issues faced by lots of macOS users along with suitable fixes to make your browsing experience edge more enjoyable.
Also Read- How To Add Or Remove Buttons On Toolbar In Microsoft Edge
Common Issues of Edge on macOS
Microsoft Edge does not integrate as well with macOS as Safari or other favored browsers like Google Chrome or Mozilla Firefox. This means that some macOS features, such as Handoff, Continuity Camera, or iCloud Keychain, may not work as well with Microsoft Edge as they would with other browsers.
Following are some of the issues and their fixes, let's dive in!
1. Connectivity issues on macOS
The Edge browser may occasionally be unwilling to establish an internet connection. Consequently, you won't be able to access websites or watch videos or movies on platforms like Netflix or Youtube.
Quick Fixes:
Check whether it's your internet that causing the problem. If the WiFi symbol on the taskbar is not white. Make sure your modem/router is operating adequately.
Make sure the WiFi signal is strong enough. Move nearer to the router and see if that enhances connectivity.
In case you use a VPN, try turning it off. VPN can occasionally be problematic and intercept the browser from connecting to the internet.
Also Read- Microsoft Edge Incorporates ChatGPT-Like Features Into Its Browser
2. Can't Locate Downloads or Favorites on Edge Browser
If you are unable to find your downloads or favorites or facing an issue managing/arranging them, try the following tips to resolve this issue
Quick Fixes:
Try resetting your Microsoft Edge. You can reset it by heading to the Edge browser > Settings > Click on Reset settings and finally tap on Reset settings to their default values. After that, just relaunch the edge.
After the browser has restarted, look for Favorites. Furthermore, try logging out and back in again.
Tapping the "down arrow" button will display your downloads. If the downloaded file is not visible, simply, manually locate them in the Downloads folder.
Also Read- How To Enable And Use Split Screen In Microsoft Edge
OneDrive not Working on Edge Browser
On the macOS Edge Browser, OneDrive throws problems. According to Microsoft forums, several ActiveX compatibility issues are the main source of this problem. A different browser might work, so give it a shot. Similar problems have been reported by users while utilizing SharePoint projects.
Last but not least, make sure your macOS has the most recent version of the Microsoft Edge browser. When it comes to security and gaining access to new, enhanced services, this is vital to update it as early as possible.
Final Thoughts
Despite these errors and limitations, Microsoft Edge is a nearly faultless browser that was designed with security and privacy in mind. Besides, it also entirely embraces the third-party compatibility and speed that have made Chrome the most widely used desktop browser globally.
Also Read-Microsoft Edge Generates Image Labels Alt Text