Netflix is a lot of fun to watch movies on, but there are times when Netflix keeps Buffering, right? A bad internet connection may be the main reason this happens, but it's possible that there are other reasons as well. People who keep having Netflix buffering problems should read on to find out how to fix it. 
What Does Buffering Look Like? 
It's possible to see a frozen image when Netflix starts to buffer, or the Netflix video player may show a black screen. Netflix buffers, and you'll usually see the light grey timeline at the bottom of the player slowly change from grey to grey from left to right as it does. You may also see a number in the middle of the player. There is a chance that the number will go back to zero or not reach 100%.
Even if your internet connection is not fast, you should be able to wait for the video to buffer and then watch without interruption, even if the video is long. For a long time, the bar doesn't move. This could be because Netflix isn't buffering, or it's not buffering fast enough for it to do any good. 
Also read: How To Record Videos On Netflix
Why Does Netflix Keep Buffering? 
If you keep having to stop and start buffering when you try to watch a video, there could be a problem with your home network, your internet connection, your computer or streaming device, or Netflix itself. if your internet service provider or Netflix is having trouble, there isn't much you can do. 
How to Fix When Netflix Keeps Buffering?
A smart TV, a laptop, a smartphone, or other gadgets might be making you watch Netflix. There are many ways to fix Netflix buffering on any device. Some of them should work. However, if none of it works for you, you should check to see if your device is working right. Here are some of the common methods to fix Netflix buffering problems. 
1# Check your Internet Connection
In order to make sure that your Internet connection is working well, you should 
Getting slow internet connection is the most common reason why you can't watch Netflix. So, check to see if you have a fast internet connection so that you can watch Netflix content. You can check your internet speed on Fast.com to see how fast it is. Check out this website to find out whether or not you have enough internet speed so that you can watch videos on the internet.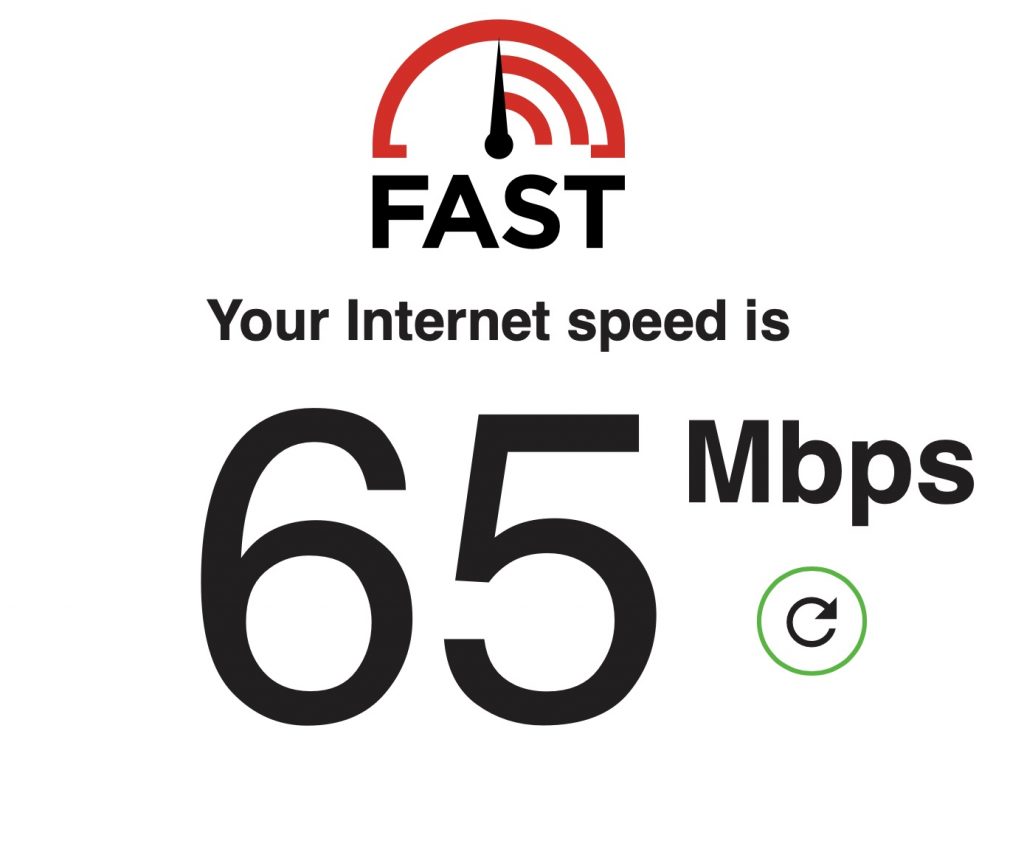 Netflix says you should have at least 3 Mbps internet to watch online shows in Standard definition (SD), 5 Mbps for High definition (HD), and 25 Mbps for 4K/Ultra HD shows (UHD). If your internet connection is slower than the speed limit, you should check to see if there are any problems with your internet. There are a few methods you can solve your internet problem, like these. 
Also Read: How can a VPN make your internet faster
2# Restart your Wi-Fi Modem
Make sure that your Wi-Fi Modem is turned on before you do this. 
The easiest and fastest way to fix a slow internet connection is to check to see if your modem is working and then restart it. It is time to turn your internet router off and get rid of the plug. It's time to restart your router. Wait ten minutes, then do it again Go back and see if your internet speed has been fixed, and see if it has. If not, use the method below. 
Also read: How To Solve Black Screen On Netflix Problem
3# 

Use Wired Connection
To connect your laptop or computer to the Wi-Fi router, you can use the LAN cable. A wired connection is better than a wireless one because it works faster. Modern smart TVs also have a LAN port that lets you connect to the internet with a LAN cable. You can also use the LAN cable to connect your games consoles, like the PlayStation and Xbox, to the computer. It will make your internet speed a lot faster so you can watch Netflix more smoothly. As it turns out, there isn't an easy way to connect a LAN cable to your phone. Use an external LAN adapter to solve this quickly if you want to. 
Also Read: How To Record Videos On Netflix
4# It's time to move your Wi-Fi router. 
Make no mistake, this method works. It's hard to get a good Wi-Fi signal in your house. Besides, if your router is in a different room, you should move it near. Remove anything that is unwanted in your device and the Wi-Fi modem, and your internet speed will go up. In the end, you will get a better speed. 
Also Read: How To Change Payment Method On Netflix
5#

  Talk to your Internet Service Provider. 
It is also important to restart the router if you still don't get the internet speed your Internet service provider promises. If this doesn't work, I suggest calling customer service. They can restart your connection from their side to speed things up and get you back to the promised speed. Bad weather or physical damage to the internet wire can sometimes make it impossible for people at work to get the internet back up and running. Make sure you either switch to a different type of Internet or wait for the problem to be fixed by your ISP. 
I like to have offline content available at all times so that I can find it quickly. To watch your favorite shows later, you can use Netflix's smart download option. It will automatically download your favorite shows. You can find out about more of these features in our detailed guide on how to use Netflix tricks.
Also read: 8 Best Solutions To Fix Netflix Not Working?
6.  Change your Video Stream Quality on Netflix

On Netflix, you can change the quality of the videos that are shown. 
Netflix chooses the best streaming video quality for you based on your internet speed. However, only if you have set the streaming quality to "Auto" will it work. In this case, lower the default streaming quality to use less internet bandwidth if that's what you've set as the default. I'll give up a little quality for interrupted binge-watching any time. It's also not that bad to watch a show in HD instead of UHD on Netflix, because you don't have to wait for Netflix to load. Use this trick if you are watching Netflix on your smartphone, because it will save you a lot of data on your phone. In this article I explain you how you can change the quality of Netflix's streaming. 
In a web browser, go to the Netflix site. Take a look at the profile icon at the top-right of the screen, then click on "Account." 
To change the quality of the stream, scroll down and click on the Profile for which you want to change the quality. 
Take a look at the Playback settings. 
Make sure you choose Medium or Low if you don't want to see very good video. Keep it on Auto if you know Netflix well enough to let it run on its own. 
Finally, click the Save button to make sure you made the right choice. 
You have changed the video streaming quality for your Netflix account. In each Profile, there is only one setting. So, other profiles on your Netflix account will still be able to stream in the quality set for them. 
7.

 Clear your Browser's Cache. 
If you're having trouble with Netflix buffering on your browser, you might want to clear the browser cache and data. This is usually a good way to fix problems with your browser, like a bad cache. Here's how to clear your web browser's cache and history. 
Take a look at your web browser and press Ctrl + Shift + Delete. For Mac users, press Cmd+Shift+Delete. It will show you how to delete your browsing history. 

To do this, go to Advanced and choose "All time" under the "Time range" choice. Check all of the boxes (except for the Passwords option), and then do the same thing again. 

It's time to clear your browser's cache. To do this, click on "Clear data." 
Now, go back to Netflix and see if it still takes a long time to load or not. If so, try a different browser if you think your browser isn't working right. Update your browser if the problem doesn't go away. 
Also read: How To Change Payment Method On Netflix
Make sure to clear the app data on Android to get Netflix to stop buffering 
If you're using Netflix on your Android phone and it's taking a long time to load, you can try clearing the app data. That can be done here. 
8# Clear App Data to Fix Netflix Keeps Buffering on Android
Press and hold the Netflix app icon on your home screen or in your phone's app drawer. 
Tap on 'App Info' in the context menu that comes up. It could be a simple I icon on your phone if you don't see it here. 
It's time to clear your storage. Tap on "Storage" and then "Clear Storage" (or Clear Data). 
9# Re-add Netflix to your Device. 
When you clear the app data, it usually works. It's possible that Netflix is still buffering for you, so you should do that. You also can't delete app data if you have an iPhone. The best thing to do in a situation is to reinstall Netflix in order to try and fix the problems. 
Also Read: Fix HDCP Compliant display error when watching Netflix Video in Safari on Mac
10# Remove and reinstall Netflix on Android. 
Long press on the Netflix icon on your home screen or in the app drawer to open it. 
Take a look at the context menu that comes up. Tap on "Uninstall." 
When you get to the confirmation box, click "Ok" to remove the app from your phone. 
11# Restart your computer or other hardware. 
If you run your device for a long time, it might not work the way it should. The RAM gets full of useless information, which slows down the device. The best way to solve a problem like this is to restart your device. Make sure all the apps that are running on your phone or tablet are shut down. This will give you a new start on your phone or tablet. To restart your smartphone, press the power button for a long time and choose "Restart or Power Off." You can go to the Start Menu and choose to restart or shut down your computer there. 
12# Close applications and tabs that you don't need. 
If you don't want to restart or power off your device for any reason, at least close the other apps that don't need to be running. This will give Netflix more RAM to work with. A lot of computer resources might be used by applications like Photoshop or a game that are running in the background. You may not be able to watch your favorite Netflix show in peace. If you watch Netflix on a browser, close all the other tabs so Netflix has more RAM.
Final thoughts
If Netflix is still having problems buffering, and you've ruled out a service outage, problems with your local network, and problems with your device or app, there is likely an issue that you can't fix on your own, and it's not something you can fix yourself. Find out if your internet service provider is having problems with connectivity by getting in touch with them. If that doesn't work, contact Netflix and let them know what's going on.