Samsung first entered the electronics industry in 1969 with several electronics-focused divisions. Their first products were black-and-white televisions. During the 1970s the company began to export home electronics products overseas. At that time Samsung was already a major manufacturer in Korea, and it had acquired a 50 percent stake in Korea Semiconductor.
Samsung has single-handedly defined the category of "lifestyle TVs," which are high-design TV sets that blend in better with the rest of the house than traditional TVs. With The Frame, they did this. The Frame line was recently bought by a lot of people. Those who care more about the TV's style, bezels, and ability to show art or personal photos when the TV is off don't care as much about the most up-to-date picture quality or HDMI specs.
Also Read: Why Is Samsung Frame TV Getting Popular In 2022?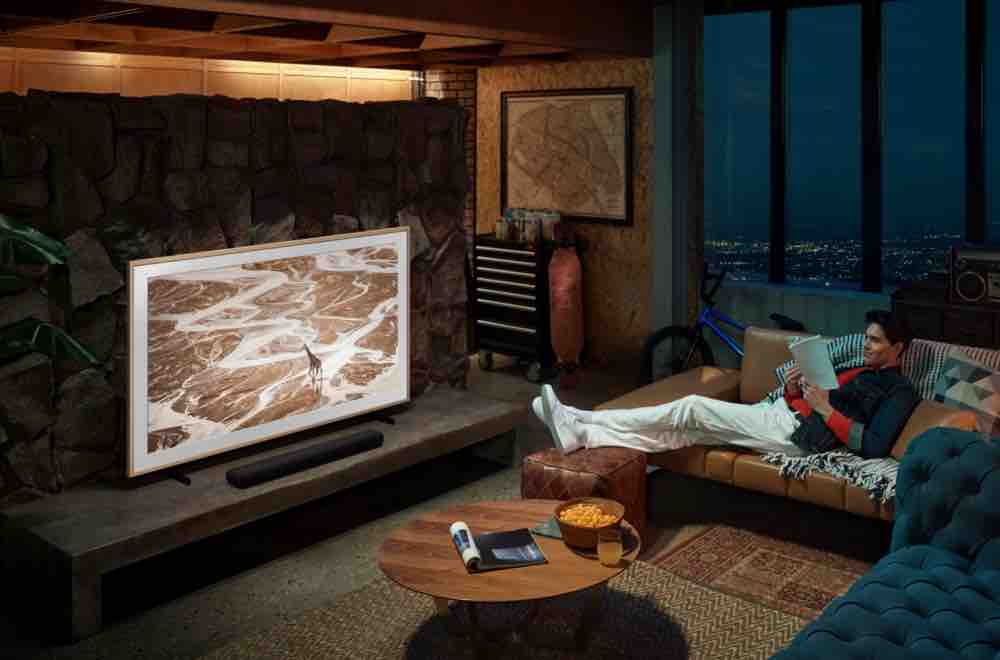 At CES 2022, Samsung showed off the next version of The Frame. It has a new screen that doesn't reflect, making the art look more real and less like TV. Lifelike paper and canvas texture: The company says that the new matte screen finish is "engineered to maximize light scattering surface irregularities" even in bright rooms.
What comes in the box? 
You get a 4K QLED TV, the number of screws you need to hang your TV on the wall, and a "One Connect Box." All of your cables and connections can be found in one place with the One Connect Box. It runs the whole TV and is a hub for them all. With these ports, you can connect everything from cable boxes and streaming devices (Apple TV, Fire Sticks, etc.) to your TV to watch movies and TV shows.Along with this, you will get:
4 – HDMI ports
1 – An Optical Digital Audio Out port and a 
1 – Cat 5 Ethernet port 
3 – USB ports
1 – Coax inputs 
1 – Ex-Link
Also Read: How To Use Samsung Remote Service For device help
6 Unique Features of the Samsung Frame 
This TV has a lot of unique features that you'll learn about when you start to use it. The no-gap wall mount that comes with the TV is great. It hangs your TV on the wall, just like a piece of art. Typical TV mounts leave a few inches of space in front of them, which is not ideal.
1# Anti Reflective Display
If the screen is anti-reflective, it could be a big draw for people. The Frame can match the white balance and brightness of artwork to the lighting in a room, but if there's one thing that makes it clear that you're still looking at a TV, it's screen glare.
A new anti-reflective film and other measures to cut down on glare are part of Samsung's new plan to make oil paintings and other art look better on the screen than they did before.
2# Neo QLEDs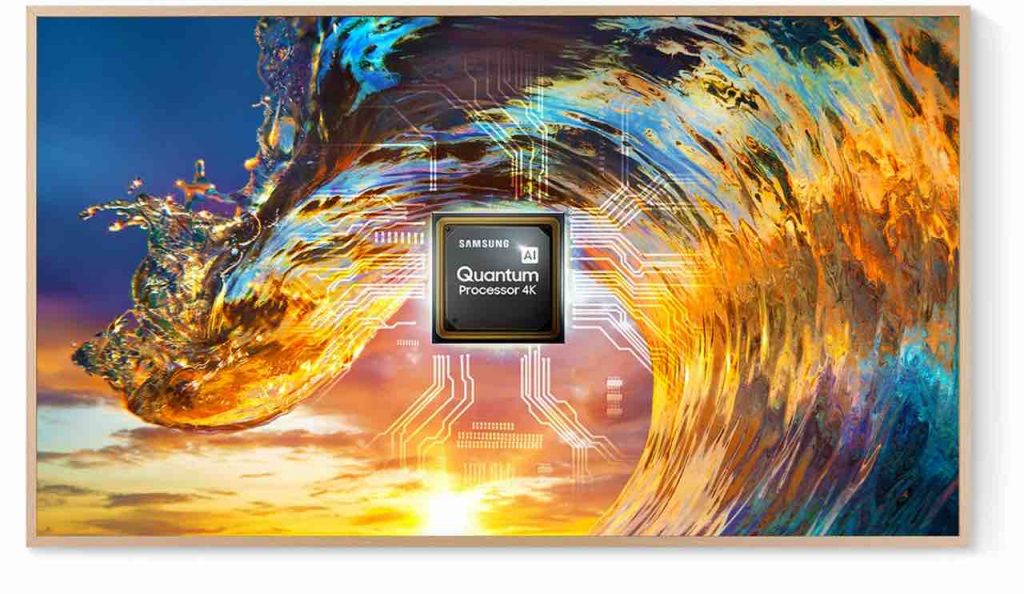 You can see this technology when it was used with Samsung's processing techniques and a TV with 4k or 8k resolution and HDR that could refresh at 120Hz. On most Neo QLED models, all of that will stay for 2022. The main line-up will still be 4K and 8K models. They get even brighter this year for a better picture. Samsung's processing and upscaling will now use AI to figure out which parts of a scene are most important.
This will help make the area you're looking at more detailed. The goal is to make it more fun to watch. Another change is that some "premium Neo QLED models" will be able to have a variable refresh rate of 144Hz, which should be good for gamers and people who like to watch live sports. 120Hz used to be the standard for most models. This is now up to 240Hz.
3# Art Display in the Samsung frame TV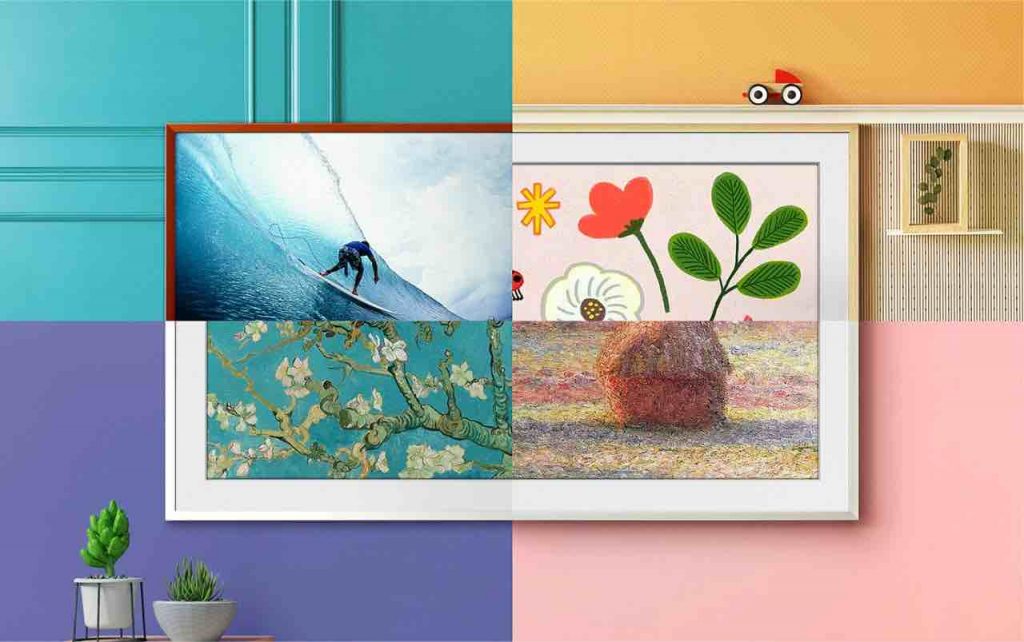 If you want to mount your TV almost flat to the wall, the Samsung Frame TV is for you. But that's not what makes it unique. There are a lot of things that make this TV unique. When you're not watching TV, it shows high-quality art and photos. That's correct. As if it were a piece of art that was hanging on the wall instead of TV. Because it is backlit, it will never look like an original canvas or print hanging on a wall because it isn't going to look like that. But the resolution is amazing, and you can change the white balance/tone to make it look as real and natural as possible in your room lighting. This is a great feature. Pretty sure it looks better than a big black box on the wall.
It is possible to download art from Samsung's Art Store. This store has a wide range of famous paintings and art pieces in 4K resolution. The Art Store is a place where people can buy digital copies of famous paintings and artworks from all over the world. More than 1,500 pieces of art are in the Art Store. Isn't that great? You get a high-quality smart TV that can run apps like Netflix and Hulu, as well as beautiful art that can be changed with the touch of a button. 
4# Gaming Hub
For people who play games, the most important thing about the new TVs is the Samsung Gaming Hub, which is powered by Tizen. If you want to play games from a streaming service, this service will let you play them right on your TV. Samsung today announced partnerships with Nvidia GeForce NOW, Google's Stadia, and Utomik, and said more partnerships will be made in the future. They say more partnerships will be made in the future.
From the hub, Samsung TV owners will be able to look at available titles, search for and buy games, and play their favorite games right away. Besides the new Gaming Hub, their game controllers will be able to work with it, the company says. Plus, users can quickly get to YouTube, where they can follow their favorite streamers and watch gaming content.
Also Read: Get Up To Six Months Of Free Apple TV+ With Your PS5
5# Sensors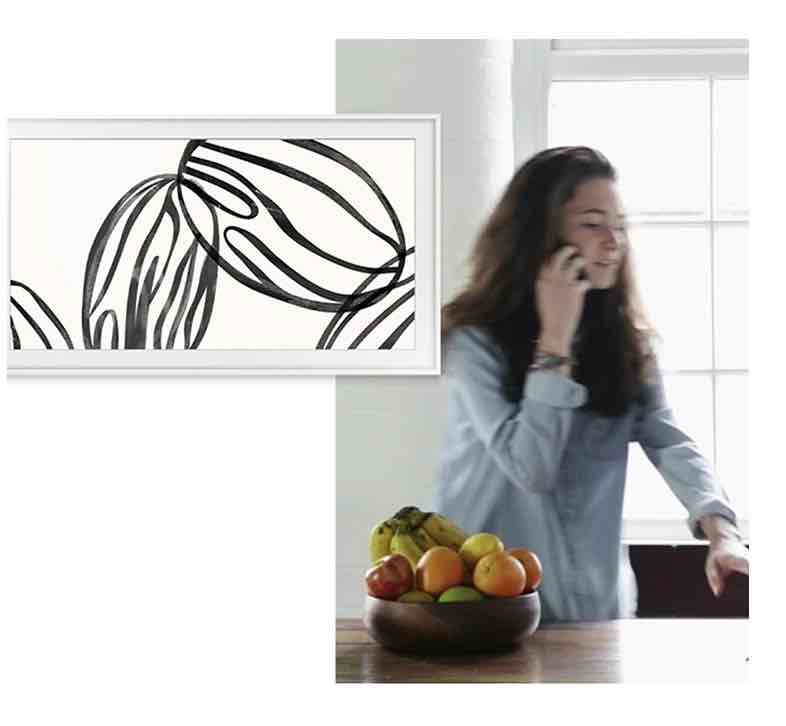 On The Frame, there are two sensors that can be used to see how fast things are moving and how bright they are. There is no motion sensor setting on the Frame. The brightness sensor is on. Please keep in mind that the sensors only work when the TV is in the Art Mode.
The display on the screen in the Art Mode is turned on when the room moves. When there is no movement, the motion sensor turns itself off to save energy. When you come back, it turns itself back on to keep the lights on. You can set the sensor to go into sleep mode after a certain amount of time. You can do this by setting the Sleep After setting. If the sensor doesn't detect any movement, it will go into "sleep mode" after a certain amount of time. In the same way, the brightness sensor adjusts the picture quality to give the best viewing experience in the Art Mode, depending on the surroundings. App: You can change these settings yourself by going into the Smart View app and making changes.
6# Tap View and Multi-View in the Samsung frame TV
To share your screen, Tap View and MultiView are good tools. Tap View lets you mirror your phone with just one tap on the TV, and Multi-View lets you split screens and see multiple types of content at the same time. Users can divide the content they want into a lot of different screens.
In order to move things like photos and videos from your phone to your TV, you just need to put your phone close to the TV. This is what happens when you tap a little. This is all of Tap View. You don't need to use a Wi-Fi network or data to show your friends and family what you're doing when you're having a good time.
The MultiView lets you watch two different things at the same time on your TV. Using the left screen, you can watch different types of media from different sources, such as a TV tuner or apps. You can also mirror your phone on the right screen. Connect your device and change the size and audio settings as you want. Large screens make it easy and simple to do a lot of things at once.
Conclusion
 Does the Frame TV work? Do you think you should get one? If you're thinking about all these questions, well then the answer to them is yes. You should totally invest in this TV.   If you want to use it in a place where you spend a lot of time with the TV off and on, like a living room or family room, then I think so. That makes the art mode feature worth it.  It is so much better than the basic A big black box on your TV which dawns on your living room wall.