Prepare for romance, family strife, deception, bloodshed, and betrayal in Yellowstone Season 5, a Montana-based online series that stars the Dutton family.
"Yellowstone" was the first broadcast in 2018 and had three spin-offs, including the prequel series 1883, which debuted in 2021, and the upcoming motion pictures 1923 with Helen Mirren and Harrison Ford with Jefferson White. This program, co-created by Taylor Sheridan and John Linson, was one of Paramount's biggest successes. All-star guest stars, including Danny Huston, Gretchen Mol, Josh Holloway from Lost, Piper Perabo, and singer Faith Hill graced its first four seasons.
Since 2012's Hatfields & McCoys, the television series marks Kevin Costner's return to a prominent role. It portrayed the tale of the Dutton family, Montana's most prominent ranch proprietors, and their disputes with land developers and neighbors.
Also Read: Yellowstone Season 5- All Information You need To know
If you want plenty of livestock, weaponry, and drama mixed with the look of Dallas, head to Yellowstone. With two prequels already produced, 1883, which aired a year ago, and 1923, which will premiere next month with Harrison Ford and Helen Mirren playing the lead roles, the series is a massive success on streaming services.
Yellowstone Star Cast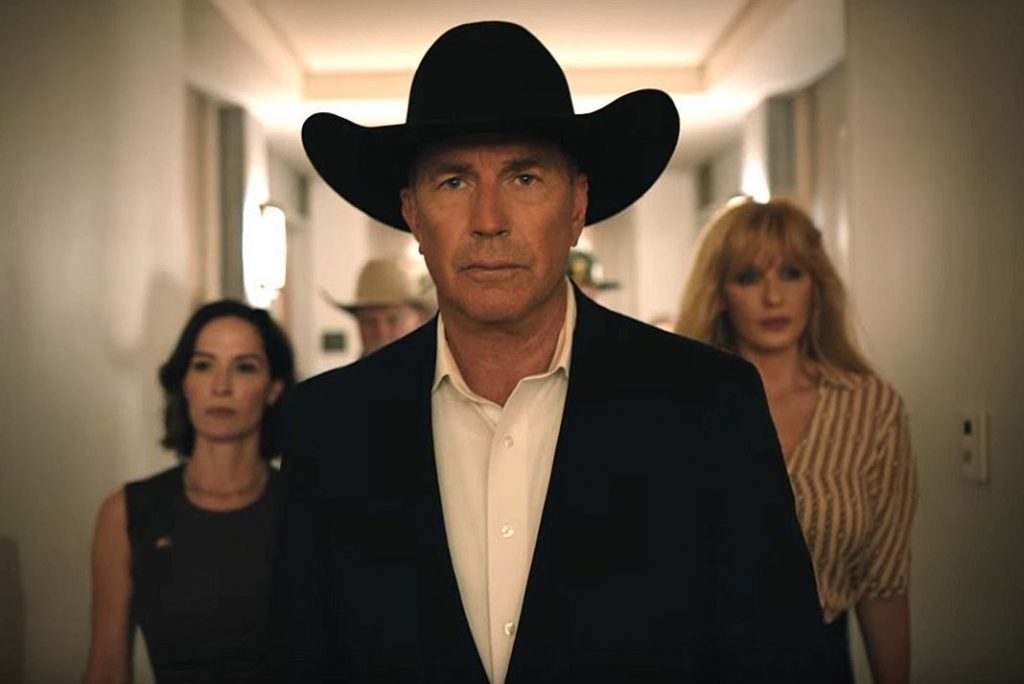 In season 5, the ranch will welcome both experienced and fresh faces. Josh Lucas will play the young John Dutton again after Season 3 for the first time. As Kyle Red Silverstein will portray young Rip and Beth, there will likely be a lot of flashback moments.
Also returning is Jacki Weaver as Caroline Warner, CEO of Market Equities, the Duttons' newest commercial opponent. The former governor Lynelle Perry and Thomas Rainwater's (Gil Birmingham) right-hand man Mo Brings Plenty are upgraded to series regulars.
Four new characters will also be introduced in Yellowstone. Rowdy, a young cowboy, portrayed by Kai Caster, will appear. Lainey Wilson's character as the musician goes by the name of Abby. Lilli Kai will portray Clara Brewer, a new aide to one of the Duttons. Dawn Olivieri from 1883 also joins the cast as Sarah Atwood, a newcomer to Montana described in the official character description as a "corporate shark."
Season 5 will include yet another new character, a young girl who will participate in Carter's evolving story. According to EW, in a guest cast appearance, Orli Gottesman will play the role of Halie, a confident young woman who Carter enthralls. The entire bunkhouse will also be back, featuring Jen Landon as Teeter, promoted to series regular, Forrie J. Smith, Denim Richards, Ian Bohen, Ryan Bingham, and Jen Landon.
Along with Jefferson White, who returns as Jimmy, Kathryn Kelly, who plays Emily, Jimmy's fiancée, has been upgraded to series regular.
Also Read: Is YellowStone Season 5 Worth Watching?
Primary actors
The following actors will play their parts in the fifth season of Yellowstone.
Kevin Costner as John Dutton
Reilly Kelly as Beth
Wes Bentley portrays Jamie
Cole Hauser portrays Rip
Kelsey Asbille as Monica
Brecken Merrill as Tate
Carter as Finn Little.
Gil Birmingham as Thomas Rainwater
The release date for Yellowstone season 5: When will it air?
There won't be much longer to wait as Yellowstone season five will begin on November 13 on Paramount Network in the US and November 14 on Paramount+ in the UK with a two-hour episode. With two parts of seven episodes each, the fifth season will be four episodes longer than the seasons before it.
Also Read: Why Is Samsung Frame TV Getting Popular In 2022?
Episode Schedules
'One Hundred Years is Nothing' and 'The Sting of Wisdom,' the first two episodes of Yellowstone's fifth season, will air back-to-back on Sunday, November 13, on Paramount Network. Afterward, new episodes will show once a week.
Two sections of seven episodes each will make up the 14 episodes that makeup Season 5. Although this is the most outstanding season to date, the length of the midseason break still needs to be discovered.
Executive producer David C. Glasser has recently given interviews and provided a brief teaser about what to expect in the upcoming season. As for where our tale begins and what has transpired, Glasser told TV Insider that "Episode 1 will immediately astonish everyone."
Also Read: How To Add And Rearrange Apps On Apple TV
Episode list
Episode 1: "One Hundred Years is Nothing," Airs November 13.
Episode 2: "The Sting of Wisdom," Airs November 13.
Episode 3: TBA, Airs 20 November.
Episode 4: "Horses in Heaven," Airs on 27 November
Episode 5: "Watch'em Ride Away," Airs 4 December
Episode 6: "Cigarettes, Whiskey, a Meadow and Fog," Airs 11 December
Episode 7: TBA, Airs 18 December
Where to watch Yellowstone season 5?
In addition to its four prior seasons and spinoffs, the fifth season of Yellowstone is only available on the Paramount Network. To watch the season premiere, you'll need a TV provider to log in, or you can join up for free 24-hour Live TV access using your email, name, and birthdate.
Also Read: 15 Best Shows Like Stranger Things You Must Watch