Background sounds are sounds or kinds of music which you can play to block the sounds of the outer world that helps you to concentrate on your work or also to sleep. There is a special feature in your iPhone which enables the background sounds. You can connect them to your speakers, or Bluetooth devices to listen or you can just play it on your iPhone. There are six types of built-in soundtracks Dark noise, Ocean, Rain, Stream, Relaxed Noise, Bright Noise, etc. This will help you to distract from other noises.
The best thing about this background is you do not need to be connected to any network like mobile data or wifi to use and enable it. So you can use it anywhere. When you are traveling, you do not like the harsh sounds of roads, vehicles, horns, etc, you can just listen to these sounds which soothe your ear, and helps you to calm down. This feature can be easily enabled in your iPhones. You play the sounds and listen even when you are using other apps on your device.
Also Read:7 Methods To Fix iPhone Keeps Asking For Apple ID Password
How to Enable Background Sounds on iPhone
If you have iOS 15 or a further version you will be able to enable these soundtracks easily through the settings app.
Open the Settings app on your iPhone. Search for the Accessibility option. Tap and select it.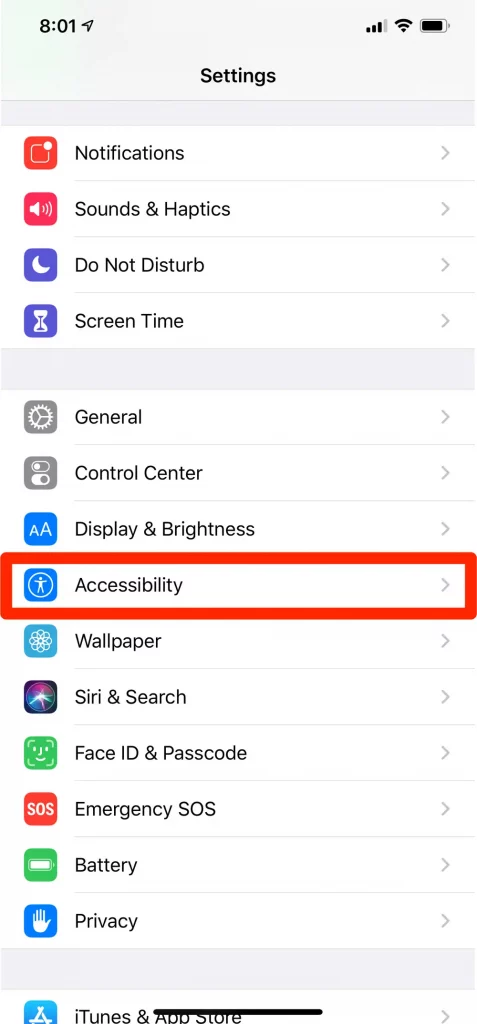 Under the Accessibility, option select Audio/Visual.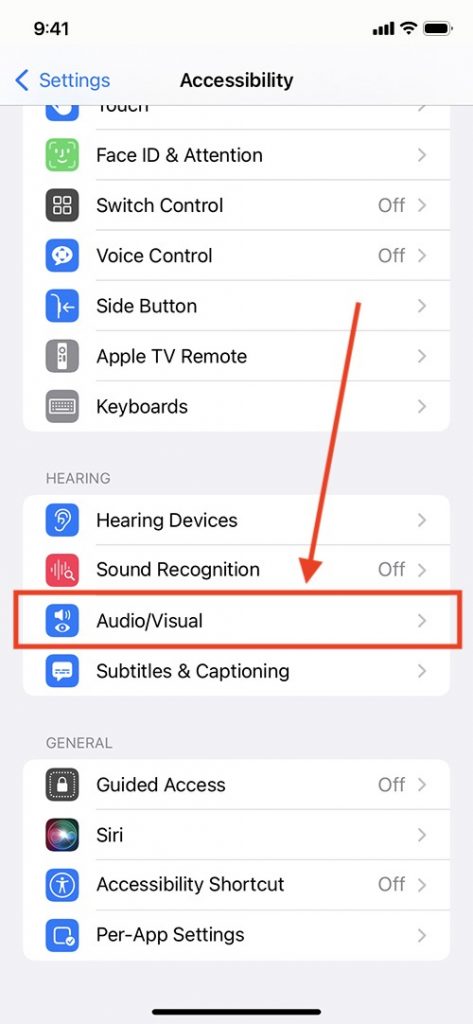 Now tap and select Background sounds. Now toggle and on the Background sounds option. Below that, you can see the Sound option, click on that to choose the sounds of your wish.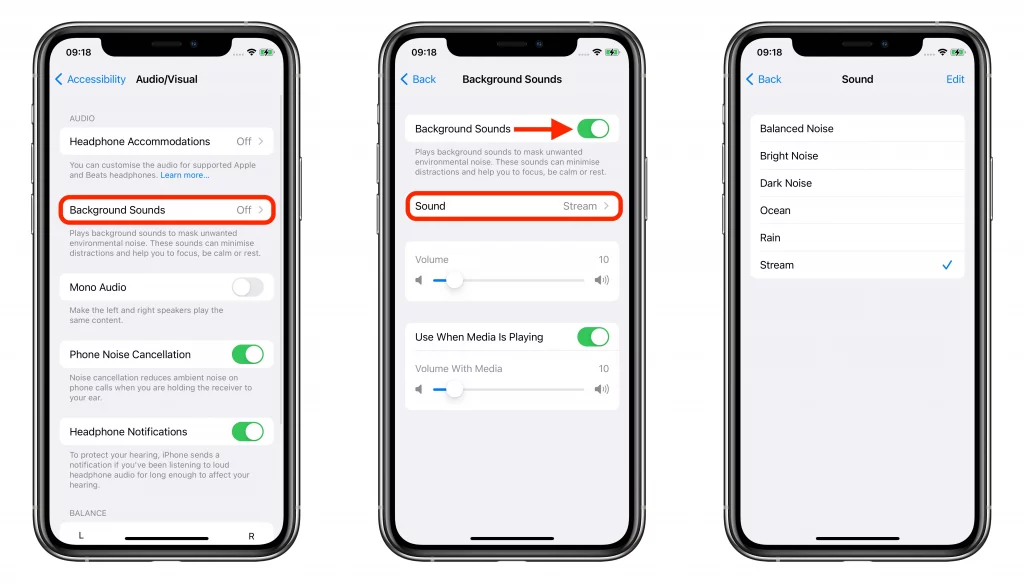 You can also select the volume level by sliding on it how much ever you wish. Under that, you have another option called Use When Media is Playing. If you want you can toggle it and on it. When it is on it will play along with other media also. It is your wish to keep it on or off.
This is how you enable the Background sound. Just follow the steps and it is easily done.  You can also play the sounds and check how it is and then select them according to your wish. Then check it by playing while using other media and then you can choose accordingly to that. You can change the background sounds easily whenever you need it, for that all you need to do is just follow the above-mentioned steps.
Also Read:How To Protect iPhone From Blocking And Hacking
Adding Background Sounds to Control Panel:
The best and easy-to-access background sounds are through the control panel. To add this, first, you must follow a step which is you need to add a Hearing tile to the options list of the Control Panel. Let us see how it is done.
Open the Settings app on your iPhone. In the list of options search and select the Control Panel option. In the control panel, search for the hearing option. You can see the + icon beside the hearing option, click on that.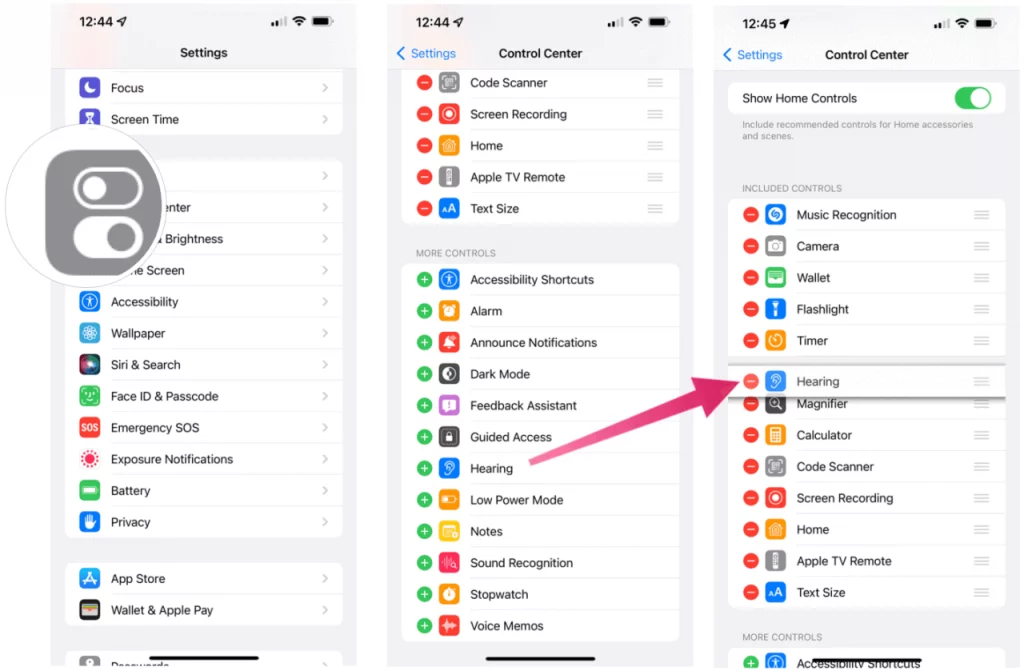 When you click on the + icon it will direct you to Included controls section. In the hearing option, you can see three lines, using that slide it up or down. That's all it will be added to the control panel.
Also Read:How To Check if iPhone Or Android Has Been Hacked
How to use Background sound in the control panel:
In the above step, you have successfully added the Hearing tile to the control panel. Now let us see how to use the background sound from the control panel.
Slide to left and open the Control panel on your iPhone. You will be able to see many icons and at the bottom of your control panel, you will be able to see a Hearing tile that looks like a logo of the ear. Click on the Hearing tile.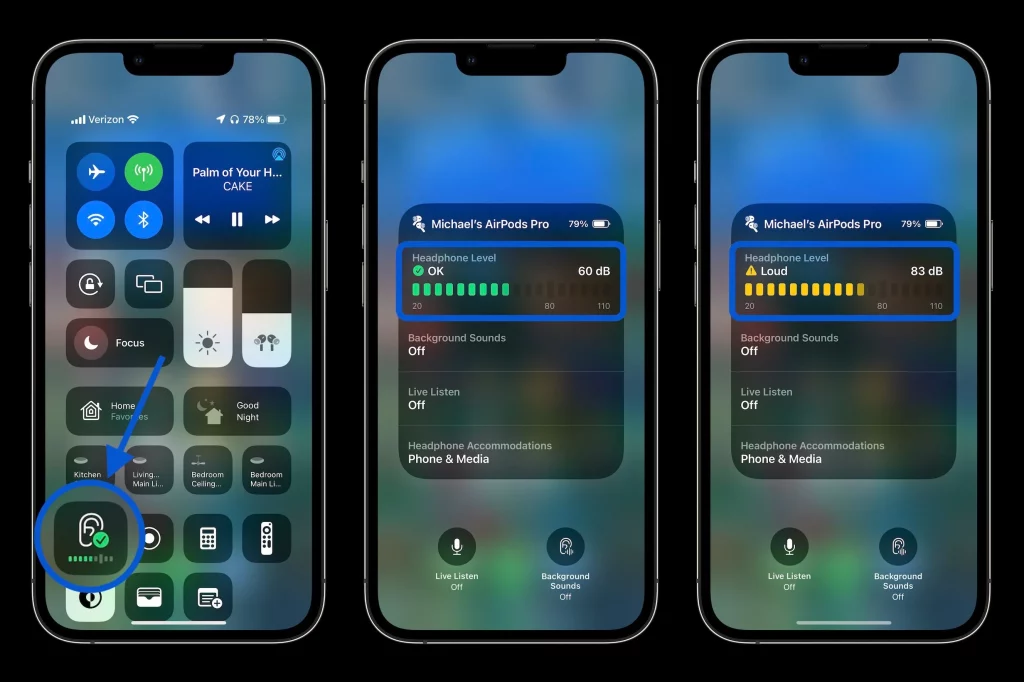 When you click on the Hearing tile, you can see a box with all the options. Select the Background sounds and turn it on. Now select the audio track which you like and also adjust the volume according to your wish. Now the background sound is set. If you do not want you can tap on the background sounds option and turn it off.
Also Read:[100% fixed] iPhone Won't Ring When Facebook App Is Open
Conclusion:
Background sounds are one of the best features of the iPhone. You already got to know how to enable the background sounds and use them in this article. These background sounds will help you to calm your brain and you from the outside world. Sometimes your brain gets distracted due to the noises and all other things, this helps to concentrate without getting distracted from that unnecessary noises with some melody sounds. Apple might add some more background sounds in the future. By just following some steps you can easily enable the background sounds on your iPhone. You can also enable background sounds through your control panel. In this article, you will get to know in detail how it is done. Hope this is informative and find it useful.