A VPN, or Virtual Private Network, is a kind of technology that authorizes users to specify a protected and encrypted connection over a public network such as the internet. Besides, this connection can be utilized to access resources and services that are usually only available on private networks. Such as corporate or government networks, from remote locations. There are several top-quality VPN Like NordVPN, ExpressVPN and so many others. One of them is iTop VPN. Launched in 2016, iTop VPN is a VPN service that has gained a substantial following of approximately 10 million users.
Furthermore, iTop VPN boldly claims to be one of the finest free VPNs on the market, which has piqued the inquisitiveness of many. However, iTop VPN lacks some fundamental VPN. But despite that, it is still a terrific go-to option if you need one.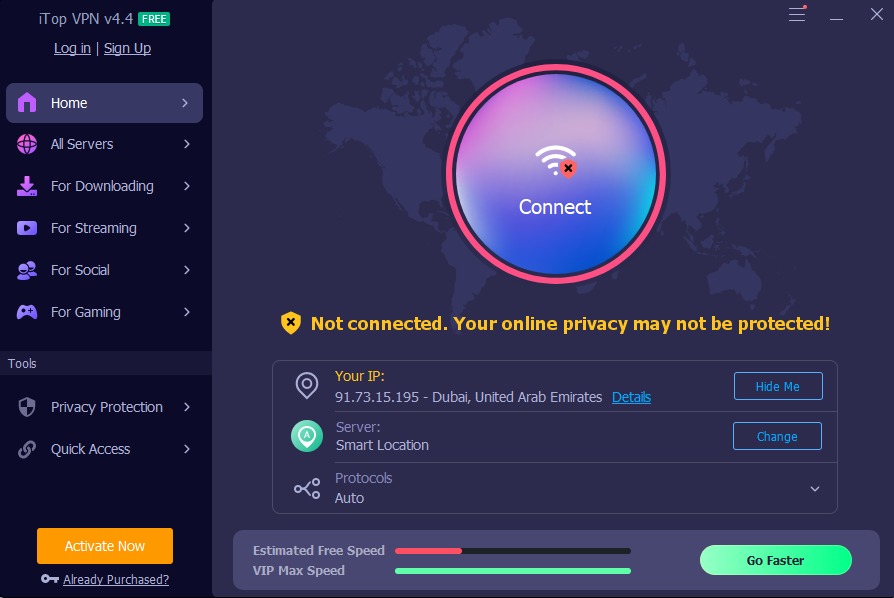 What are the notable features of the iTop VPN?
#1. A User-friendly Interface
The user interface of VPNs can be challenging for some people to apprehend. Mainly when it comes to optimizing the VPN for specific devices. However, iTop VPN aims to provide a better overall user experience by offering a simple, straightforward, and intuitive interface. The developers of iTop VPN have made an effort to ensure that the interface is as user-friendly as possible, with many actions able to be performed in just one step. This means that users can quickly and easily set up and use the VPN without standing frustrated. Or overwhelmed by a complicated interface.
Also Read- 8 Uses Of VPN You May Not Have Heard Of Till Now
#2. Privacy Protection Tools
iTop VPN offers various features to enhance the user's online security and privacy. The Security Reinforce function provides anti-malware protection. While the Browser Privacy and Ads Block options block harmful links and ads and clean residual browser traces in popular browsers. Such as Firefox, Waterfox, Internet Explorer, Safari, Chrome, and Edge.
To secure data, iTop VPN uses HTTPS, UDP, and TCP protocols, and encryption remains implemented using the Salsa20 (chacha20) 256-bit encryption. It's important to note that some protocol options such as IKEv2, PPTP, and L2P are not available with iTop VPN.
According to their Privacy Policy, iTop VPN does not log user activity while using their services. It includes browsing history, bandwidth usage, or connection duration. The company also claims not to store user IP addresses. However, without an independent audit, there is no evidence to support these statements.
Finally, iTop VPN incorporates a built-in ad blocker, which can enrich the overall user venture on the web. Nevertheless, it's worth communicating that the ad blocker doesn't stop firms from attaining info that users voluntarily share with them.
Also Read- ExpressVPN vs. NordVPN: Which One Is Better In 2023
#3. Security Reinforce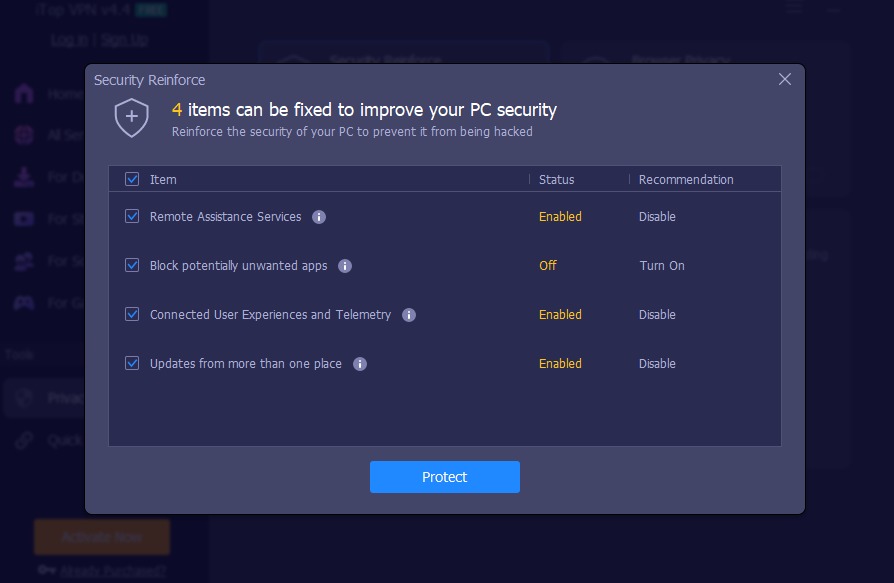 This feature is a security scanning tool that is conceived to explore a user's computer and pinpoint any security susceptibilities that could potentially be exploited by hackers. Its preliminary purpose is to increase the level of security for the user's device. Thereby reducing the likelihood of successful hacking attacks.
While this feature may be useful for novices who are not well-versed in security measures. It may not be as beneficial to power users who are already familiar with the necessary precautions to take. The tool provides recommendations on how to enhance security aspects. And power users may not find these recommendations helpful or necessary.
However, there is a potential reference with this feature in that it vigorously scans the user's entire device. While there may not be any reason to distrust iTop's privacy policy, this tool does give the app access to sensitive information that could be recorded. Therefore, some users may be hesitant to allow such extensive scanning of their devices.
Also, Read- How To Easily Install VPN Application On Chromebook
#4. Browser Privacy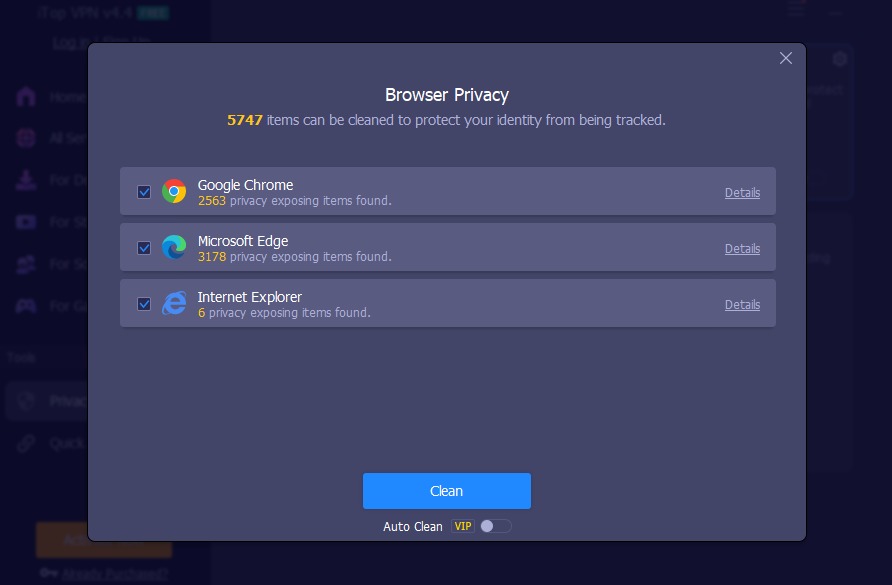 This tool is a browser cleaner that is conceived to erase a user's browsing history, thereby enriching their privacy. Besides, this tool is an uncomplicated and easy-to-use feature that performs as intended. And it can further be an efficacious technique to retain your browsing history confidential.
When you browse the internet, your browser saves a history of the sites you visit, the searches you conduct, and other corresponding data. While this can be reasonable for tracking your internet activity. It can furthermore compromise your privacy, especially if someone else has access to your device. In such cases, it is necessary to erase your browsing history to protect your privacy.
The browser cleaner tool offered by iTop VPN can erase your browsing history with just a few clicks. This simple feature is effective in boosting your privacy by removing any traces of your internet activity that could be used to track you.
Moreover, if you are a paid user of iTop VPN, you can also enable the auto-clean option. This automatically cleans your browsing history at a designated interval. Nevertheless, this feature is not a significant incentive to upgrade to a premium subscription. As it is a simple and basic feature that does not provide any significant advantages over the free version.
Also, Read- How To Create Your Own VPN?
#5. Kill switch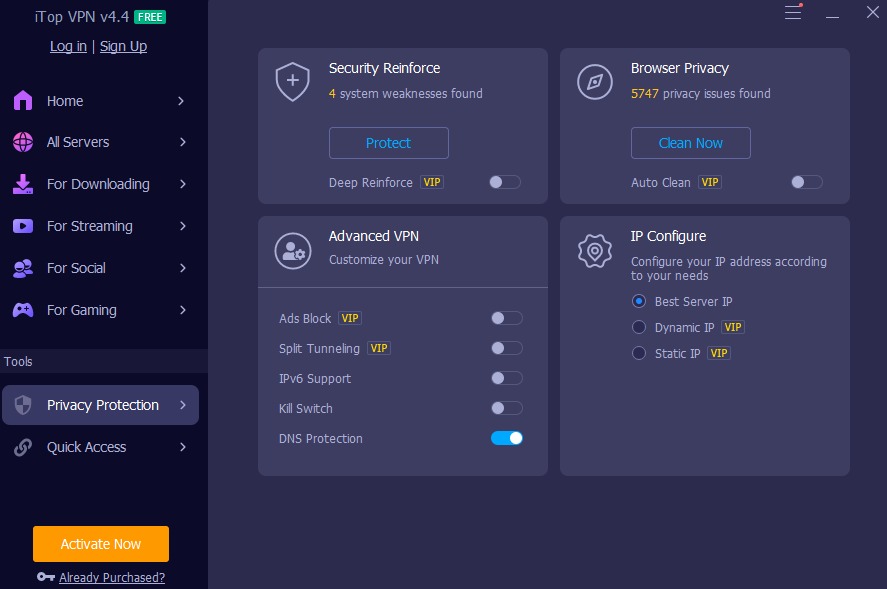 A kill switch is a safety feature that intercepts all internet traffic from a device when the VPN connection fails or malfunctions. Besides, this feature guarantees that your online activities and personal data are shielded from getting exposed to unauthorized third parties such as internet service providers (ISPs) or hackers.
The kill switch is not enabled by default. And you require to activate it manually by going to the "Privacy Protection" menu in the client. Then enabling it under "Advanced VPN" settings.
A kill switch acts like a circuit breaker that immediately cuts off power when there is an electrical surge or fault. Likewise, a kill switch ensures that all internet traffic is stopped when the VPN connection is lost. Thus stemming your online activities from going exposed to unauthorized third parties. This feature is extremely advantageous for people who utilize VPNs to access sensitive information. Such as online banking or government services, where security and privacy are vital.
Also, Read- How To Set Up And Manage VPN On Windows 11
#6. DNS Protection
DNS helps to prevent malware from changing the DNS (Domain Name System) settings on a PC or device. Moreover, DNS settings are crucial in assisting a computer to translate website names into IP addresses, and malware can manipulate these settings to redirect a user's traffic to a malicious website.
It is furthermore advised that users hold the tool running in the background, which is a reasonable technique as it assures that the user is always protected from potential DNS hijacking attempts. Besides, the tool is available to free users, which is a significant advantage, as many similar tools may require a paid subscription or purchase.
iTop VPN's Server Network and Services
iTop VPN allows its customers to access any of their servers worldwide in diverse well-known locations, providing 24/7 availability. This allows users to access content that may restrict to certain regions, and also experience faster internet speeds. For instance, users can watch Netflix US and other programs that may not be available in their area.
With over 1,800 servers presently available, iTop VPN equips an impressive number of servers, although it may not be as many as some of its contenders. Besides, users should have no tribulation finding a good connection port. Although the flaw is that iTop VPN's server locations are not as diverse as some other VPN providers.
One notable feature of iTop VPN is that they do not deliver trustworthy IP addresses, which may make it more challenging to unlock Netflix and additional streaming services. Nevertheless, they make up for this with their diverse servers that are optimized for eclectic intentions, such as downloading torrents, streaming content from platforms like Amazon Prime, Disney+, and Hulu, and social media platforms like Facebook and Tik Tok, among others.
If a user's needs do not fit into any of these categories, they can select the "All Services" alternative to see a checklist of all available iTop VPN servers. Besides, iTop VPN offers several free servers in the United States, which remains uncommonly found among VPN providers due to high maintenance costs.
Also, Read- How To Enable VPN Blocked By Your Router?
How much iTop VPN price?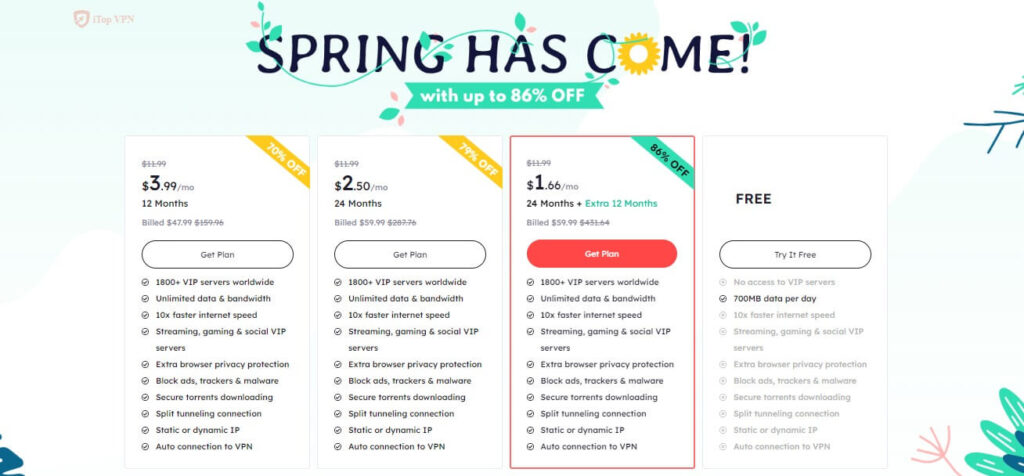 iTop VPN offers three different plans to choose from. If you sign up for a monthly plan, it will cost you $11.99, which stands relatively expensive compared to other VPN services. However, if you opt for a longer-term plan right now, the cost per month decreases significantly. For example, if you sign up for a 12-month plan, you will pay $3.99 per month due to the spring sale you can get an 86% discount on all plans, which is a much more reasonable price for a mid-length VPN plan.
The finest value for money comes with iTop VPN's 2-year plan, which remains presently marketed as a Spring sale deal with an additional 12 months complimentary. This plan brings the price down to solely $1.66 per month, which is comparable to some of the cheaper VPN services on the market, such as Surfshark and Private Internet Access.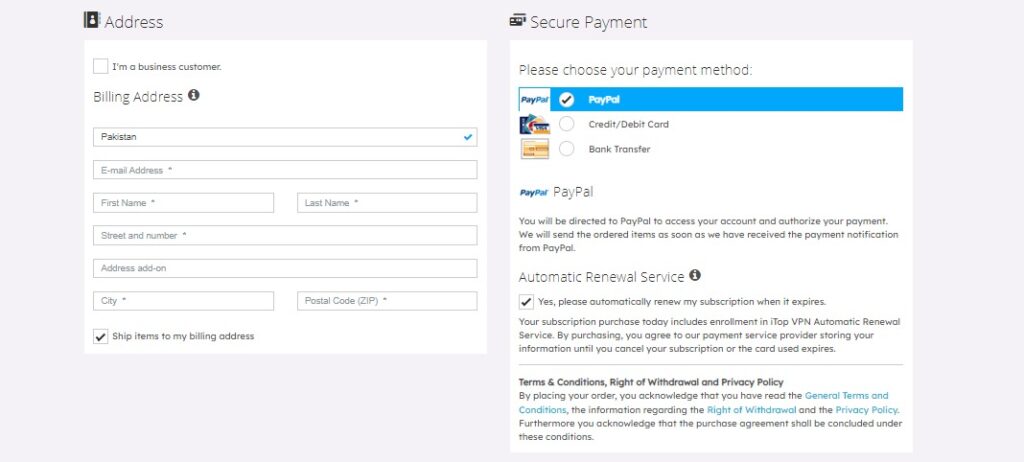 iTop VPN accepts payments through PayPal, card, and bank transfer, and auto-renewal can disable at any time to avoid charging again at the end of your plan. However, it's worth noting that the money-back guarantee varies depending on the plan you choose. Longer plans come with a 15-day money-back guarantee, while the monthly plan only offers a 7-day guarantee.
Also Read- 5 best Browsers with Built-in VPN
Is iTop VPN safe?
ITop VPN's secure and free offering is one of its most alluring qualities. This does not require payment and provides high-level private protection to avert data leaks.
iTop VPN has a VPN Kill Switch function to protect data when the VPN connection exists interrupted. Thus automatically disconnecting the device from the internet.
Users can access its global connect VPN service without login, just by downloading it.
iTop VPN furthermore offers additional functions for browser privacy, security reinforcement, Ads block, and DNS protection to provide convenience to users.
Users can take full edge of these functions to clear privacy issues. And block unwanted ads for a better user experience.
Also, Read- How To Connect To A VPN On Android?
Some Pros & Cons of iTop VPN
Pros
Using multiple devices simultaneously is common among many of us, but purchasing VPN licenses for each device can become costly. However, iTop VPN provides a solution by allowing individuals to use a single license for up to five different devices. And iTop VPN is compatible with iOS, Android, and Windows operating systems.
iTop VPN offers a free plan that authorizes users to use 700MB of data per day or 21GB per month. Therefore, iTop VPN is more plentiful than many other VPNs.
The service offers extra privacy protection features that can help keep your browsing data private and secure.
iTop VPN can unblock BBC iPlayer and Disney Plus, which often restrict in some regions.
The two-year plan stands affordable compared to other VPNs.
Cons
Regrettably, the application disclosed our DNS requests, a behavior that we didn't anticipate from a VPN that emphasizes security to such a great extent.
The service cannot unblock Netflix and Amazon Prime, which are popular streaming services.
The kill switch, a feature that disconnects your device from the internet if the VPN connection fails, doesn't work in some situations.
iTop VPN uses non-standard undocumented protocols, which could make it harder for the service to keep your data secure.
The website allows HTTP access to the login page, which could be a security issue for users.
Conclusion
In conclusion, the ideal VPN should provide secure internet browsing and shopping from anywhere in the world, be snappy, and have mighty encryption protocols. iTop VPN manages to deliver impressive download speeds, ease of use, geo-unblocking features, and affordability. However, its lack of live chat, proprietary security protocols, and intrusive ads in the free version are significant drawbacks.
Despite these limitations, iTop VPN still offers diverse benefits, including a kill switch and other extensive safety features, as well as brisk speeds that make it a meritorious investment for many users.
Also, Read- How can a VPN make your internet faster