The thirteenth iteration of the Mac operating system, macOS Ventura, introduce by Apple at the WWDC. After the introduction of Universal Control with macOS 12, Apple prioritized the continuing development of many unique features.
The All-New macOS Ventura features- A Brief Overview
.
With the latest version of the Handoff app, users can now transfer a call from an iOS device such as an iPhone or iPad to their Mac with a single click if the mobile device is close to the computer. Another significant upgrade allows customers to use their iPhones as webcams on Mac computers. This functionality is compatible with all apps, not only FaceTime, and it operates wirelessly. In addition, it has a Portrait Mode and effects similar to Studio Light.
Apple's web browser, Safari, has received several upgrades recently that make it more effective for streaming videos on MacBooks without depleting the battery. One of these updates is Tab Shared Groups. Users also gives the ability to establish a Start Page in sharing in which they can access the same list of favorite websites.
Improved Functionality
The search functionality of Mail is given the "largest revamp in years." New features adds to Apple's email client. It also includes intelligent search with autocomplete and the ability to postpone or cancel the sending of emails. When it comes to iMessage, it has become even more intertwined with apps, allowing users to communicate while editing files or viewing something together via SharePlay. This is made possible by iMessage's better integration.
The results that Spotlight displays are better, thanks to a makeover. It can now search for photographs using Live Text, location, and even persons or objects as search criteria. A new "Stage Manager" , allows users better to organize all of their open applications into various layouts.
Other new features include built-in applications such as Clock and Weather, an entirely revamped System Settings menu, and additional privacy and security customization choices. 
Also Read: macOS Ventura: 6 Amazing Features Introduced
Top 7 Features in the New macOS Ventura 
1. Continuity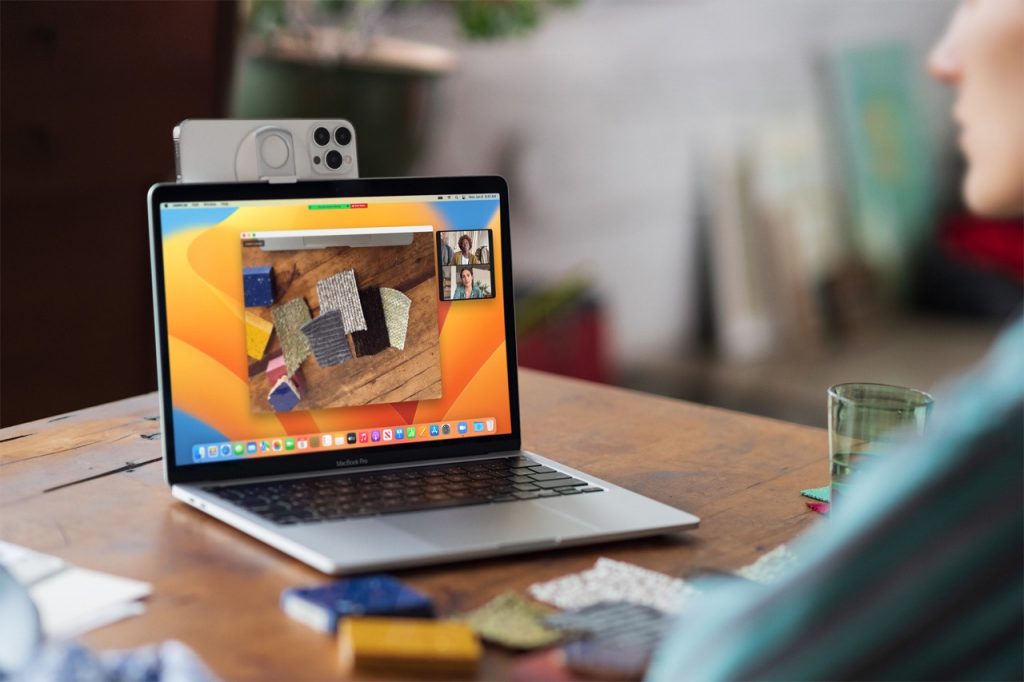 Ventura now supports Continuity Camera, which is a function that enables you to utilise your iPhone as a webcam. This feature is an addition to the other Continuity tools available in macOS. This is made possible by a new set of stands whose base is on the MagSafe connector and allows you to clip the device onto the screen of your laptop or monitor. Your Mac ought to recognize it and connect wirelessly when you get there.
This feature also supports popular macOS camera techniques like Center Stage and new capabilities like Portrait Mode and Studio Light, all of which help you appear more apparent to the people you are chatting with via video. The built-in Ultra-Wide camera on the iPhone can even be used for something called "Desk View," a new option that shows video chat recipients the user's face and an overhead view of their workspace.
A recent upgrade to Handoff makes it possible for Macs and supported iPads to automatically recognize when an iPhone currently engaged in a FaceTime call is brought into proximity to them. This makes it much simpler to transfer a call from your iPhone to your Mac when using FaceTime.
Also Read: Installing macOS Monterey Beta On Your Compatible Mac
2. Stage Manager
This new window management system creates a new overlay on the left side of your display. This helps you maintain track of your work so that you don't lose track of what you're doing. The user interface organizes all of your windows into a convenient collection of stacks.  They can modify any way you like. Users also can manually connect apps that they use together regularly. This improves their ability to switch between tasks promptly.
Stage Manager also has a mechanism that requires one click to always reach your desktop, allowing you to return to your files and folders as rapidly as possible.
3. Updated Mail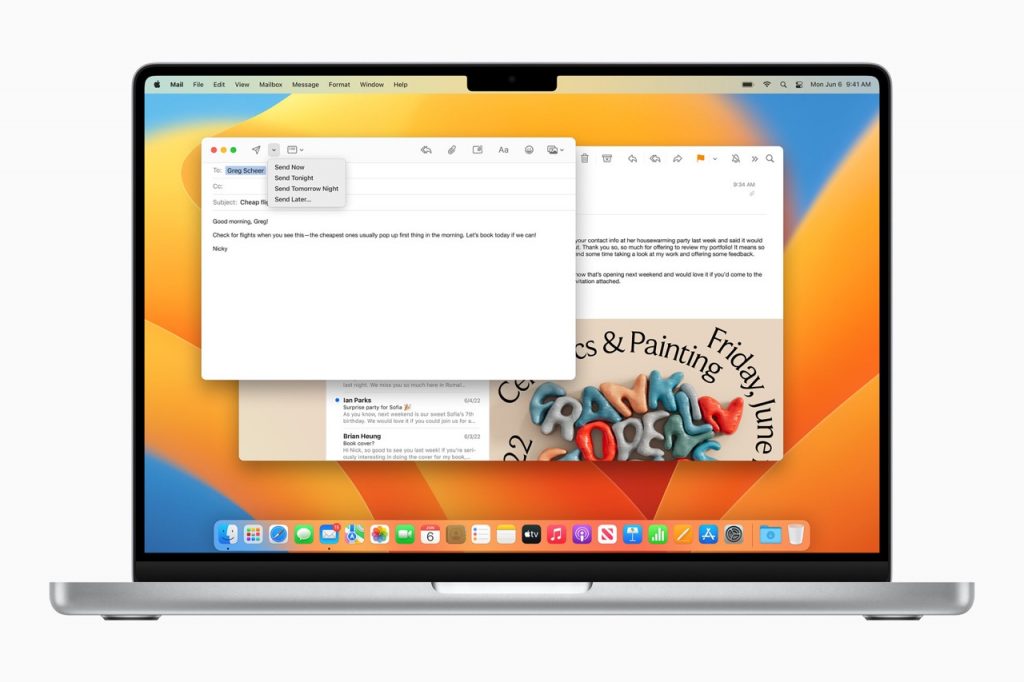 Mail has received its "largest revamp to search in years," in addition to a series of enhancements geared toward assisting you in more effectively managing your correspondence. This includes the ability to undo sent messages, schedule sent messages, and make follow-up reminders. "Intelligently recognizes if objects such as an attachment or the cc recipient are missing" is a new feature to the app.
Also Read: Your System Has Run Out Of Application Memory Error Received In macOS – Fixed
4. Messages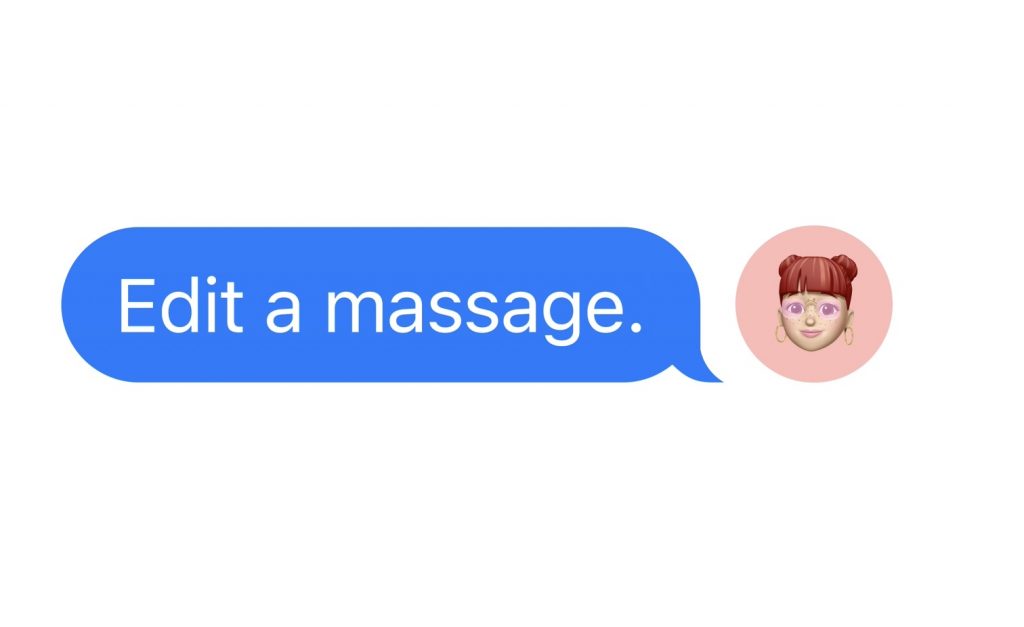 You can now undo and amend sent messages for a brief period after they transmit, just like in Mail and the version of Messages included in iOS 16; this feature is currently available in the Ventura edition of the program. This capability to reverse mistakes extends to the point where retrieving texts that were deleted inadvertently is now possible.
Additional tools for sharing and collaboration, as well as extended SharePlay choices, can now be found within the Messages app itself. These are some of the other new features.
5. Safari
Apple is improving the power efficiency and sharing capabilities of its "world's fastest browser" with this upcoming update. The latter focuses on enabling users to share entire groups of tabs with one another so that they can work together to finish tasks such as buying, researching, and other related activities. These tabs automatically update in real-time, and all participants are able to view any live changes that are made.
6. Passkeys
With the introduction of the new Passkey feature, Apple hopes to eradicate the need for users to remember and enter passwords by introducing a new "Passkey" system that resides solely on users' Apple devices. To keep your credentials hidden behind a wall of biometric protection, the system employs ciphering procedures in conjunction with its built-in TouchID and FaceID technology.
The use of passkeys will be possible within apps as well as on websites. They will never leave the devices you use to access macOS or iOS. They will be nontransferrable over the public internet. Any information exchange between Apple devices is done so exclusively over your local network and using methods that encrypts.
Apple also collaborated with the FIDO alliance to guarantee widespread interoperability with non-Apple devices. It also includes the option to utilize passcodes on your iPhone by scanning a QR code.
Also Read: 8 Ways To Use The macOS Recovery Tool On Mac
7. Gaming


Apple has released a new Metal 3 application programming interface (API) for macOS Ventura to attract more high-performance gaming to the Mac platform. This results in speedier loading times for graphics and enables developers to make a better relationship between the storage capacity of the Mac and the graphics processing unit.
MetalFX Upscaling is an additional brand-new function that is new to this. This feature enables games to run more smoothly by rendering at a lower internal resolution before upscale and shown. Because Apple's latest M2 CPU powers it, the new MacBook Air should make gaming a snap. This chip offers improved performance in comparison to its predecessor.
Additional Updates: 
Apple introduced several less significant upgrades, additions, and improvements to the overall quality of the product. 
The picture and text recognition capabilities of Live Text now exoand to cover the complete operating system. This also applies to material written in other languages, such as Korean and Japanese.

You can now get information on new categories using Visual Look Up. These new categories include animals, birds, insects, statues, and other types of landmarks.

The Weather and Clock applications, in the macOS Centura a.k.a macOS 13,  resemble their respective iPhone versions more closely.

Live Caption now covers any audio content, including live video calls. It also supports Live video calls.

The old Preferences menu is now the System Settings menu. In addition, it is now available with a "refreshed and streamlined interface". This makes it "easier to browse and instantly familiar to users of iPhone and iPad."

A new update is to the security features of macOS, including adding "new tools that make the Mac more resistant to attack."  One of these new tools is Rapid Security Response. It works in between regular updates to keep the system's security current without requiring a restart.
Also Read: Activity Monitor Not Working In macOS Monterey? Try These Fixes
When Will, the macOS Ventura, be Available? 
Releases of macOS Ventura will occur according to Apple's typical WWDC schedule. The developer beta is now available for developers to quickly test and update their applications. After this, a public beta version will become accessible in July. The final version will come out in the fall of 2022. It will be compatible with most Macs that have come after 2017.
Conclusion
In terms of appearance and functionality, newer versions of Apple's macOS have made some changes. They have brought it closer to the company's mobile operating systems. The macOS Ventura is no different since it has features that enhance the unified experience across all of Apple's devices. Some examples of these features include Continuity and Universal Control.