The new iPad Pro is more than a tablet , and Apple claims it to be a replacement of your laptop and desktop computers. Packed with advanced features, it is capable of accomplishing anything that can be done using a computer, and more, with better performance and speed and the whole display is all screen which is made of all new technology called "Liquid Retina display". With so much to offer, it's sure that the users are going to have a brand new computing experience, with the new iPad Pro. It is available in two dimensions as per the display screen 11" and 12.9" iPad pro.
iPad Pro is packed with power
The device comes with a 12X Bionic chip, claimed to be the most advanced chip ever made by Apple, and faster than all the microprocessors available currently. Its inbuilt Neural Engine allows it to do advanced machine learning, and is capable of running five trillion operations per second. All that power allows you to multitask, with the heaviest of applications.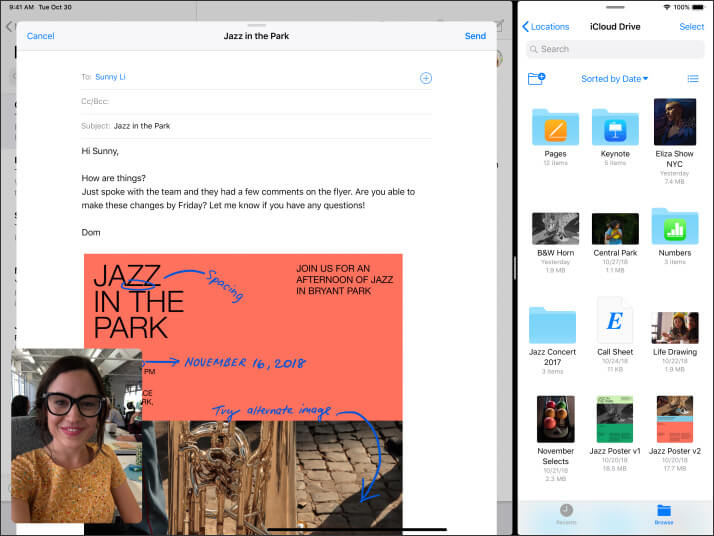 You can work with any graphics software, play a movie, browse the internet, and make a video call all at the same time, and there's no way that the device will slow down. Adobe Photoshop CC that is set to release in 2019 will be available for installation and use on iPad Pro in 2019. The device is capable of handling pro apps like these with ease.
iPad Pro offers great visual experience and opportunities
iPad Pro comes in two modes, a wide 12.9 inch screen, and a normal 11 inch screen. In both the cases, the screen has been stretched up to the edges. This gives the device a distinct look, in comparison to its earlier versions. The display uses Liquid Retina Display that goes from one edge to another, and ProMotion technology, which makes everything that you see quite realistic. The colors displayed on the screen are industry accurate, and easy on the eyes.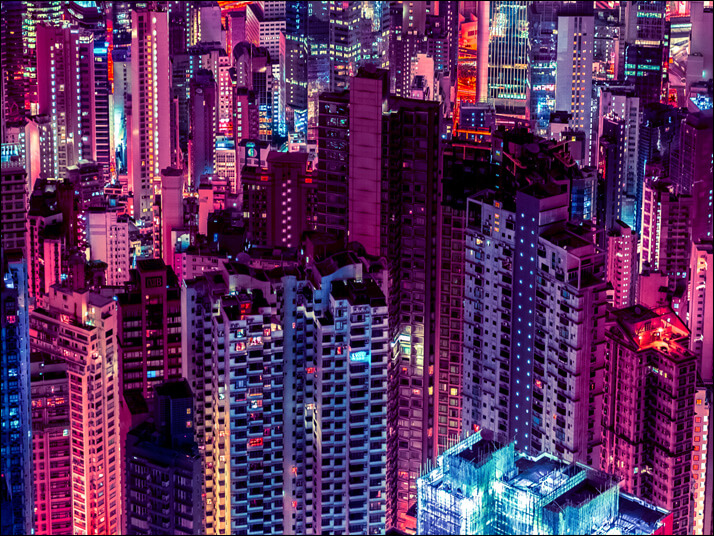 The 12X Bionic chip makes the graphic two times faster, allowing the user to play games designed for PCs and various other video game consoles with ease, and giving them an amazing visual experience. Also, because of this feature, the users will find it to be the best platform to run augmented reality based applications. The processor chip combined with amazing visual technology makes the device an absolute treat for the eyes.
Claimed to be the most secured device out there
iPad Pro comes with a smart Face Id scan feature. So, no matter how you hold it, portrait or landscape, it can easily scan your face. Face Id can be used not just to unlock the device, but also to log in to the apps, and make payments. Apple claims it to be the most secure available in any device at present.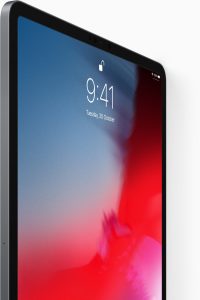 The Input Unit: Introducing the brand new Apple Pencil
The Apple Pencil has been redesigned to offer a better, more comfortable grip to the users. Now, they will be able to hold it and work for hours, without any risk of pain or cramps on their hands. There is tapping feature offered on the pen. With a double tap, the user can change the pencil's tools, and switch from pencil to brushes, eraser, and so on. The pen can be attached to the device to charge it  magnetically.

Note: Keyboard Folio and Apple Pencils does not come with iPad pro and you will need to buy them separately.
The new iPad pro comes with an amazing keyboard folio. It's comfortable for your hands and fingers; you can change the angle of the screen as per your preference. The folio is also designed to better protect the front and the rear of the device. There are two cameras in the device – a 12 MP rear camera, and a TrueDepth front camera. The rear camera can be used for Augmented Reality experiences, scanning, video recording and clicking stunning photos, whereas you can use the front camera for selfies, facetime, and so on.
Size, Connectivity and Miscellaneous
The device has gotten rid of all ports except a USB-C port, which can be used to connect all external devices like external projection, camera, and so on, and to charge the phone. The USB-C port is known for high quality performance and great connection. Of all the things that it has gotten rid of also includes the Home Button. So, to go to Home screen on this version, all you need to do is swipe up.
Gigabyte-class LTE (Long-term Evolution) is a feature in the device, allowing you to connect to 4G network with more speed, and better performance. The device also offers fast Wi-Fi connectivity.
The new iPad Pro is the most portable iPad ever, as it is the slimmest iPad ever, and weighs only around a pound. This is quite impressive, considering that it's packed with so much power. Speaking of power, the device can be used continuously for 10 hours without charging. The device looks stunning, as it is available in two colors – silver and space grey.
Core Price and Add-ons
The 12.9 inch iPad Pro starts from $999, whereas the 11 inch version starts from $799. Depending on the storage, accessories and connectivity feature, the price gets higher. For instance, the device with the storage of 1 TB would cost $750 extra, and if you desire both Wi-Fi and cellular connectivity, it'll cost you $150 extra. Also, the Apple Pencil would cost you an extra $129, and the smart keyboard folio an extra of $199.
Altogether, if your purchase a 12.9 inch iPad Pro, with 1 TB storage, that also has Wi-Fi + cellular connectivity, a beautiful  Apple Pencil and smart keyboard folio, you'll have to pay a grand total $2227 only.
So in our opinion, the new iPad Pro is really going to be loved by everyone and will win the market of tablets around the world, and it does have certain features that challenges the most powerful PCs out there. However, the thought that it could be a complete replacement of the PC is a bit skeptical one. Sure, certain user might try to use it for their PC based projects, but there are many others who may not find it as comfortable to work with. Also, the total cost for a 1 TB iPad Pro with Apple Pencil and Keyboard Folio is way much higher than a normal PC. This is one of those things that only time can tell.
Please share your thoughts, or your experiences using the new iPad Pro in the comments section below.