Especially when working out at home, it's all too tempting to take the easier route. But Peloton's new connected strength-training product, launching today, is designed to convince you otherwise. Although the company has had an app for strength training, boot camp, and yoga classes for the past few years, it's remained mostly known for its cardio offerings: Despite heavy competition, Peloton remains the gold standard for living room spin sessions and has a mega fan following for its Tread. Now, the brand is making a move to become a strength-training destination with the launch of Peloton Guide.
In this article, we will be discussing Peloton Guide 2022. So, let's begin.
---
Contents:
Introduction
What is Peloton Guide?
Pros & Cons
More
Pricing
Installation
Interface
Conclusion
---
What is Peloton Guide?
The Peloton Guide is a camera that connects to your TV and lets you see yourself on the screen as you work out, with motivating movement tracking and personalized class recommendations that make strength training fun.
Also Read: All About The New Huawei P50 Pocket
---
PROS & CONS of Peloton Guide 2022
PROS
Fun, well-produced workouts with popular music
Shows you on screen while you work out
Tracks movements
Motivating performance-based awards
Personalized class recommendations
Supports voice controls
Has a privacy cover and microphone switch
CONS
Requires a TV
No leaderboards
Occasional Movement Tracker and voice control issues in testing
Doesn't count reps, offer weight suggestions, or give form feedback
Lacks Apple Watch support
---
More About the article
The Peloton Guide comes with everything you need in the box – the device itself, an HDMI cable, a USB-C power cord, a power brick to plug into the wall, the remote, and batteries. The base package is $295 USD, and there are two other packages that include various amounts of weights, a mat, and a Peloton Heart Rate Band.
The Peloton Guide is available to purchase both through Peloton's website or through your local showroom. If you can, order from your local showroom as the employees will earn a commission for the sale. Note that the showrooms have demo units to try out, but if you purchase from a store, it will still ship to you from a warehouse.
Also Read: All About The Discord Streamer Mode
---
Pricing
On its own, the Peloton Guide costs $295. It requires a TV with an HDMI port and a recommended resolution of at least 1080p. It works with any brand of weights, as well as with most Bluetooth-enabled heart rate monitors. As of this writing, it doesn't support the Apple Watch for heart rate monitoring, however.
For this review, Peloton sent me the Guide along with a company-branded workout mat. I already had a couple of sets of Peloton-branded dumbbells and a Peloton Heart Rate Band, so I used them for testing. If you don't already have accessories, Peloton offers bundles including the $545 Guide Strength Starter, which comes with three sets of Peloton-branded dumbbells, in your choice of weights from 5 to 30 pounds, plus a workout mat. The company also offers a Guide Power With Rogue bundle starting at $935 that includes six sets of Rogue dumbbells from 5 to 50 pounds, a Peloton Heart Rate Band, and a workout mat.
As is the case with the company's smart stationary bikes and treadmills, the Guide requires a Peloton All-Access membership, which costs $39 per month. The membership unlocks access to the company's full workout library, performance-tracking features, and the ability to set up an unlimited number of profiles on your device.
Also Read: All About Heardle: Wordle For Music Lovers!
---
Installation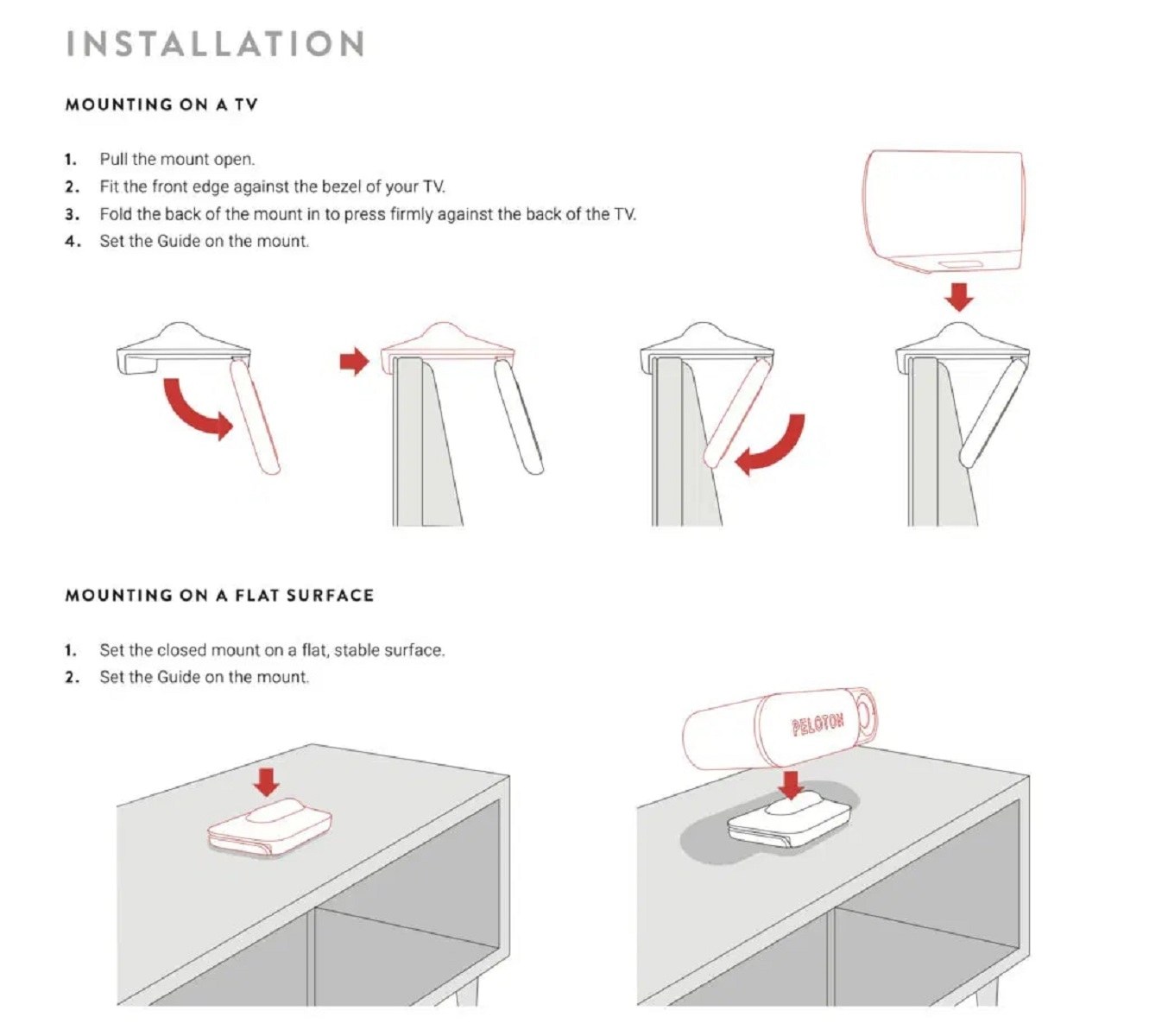 Once you have your Peloton Guide out of the box, the next step is figuring out how & where to mount it. The Peloton Guide user manual has exact guidelines & recommendations – but it boils down to you'll either be setting it on a shelf or mounting it on top of your TV.
If you have a shelf or something you will be setting it on – just set the mount on yourself, attach the Guide to the mount, and you're ready to go.
Alternatively, you can mount the guide to the top of a TV. The mount folds out into a bracket and can be placed on top of the TV. There is no adhesive used – it balances and folds over your TV.
With the Guide mounted or set on a shelf, you can jump into your Peloton Guide. It takes around 10-15 minutes to set up this. It comes with a remote you can use to navigate around and control your classes – and there are some voice controls as well.
You simply plug the included HDMI cable from the Peloton Guide into your TV, change your TV to the HDMI port you just plugged the cable into – and the Peloton Guide will pop up. Everything runs on the device itself and displays via HDMI to your TV.
Also Read: All About Nerdle: Wordle For Math Nerds!
---
Interface
The new user interface for the Peloton Guide looks like an Apple TV interface. It's fairly intuitive and easy to use
You navigate around the Peloton Guide by using a menu bar that is on the left side of the screen. There are menu options for the Home, Profile, Classes, Programs, Collections, Setting, and a Power Button.
On the home screen, you are presented with an overview of your stats for the last month, and a small image of your Body Activity. You'll also find that if you have a class in your stack. The peloton will present it to you on the home screen so you can jump right into it easily.
From the Home screen, you can also jump into any live class if one is about to start.
Even in other class types, you have the option to change the layout.
Both the Collections & Programs page functions exactly like you'd expect them to – with a list of all the ones available to you that you can then click into and take.
Also Read: All About Apple Cinematic Mode On iPhone 13
---
Conclusion
In this article, we discussed all about Peloton Guide 2022. We hope this article is beneficial for you and you liked it.