A free VPN trial can allow you to explore the VPN features and usability before investing a year or more of a subscription if you want to test out a VPN before paying for it. Here are 8 VPN services that provide free trials, refunds, or freemium versions. You can test out the service with a free VPN trial at no risk before committing to a paid subscription. The availability of free trials varies greatly amongst VPN services.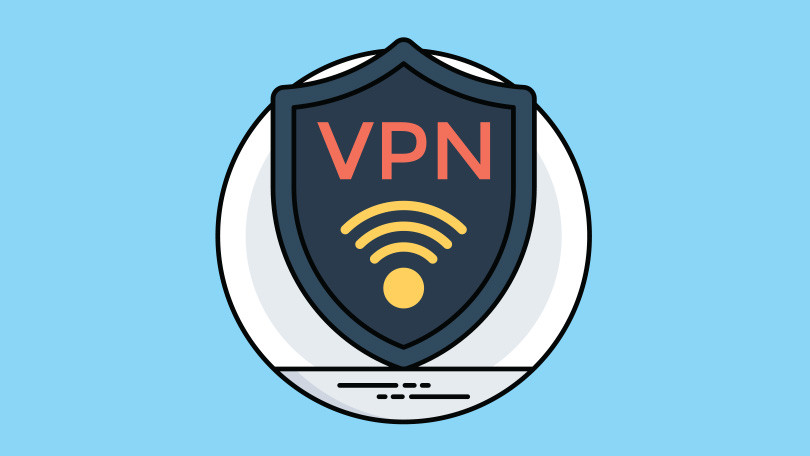 What is a VPN?
Virtual private networks (VPNs) are easy-to-use programs designed to hide users' true online identities and whereabouts from prying eyes. However, it may also be used for a wide variety of other purposes.
How Does a VPN Work?
All of your online activity is routed through a VPN provider's secure server and encrypted there. One possible scenario is a user in the United Kingdom establishing contact with a server in the United States. The VPN encrypts your data in transit as it travels from the UK to the US. As a result of the encryption, your Internet service provider can no longer monitor your browsing history, determine your origin, or follow your digital footprint.
Your data is then sent further to the destination website via the VPN server. The VPN server, not your device, will appear as the source of your connection to the site. Also, it will recognize the IP address of your VPN server rather than your own. Top VPN services have dozens of servers and frequently change IP addresses, making it difficult for websites to block them. Also, nobody will ever know who you are because of this.
Types Of VPN
Free VPN services are available in three forms:
free trials
money-back guarantees
free plans.
VPNs often provide a free trial period of between one and seven days. A longer period of time to try out the service before committing to paying is offered by money-back guarantees (often 30 days).
In this post, we'll go through our top 8 VPN service recommendations, including the greatest genuine trials,with the best refund guarantees, and multiple with great free plans.
Here are the top 8 Free VPN Trial 2022
#1.Nord VPN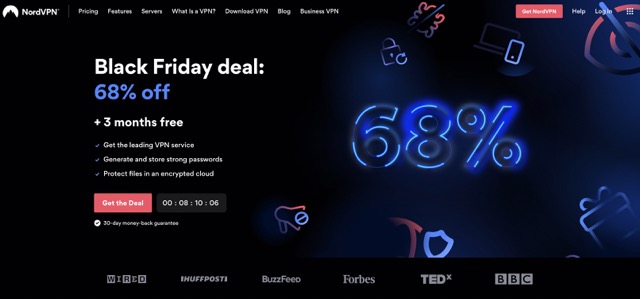 Our team found NordVPN to be the best VPN service overall. In our performance tests, it outperformed all others, and it offers a comprehensive set of security protections while keeping no records. Although there is no free trial period, the 1-month money-back guarantee makes it virtually risk-free to sign up and test it out. Likewise, there will be no restrictions on server locations or data transfer sizes throughout your trial period.
As standard, NordVPN protects against IP address leaks and utilizes 256-bit encryption with complete forward secrecy. If your VPN connection drops for whatever reason, the kill switch will immediately cut your internet access.
Many additional services, like as BBC iPlayer, Prime Video, Disney+, and Hulu, are also accessible through NordVPN with complete security. It has over 5,500 servers in around 60 countries, so you may choose from a wide variety of locations.
Due to Panama's lack of mandatory data retention provisions, NordVPN is free to operate without interference. However, this is moot because NordVPN does not store any logs of its customers' activity. The service provider acknowledges bitcoin and other digital currencies. There are apps for all the major platforms, including Microsoft Windows, Apple Mac OS X, Linux, iOS, and Android.
Free trial Policy
Despite the lack of a free trial option, you can test out NordVPN risk-free with to 30-day money-back guarantee.
Select a subscription and get the NordVPN app on your gadget. You won't waste any time or effort, and you can get going immediately.
Go ahead and use all your available bandwidth and speed to do some online shopping. The safety measures are state-of-the-art.
You may cancel your membership and obtain a full refund if you aren't satisfied with NordVPN during the first 30 days.
#2. Express VPN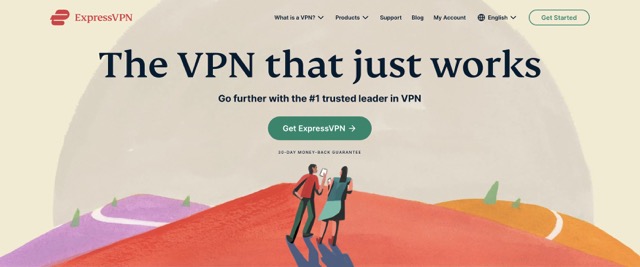 It is easy to understand why ExpressVPN is a top-recommended VPN service. It's designed for lightning-fast performance and built with robust encryption settings to ensure privacy, security, and anonymity.
Except for the time of connection, the server selected, and the total amount of bandwidth consumed, it does not record any personal information about the user. OpenVPN with 256-bit AES-CBC is used for encryption by default. A leak-prevention system and an emergency shutoff switch are also included.
ExpressVPN is compatible with every streaming service and offers limitless BitTorrent downloads. Thanks to its British Virgin Islands incorporation, it is exempt from required data retention requirements. It has over 3,000 servers in 94 different countries and takes Bitcoin as payment.
Free Trial Policy
ExpressVPN offers a risk-free seven-day trial period for users on iOS and Android.
ExpressVPN's 30-day money-back guarantee is more of a commitment to utilising the service while providing the assurance that you can cancel at any moment and receive a full refund. However, if you don't cancel your trial within a week, you'll be charged.
In contrast to a money-back guarantee, which requires an initial outlay of funds, free trials only provide credit card information but do not require payment in advance.
Since you are effectively paying for a membership to the service while having the option to refund, the Money-back-guarantee has less constraints.
In other words, you can take use of ExpressVPN with all its bells and whistles. However, the free trial has severe limitations and may only be used on one mobile device.
#3. Surfshark
Don't allow the fact that Surfshark is a cheap VPN service put you off. It has over 3,200 servers in 95 different countries and claims to offer lightning-fast service. Furthermore, it is compatible with the vast majority of the services we tried. If you download Surfshark from the Play Store or the App Store, you may use it for free for 7 days. However, it has a 30-day money-back guarantee that may be used on any device.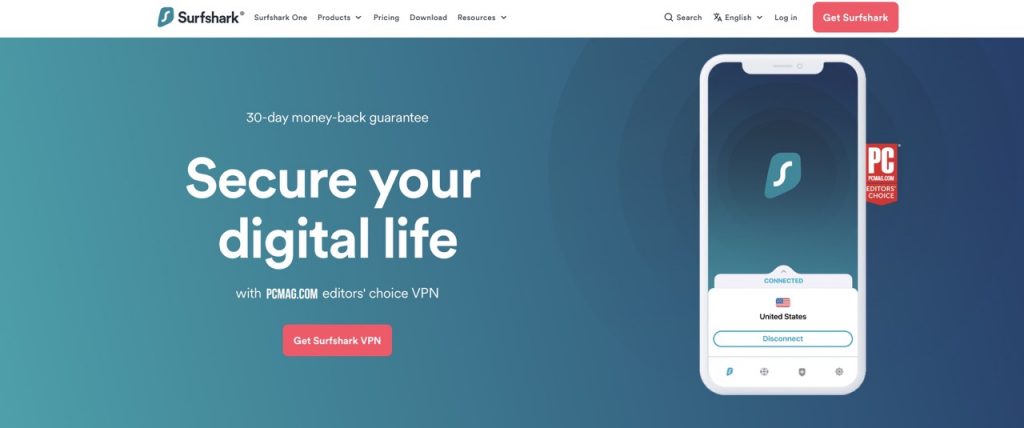 In that case, what makes this VPN superior to others? To start, it has an impressive arsenal of safety features. Features like a kill switch, leak prevention, stealth mode that may be used in China, and an IP address rotator are all included. As should be obvious, Surfshark also does not keep any kind of logs. There is a lot to enjoy, especially since there is no bandwidth cap and assistance is available around the clock.
Surfshark features native applications for every major operating system. To join up for the free trial, you'll need to use a mobile phone or Mac computer.
Free Trial Policy
To get Surfshark's free trial, you must join up through the App Store or the Google Play Store on an iOS or Android device. A Surfshark free trial can then be downloaded and accessed from any device using the same account information.
Devices running Linux, macOS, the Fire TV Stick, and Windows are all supported. You can test Surfshark on as many devices as you like because it has no device cap.
If you'd like to try Surfshark for longer than seven days, you can subscribe and cancel within 30 days for a full refund.
You are not required to give a reason for cancelling your Surfshark subscription, as the company has a "no questions asked" return policy.
All you have to do to get your money back if you decide to cancel your Surfshark subscription inside the first 30 days is contact customer service.
Send an email to support@surfshark.com or click the 'Support' button in the site's footer to get in touch with a representative.
#4.Vypr VPN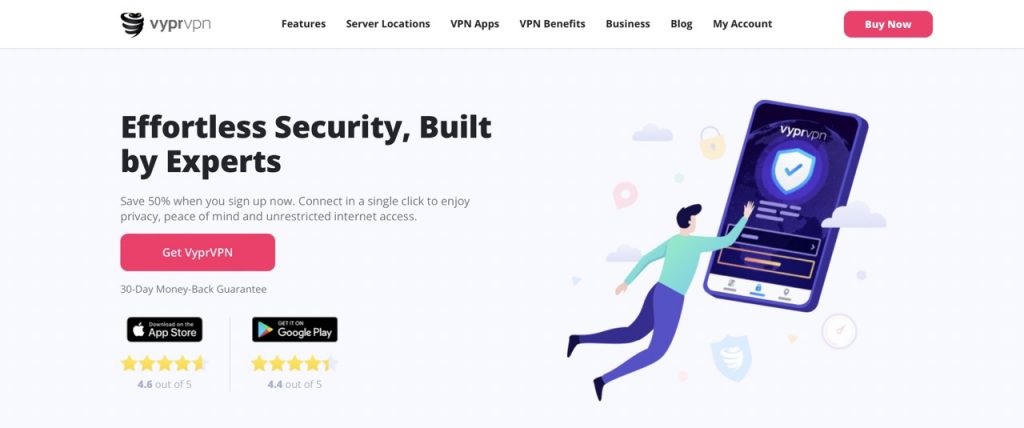 VyprVPN is such a high-tech VPN that it can even bypass China's massive firewall. ChameleonTM technology, which uses OpenVPN with 256-bit AES encryption, is available as a premium service for customers. It also has complete control over user information because it owns all of its worldwide servers rather than renting them as some other VPN providers do.
VyprVPN stores no personal information or sensitive data. Since its headquarters are in Switzerland, authorities have difficulty obtaining it through legal channels.
Supported platforms are  Windows, Mac OS, iOS, Android, and Linux.
Free Trial Policy
You may test out VyprVPN risk-free for three days to make sure it works well with your setup before making a purchase.
Although it's convenient, this trial is only compatible with Apple and Google's mobile operating systems.
The free trial only works on the device it was installed on, thus your internet security is only guaranteed on that one phone.
Alternatively, you can enjoy all the perks of a VyprVPN subscription without spending a dime by taking advantage of its trustworthy 30-day money-back guarantee.
VyprVPN also allows you to connect up to 5 different gadgets at once.
Payment in advance is required (for a two-month subscription, you'll spend just $6.47), but if you quit within the trial period of 30 days, you'll get your money back in full.
#5.CyberGhost
CyberGhost is unparalleled in its network, consisting of over 8,000 servers spread over 90 countries. It's quick, too, so it's a no-brainer for anybody planning to watch their favorite shows on Netflix or Hulu while away from home. The best part is that you may use this VPN risk-free for an entire day before committing to anything.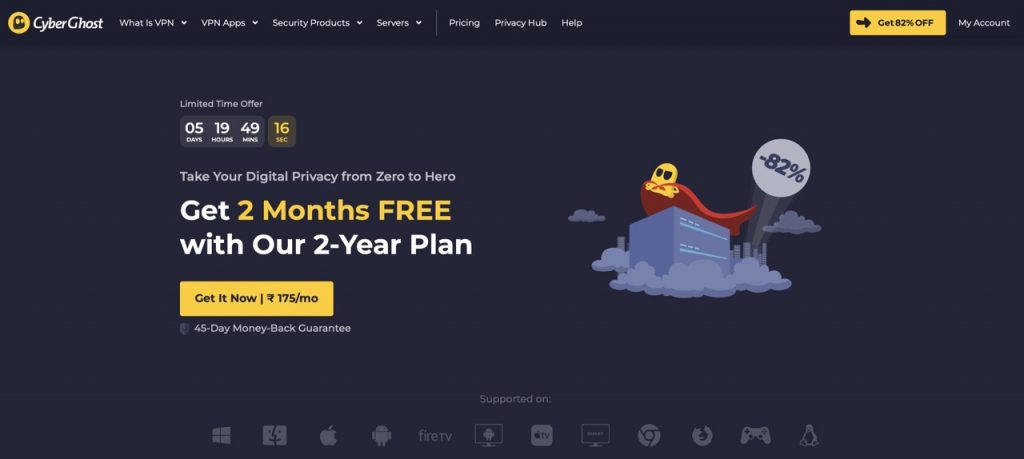 Security measures such as 256-bit encryption, a kill switch, an ad blocker, and safeguards against DNS, IPv6, and WebRTC breaches are all preinstalled. In addition, your personal information is never stored by CyberGhost in any way. Being challenged? Live chat and email are always open for customer service.
CyberGhost offers programs for the most popular operating systems, including Linux, Mac OS, iOS, Windows, and Android.
Free Trial policy
It's great when a service offers a free trial period before requiring a paid membership.
Although CyberGhost does not advertise a free trial, you can test it without risking anything. CyberGhost provides a 45-day money-back guarantee, during which time you can utilise the service at no risk.
CyberGhost offers a 30-day and a 15-day money-back guarantee, respectively. All plans longer than six months, including annual, come with a 45-day money-back guarantee.
There is a 14-day money-back guarantee if you sign up for the monthly plan.
The money-back guarantee for CyberGhost VPN requires you to pay for the service up front, but you can cancel within the first seven days if you're not satisfied.
If you terminate your account within the specified period, you will receive a full refund.
#6. Private Internet Access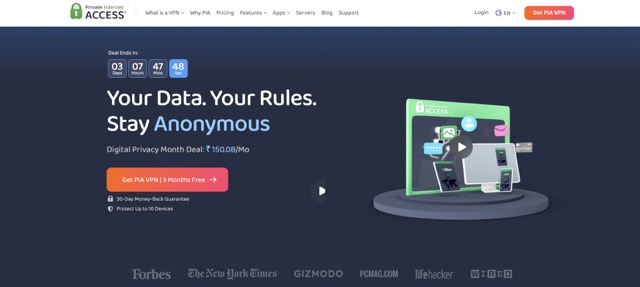 With servers in over 80 locations, Private Internet Access ensures that your online activities, such as streaming, gaming, and torrenting, are never interrupted. Moreover, this program allows you to safeguard 10 gadgets simultaneously. Users on any platform may reap the benefits of the 1-month refund guarantee and the seven-day free trial with the mobile applications.
Strong security measures are included throughout this service. These include 256-bit AES encryption, a kill switch, protection against DNS and IPv6 leaks, and a strict no-logs policy. WireGuard support was also introduced lately, so you may avoid using inefficient older protocols. The live chat service is available anytime if you have any questions.
All major operating systems (MacOS, iOS, Windows, Android, and Linux) have access to PIA's mobile apps.
Free Trial Policy
Even while PIA does not provide a free trial, there is a 30-day money-back guarantee that you can use without any risk. The annoyance of requesting a refund is reduced further because customer care doesn't ask too many questions.
When it comes to refunds, Private Internet Access is very honest. The Private Internet Access return policy states that customers have 30 days from the date of their initial payment to receive a refund. In addition, they specify that refund requests can be sent by support ticket or live chat.
However, if you terminate your service after chatting with support, they may ask you why. This question is for survey purposes only, and you are under no obligation to elaborate on your response.
#7.Private VPN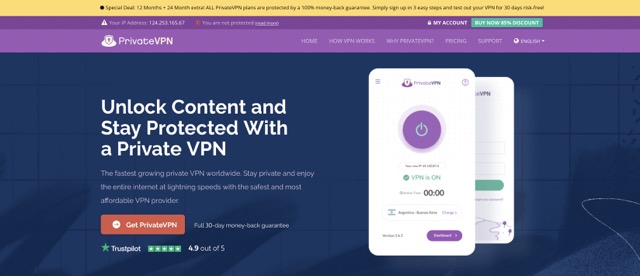 Even though it's relatively new to the VPN scene, PrivateVPN has all the safety and privacy protections you need to surf the web without interference. You can protect up to ten devices at once with PrivateVPN, making it suitable for a large family. Apps are available for most platforms.
PrivateVPN, in contrast to the other providers we considered, has a more modest server network of slightly more than 200. Those servers, however, are dispersed across 63+ locations, guaranteeing that there will always be a server conveniently close by. PrivateVPN allows you to circumvent geo-restriction on platforms such as Netflix and BBC iPlayer, allowing you to watch the same content at home, no matter where you happen to be.
PrivateVPN does not record user activity and offers a stealth mode to bypass internet censorship in countries like China. It has a 7-day free trial and a 30-day money-back guarantee, making it one of the most user-friendly VPNs we've tried.
Free Trial Policy
When it comes to free VPN trials, PrivateVPN is tops. It does a superb job of unblocking streaming services and gives a free 7-day trial to new customers. You may try out the service risk-free for 7 days; all you need is a working email account (it might be a throwaway one) and you'll be all set. In addition to the trial period, PrivateVPN also provides a 30-day money-back guarantee.
#8.Hotspot Shield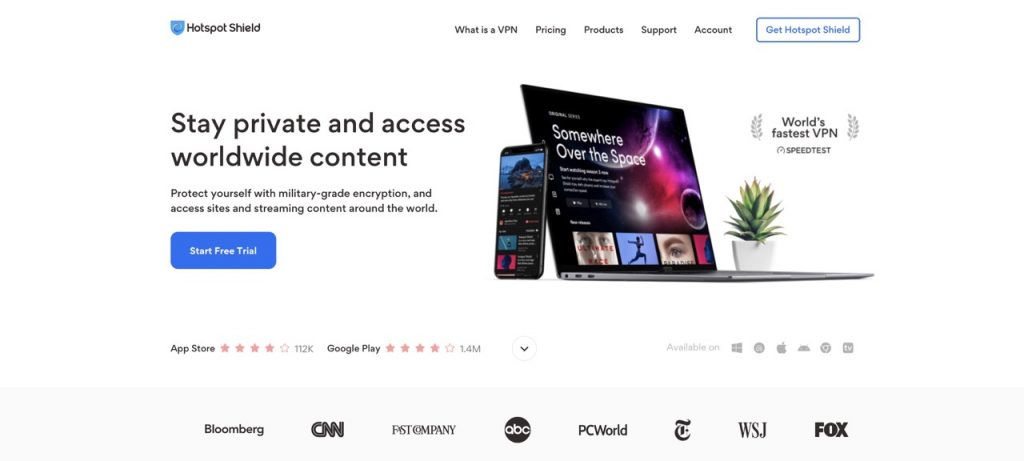 Hotspot Shield's free version is invaluable for those who would otherwise be subject to restrictive internet filtering and limitations. Even though the basic service is compatible with every platform, you can only use it on one device simultaneously. While many other free VPNs (sadly) don't operate this way and will sell your data to pay their bills,  Hotspot Shield is upfront about the reality that its paid subscriptions balance the expense of providing a free plan.
If you give Hotspot Shield's free plan a try and find that you need more features, you may try out the premium "Elite" plan risk-free for 7 days and gain access to the whole server network and more simultaneous connections. With this premium service, you may bypass regional restrictions on Netflix, Hulu, Spotify, and other streaming services, as well as on news websites, blogs, and social networking platforms.
Free Trial Policy
The best thing about Hotspot Shield is that it offers a free version. Unfortunately, this package limits you to the provider's U.S.-based servers only.
In addition, a paywall will pop up every time you try to watch something online streaming.
The paid version of Hotspot Shield is available for a 7-day trial. Try the 45-day money-back guarantee if that isn't long enough for you.
Doing so entails spending money and then submitting a refund request, followed by waiting for the money to be returned.
Final Thoughts
Before signing up for a VPN free trial, read the terms and conditions to ensure you are comfortable with the service. Use a money-back assurance instead of a limited refund policy. You can experience the VPN's full capabilities by using the trial version for a longer length of time.