To achieve your fitness goals and stay fit, it is widely recommended to walk at least 10,000 steps a day. Undeniably, it is impossible and unrealistic to keep track of these matrices as well as your physical activity. Here, the step counter apps also known as Pedometer come for the rescue. These apps are suitable for developing long-term walking habits, monitoring fitness levels, and leading a healthier life.
A wide range of apps also includes activity trackers to keep an eye on calories consumed as well as burned by you, your mileage, and your food habits. However, with so many available options you can get confused about which one will be the most suitable and help you monitor your fitness progress and walking habit.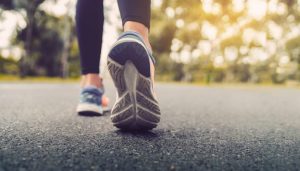 So, we have shortlisted the best five pedometer and step counter apps for you that can help you achieve your goals. Let's take a look at them:
Read:How To Calibrate An iPhone Battery In 6 Easy Steps
1. Pedometer & Step Counter
It is a very sophisticated app without bloating you with many useless features. Besides, it has a very clean and modern user interface which is a treat for the eyes. It is divided into 4 sections to give you insights into daily stats, progress reports, earned badges, and timeline history.
This app is particularly designed to be easy on the battery of your iPhone. Another great feature of this pedometer is that you can adjust the motion tracking sensor according to your needs or if you feel that it not detecting your movements accurately. This app is completely free and you need not upgrade to a premium if you can deal with ads.
Pros
Simple and saves battery power
Ability to adjust the motion sensor
Stay motivated by earning badges

Cons
Tap start for the app to work
Sometimes the tracking is paused if the app is locked
Must Read: How To Self-Publish And Market Your Book On Amazon: Step By Step Guide
2. StepsApp Pedometer
Steps Pedometer App is one of the best apps on iTunes under the Health and Fitness category. It has a very sleek and modern layout that tracks your daily achieved target. It even lets you check your long-term progress for up to a year using graphs and charts to identify the progress trends. The main tab shows daily walking steps, burned calories, total walking distance, and the time is taken.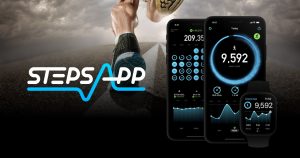 This app is also best for disabled people as it also lets you track the pushes of the wheelchair. You can also customize the app using different color animations for a unique experience to meet your needs. However, you cannot change the theme of the app from a darker color to a lighter color.
Pros
Modern, eye-catching, and customizable layout
Can access your progress for months and years
Track the wheelchair pushes
Cons
The interface is too dark without a lighter option
Monitoring of calories burned is not accurate
Read: Unnecessary Windows Programs and Apps You Should Uninstall
3. Pacer Pedometer & Step Tracker
Similar to StepsApp, Pacer Pedometer is one of the best step counter apps under the Health & Fitness category. It is loaded with tones of remarkable features and has a very intuitive and modern design. Apart from being just a step counting app it also has a built-in map app, social app, and workout app.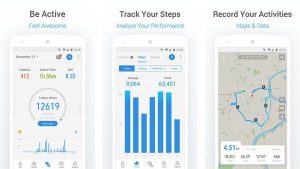 Apart from monitoring the steps, calories, and distance; you can also find new paths for exploring by walking or cycling. To stay motivated you can also access the community progress and watch the trainer workout videos for guidance. All of these features are free and if you choose to upgrade, you unlock a handful of extra features like a personalized fitness coach as well.
Pros
Beautiful Layout
Access to maps and workout apps for recording activities
Track your blood pressure and weight
Cons
Theme cannot be customized
Some features cannot be accessed without an upgrade
Must Read: How To Expand Your Brand/Business On Instagram?- An In-Depth Detailed Guide
4. Pedometer++
Pedometer++ is perfect for those health-conscious people who want a simple app and can be customized according to their needs. This app keeps running in the background to effortlessly count your steps. Moreover, this app does not affect your battery life at all.
You can also customize your daily, weekly, and monthly goals and monitor your daily progress on the dashboard.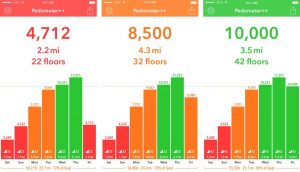 Badges and rewards are awarded for all the efforts that you giving for your fitness. However, this app cannot track any stats of your health.
Pros
Does not drain the battery
Customizable settings and themes
Cons
Layout is outdated
Some steps are not counted
Read: How To Add Signature In Gmail
5. Stepz
Stepz is a pedometer app that is specifically designed for iPhone users and can be synced with Apple health. It maintains the perfect balance between the basic functionality and some extra features as well.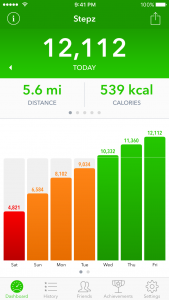 Similar to the other apps, you can count your steps, calories burned and distance covered. You are also notified when you achieve milestones. A very unique feature is that it lets you share your daily, weekly, and monthly achievements with your friends.
This app keeps running in your background and does not affect your battery performance.
Pros
Better accuracy and does not impact battery life.
Unlock creative achievements
Connect to your friends for motivation
Cons
Upgrade to premium for iOS widget and other features
Weekly subscriptions
Conclusion
If you want to stay committed to your fitness goal and keep an eye on your walking steps, you don't have to spend money on any gadgets and wearables. These step counter and pedometer apps for your iPhone can help you keep a record of your wellness and health stats.
Also Read: How To Install MS Office In Mac