Apple's newest pro-Mac Studio is released. It delivers beastly performance for its size and price starting at $1,999.
The Apple Mac Studio is a pro-oriented desktop Mac that's a hybrid between a Mac mini and a Mac Pro. Equipped with an M1 Max or M1 Ultra chip, tons of ports, and a new thermal design.
Also Read: [Fixed] Mac Studio 10G Ethernet Not Working
---
Content:
Features
Pros & Cons
About Apple Mac Studio
Where to buy it?
Who is this PC for?
Comparison
Reviews
---
1. Features of Apple Mac Studio
M1 Max/M1 Ultra chips
20-core CPU, up to 64-core GPU
Up to 128GB Unified Memory
Up to 8TB SSD
$1,999 starting price
Up to 6 Thunderbolt 4 ports
Also Read: How To Upgrade MacBook Pro Memory From 8 To 16gb
---
2. Pros & Cons
Pros
Freakin' fast
Great design
Finally, the ports that everyone needs/Plenty of ports
Whisper-quiet
Cons
Not the most impressive graphics scores
Doesn't outperform the M1 Max-based MacBook Pro by much
Expensive
No User-upgradable after purchase
Also Read: Apple MacBook Pro: M1 Pro And M1 Max Explained
---
3. Apple Mac Studio
3.1 Design and Ports
The Mac Studio is Apple's newest Mac product line, positioned as a cross between a Mac mini and a Mac Pro, as well as a potential replacement for the now-discontinued 27-inch iMac. Designed to look like a taller version of a Mac mini, the Mac Studio is aimed at "studio" professionals, as the name suggests, and it uses Apple's most powerful M-series chips.
Apple says the Mac Studio is meant to provide "outrageous performance, extensive connectivity, and new capabilities" in a super-compact form, transforming any space into a "studio."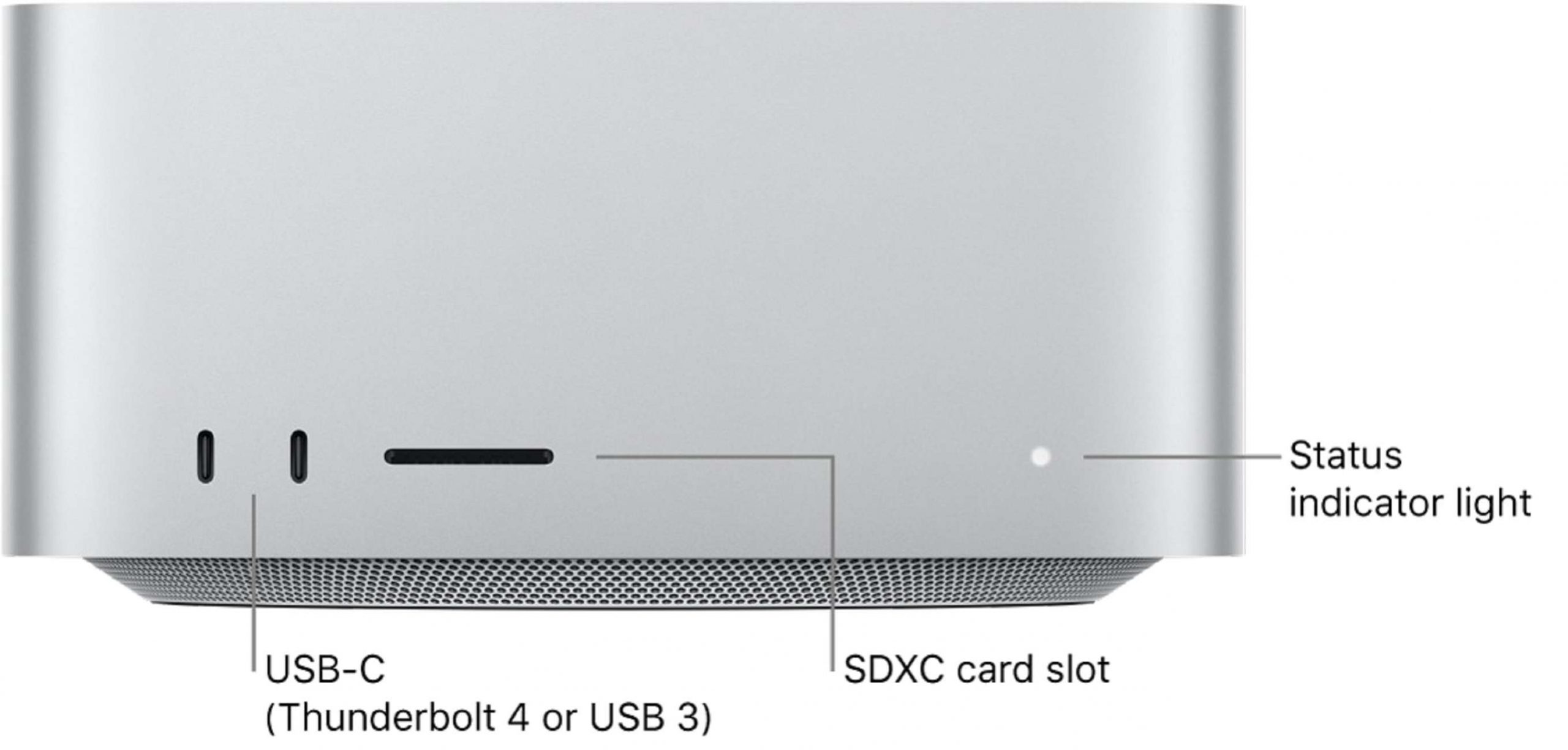 On the front, the Studio has two USB-C ports along with an SDXC card slot, which supports SD 4.0 and UHS-I and UHS-II, the ultra-high-speed bus interface used by higher-performance cards.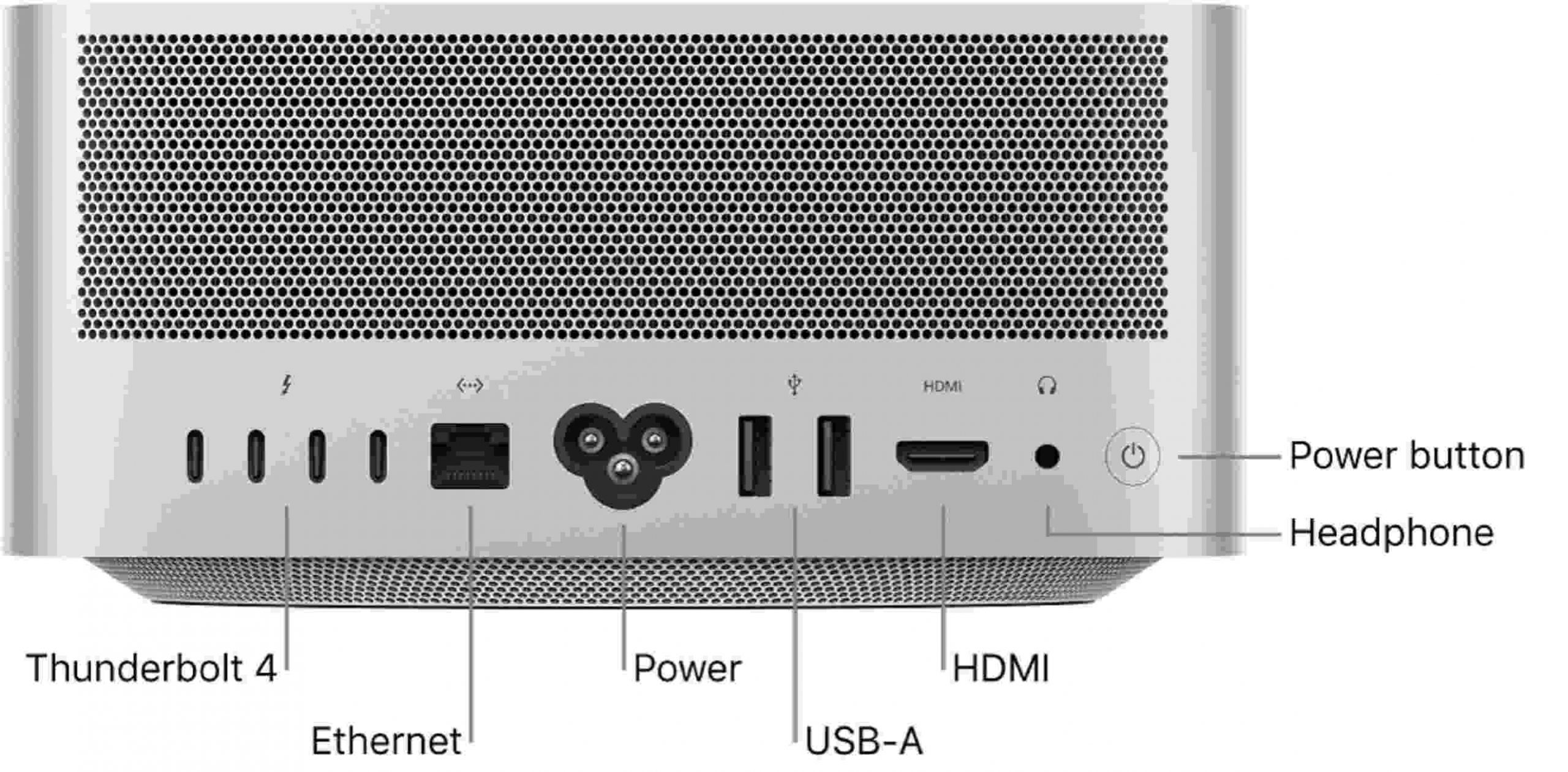 On the back of the small machine, you'll find four Thunderbolt 4 ports, a 10Gbps Ethernet jack, dual USB Type-A ports, a single HDMI output, and a 3.5mm headphone jack. Compared to other Mac products, it's one of the most comprehensive port selections offered.
3.2 Cooling
Additionally, the Mac Studio has active cooling, with a double-sided blower and ventilation that draws cool air up from the bottom of the chassis and exhausts the hot air out through the ventilated back of the machine. Apple boasts that it has more than 2,000 perforations, but there's probably not a huge performance benefit to having more tiny holes, even if it does look kind of cool.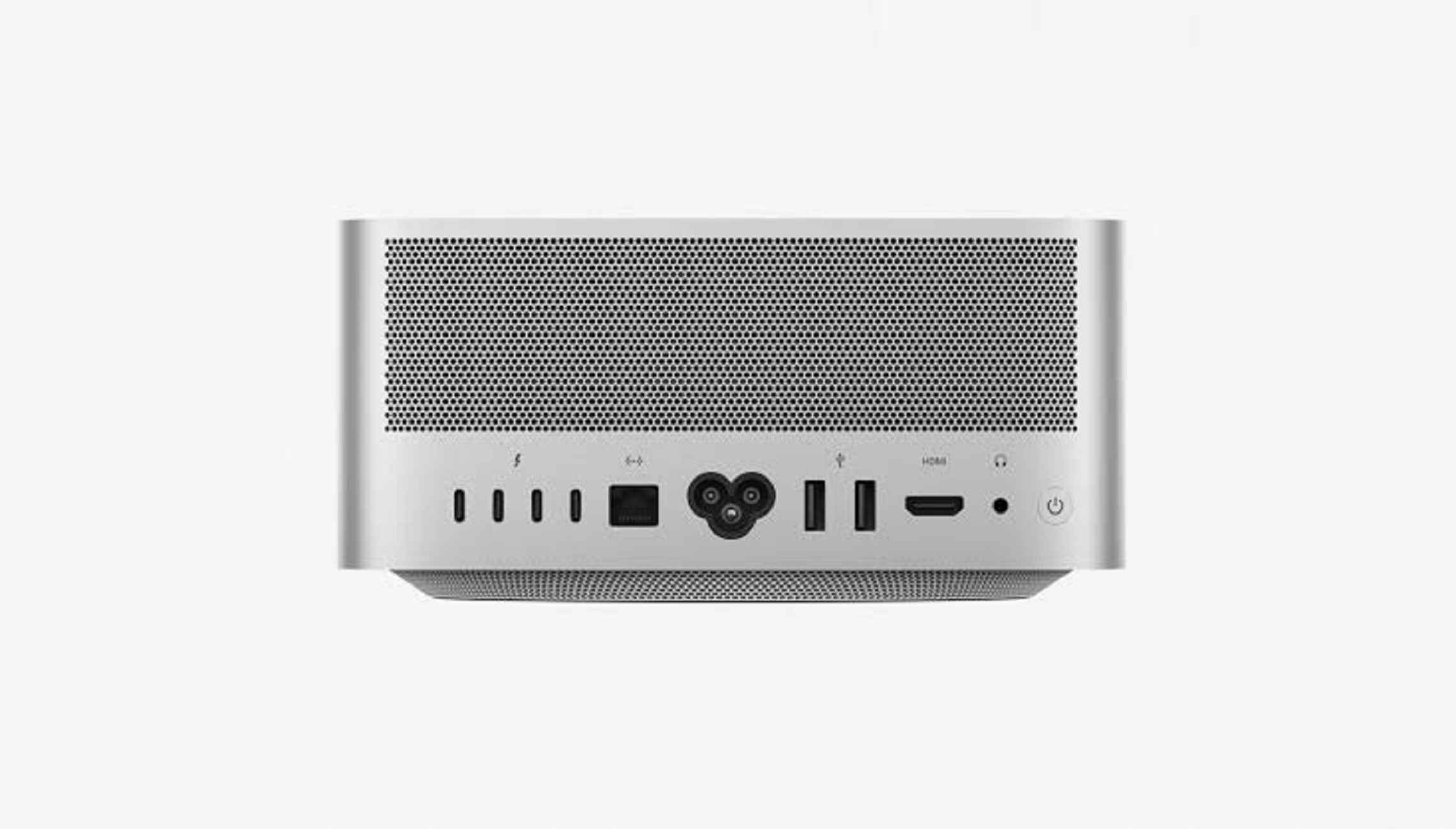 The cooling system not only accounts for much of the Mac Studio's height, but it's also the source of a lot of the weight. Our M1 Max-powered review unit weighs 5.9 pounds, which isn't bad for a system that is actually made out of a block of aluminum. But the M1 Ultra model is a bit heavier, with a full two pounds of additional weight. The extra heft is all due to the cooling system, which replaces the aluminum construction of the M1 Max model with copper in the M1 Ultra version. The rest should be identical, from the blowers to the ventilation, but that big chunk of copper makes it a heavyweight in the mini PC world.
3.3 Performance
While the Mac Studio resembles a larger Mac mini, it is far more powerful. The computer can be configured with the same M1 Max chip available for the 14-inch and 16-inch MacBook Pro, or the new M1 Ultra chip, which features a 20-core CPU, up to a 64-core GPU, and a 32-core Neural Engine. With the M1 Ultra chip, the Mac Studio has faster performance than a 28-core Mac Pro tower released in December 2019.
Specifically, the Mac Studio has earned a multi-core score of around 23,500 to 24,000 in many Geekbench 5 results, compared to an average multi-core score of 19,956 for the Mac Pro with a 28-core Intel Xeon W processor. This is especially impressive given that the Mac Studio with the M1 Ultra chip starts at $3,999, while a Mac Pro tower configured with a 28-core processor is over three times more expensive at $12,999.
3.4 Connectivity
On the back of the Mac Studio, connectivity options include four Thunderbolt 4 ports, two USB-A ports, one HDMI port, one 10-Gigabit Ethernet port, and a 3.5mm headphone jack with support for high-impedance headphones. On the front, there is an SD card slot, along with two USB-C ports for M1 Max configurations or two Thunderbolt 4 ports for M1 Ultra configurations. The computer supports Wi-Fi 6 and Bluetooth 5.0.
3.5 GPU
There are multiple GPU configurations for the M1 Max and M1 Ultra. The base Mac Studio with M1 Max features a 24-core GPU but can be upgraded to a 32-core GPU.
The base M1 Ultra chip features a 48-core GPU, but it can be upgraded to a 64-core GPU.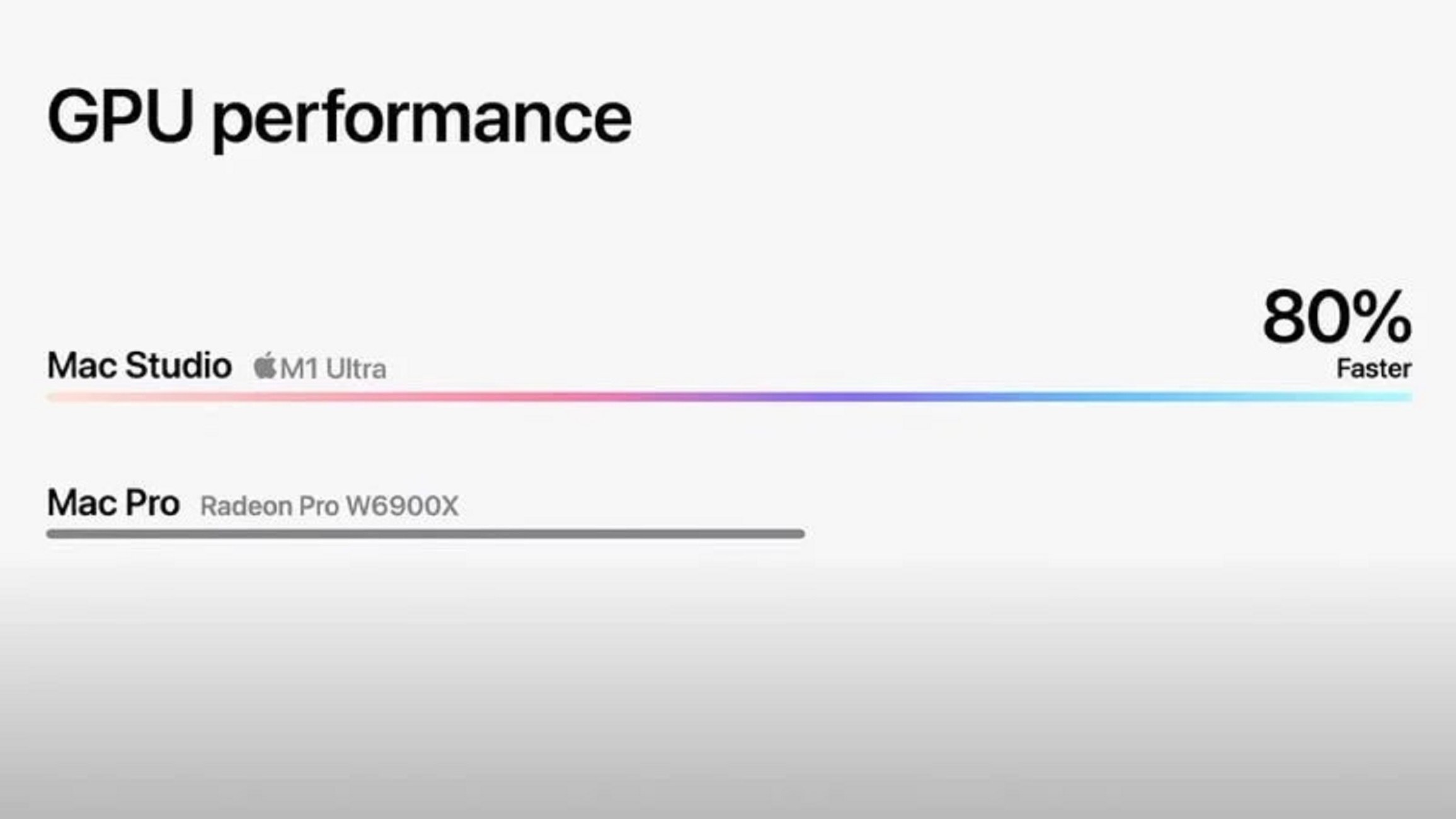 Apple's M1 Max chip offers 3.4x faster GPU performance than the 27-inch Core i9 iMac, and the M1 Ultra offers up to 4.5x faster GPU performance.
According to Apple, the M1 Ultra GPU is 80 percent faster than the highest-end Radeon Pro W6900X graphics card used in the Mac Pro.
---
4. Where to buy?
The Mac Studio can be purchased from the Apple website. The M1 Max version is priced at $1,999, and the M1 Ultra version is priced at $3,999, with additional upgrade options available.
Also Read: How To Deauthorize A Mac?
---
5. Who is this PC for?
This computer is built for designers, photographers, musicians, creators, animators, coders, and artists of all types. It's crazy powerful. Nobody makes an Apple machine obsolete faster than Apple itself and this could be seen during the Keynote. It is easy to speculate that this machine is meant as a replacement for that product line. The iMac Pro was a great middle-ground for people that needed something more powerful than an iMac or MacBook Pro. But didn't need something as powerful as a Mac Pro.
---
6. Comparison of Apple Mac Studio With Other PCs
If you are interested in a Mac then you've got to compare Apples to Apples. The Mac Studio comes in four configurations. The one that you should spend your money on depends on what you're doing. The lowest-end Mac Studio is capable of doing nearly everything the highest-end MacBook Pro is capable of doing. The highest-end Macbook Pro is slightly more powerful, but the second-tier Mac Studio edges out the MBP's specs. If you are in need of something far more powerful and opt to go with the Mac Studio's most powerful and expensive configuration, you are in for a monster of a machine.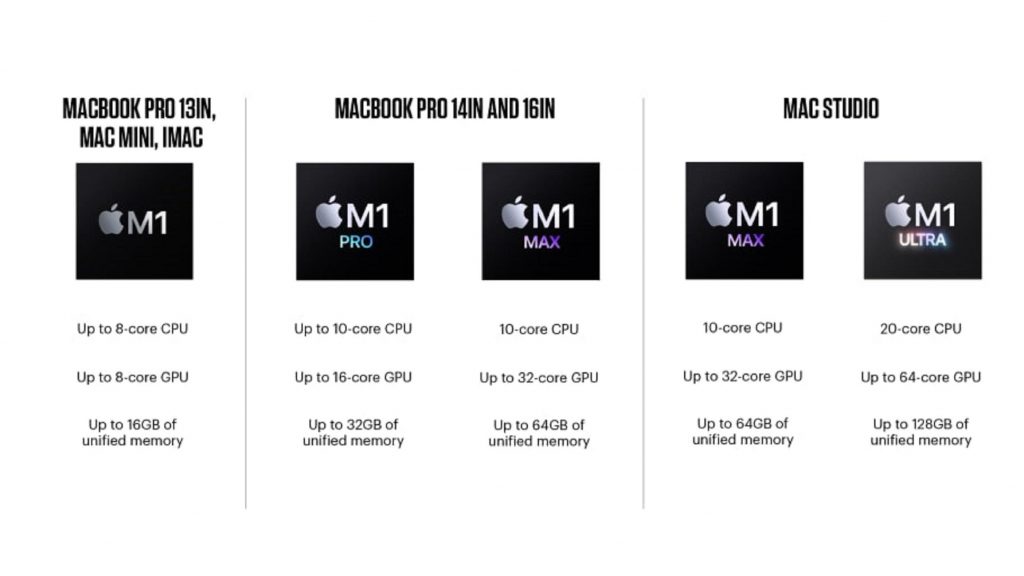 After performing various tests, the M1 Ultra Mac Studio more than doubles the performance of the MacBook Pro, which roughly doubles the performance of the original M1 Mac. When comparing a 15-minute video render time of the i7 MBP to the Mac Studio, it is found that the Mac Studio was roughly 5.9x faster, which is insane. When you combine all the time saved on little and large renders over the length of a typical 15-minute piece of content, literal days could be saved on the edit, which is a significant cost saving for an organization, and time savings for an individual editor.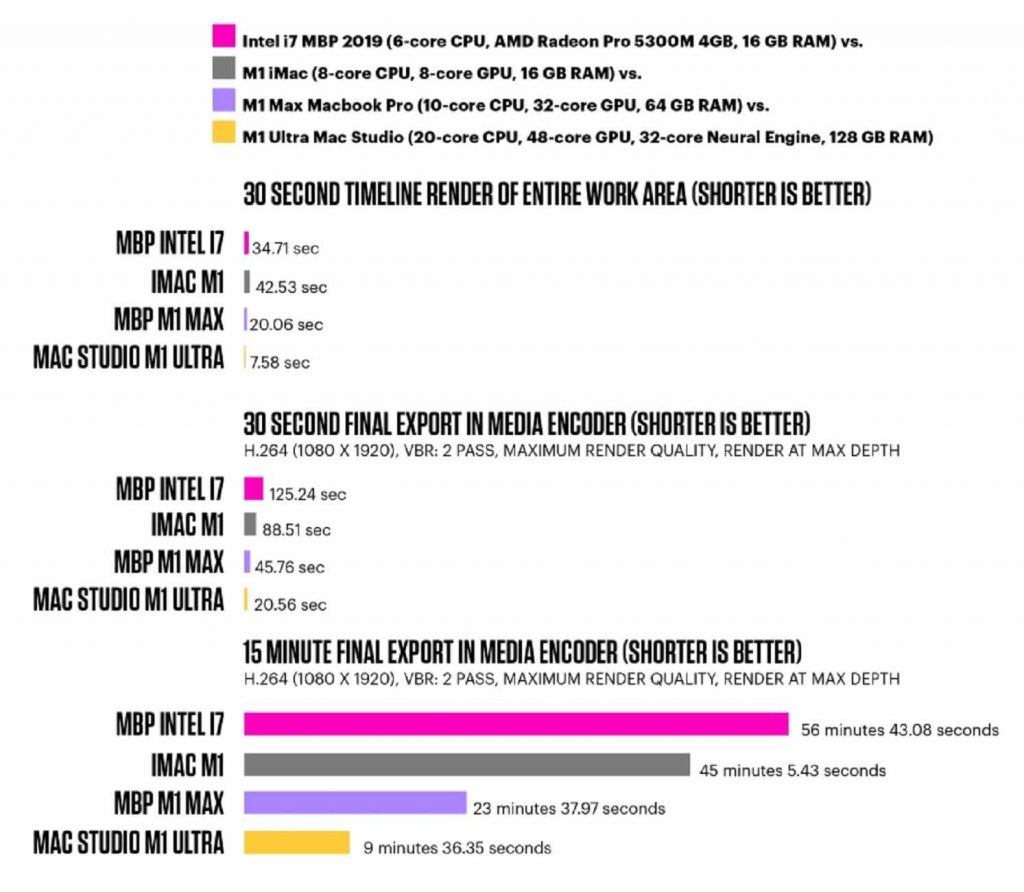 There is a significant time-saving at a macro and micro level. Using the Mac Studio made getting into a "flow" state of editing super easy. This lets you work far more efficiently for longer stretches of time. An edit that used to take me three hours, start to finish, now can be done in one hour. That is absolutely bonkers, especially when you start to think of how much time is saved over a year.
Also Read: Windows 11 SE vs Windows 11: A detailed comparison
---
7. Reviews on Apple Mac Studio
7.1 Price and Availability
Expect to pay between $2,000 – $8,000
To get one with M1 Ultra costs at least $4k
The Mac Studio launched on March 18. You can order one right now via Apple's website for a starting price of $1,999. For that you get a Studio with an entry-level M1 Max chip sporting a 10-core CPU, a 24-core GPU, and a 16-core Neural Engine, along with 32GB of unified memory and a 512GB SSD.
If you want a Studio with one of the new M1 Ultra chips, which are effectively two M1 Max chips joined into one mega-chip. It's going to cost you quite a bit more. The entry-level model is $3,999, and for that, you get an M1 Ultra with a 20-core CPU, a 48-core GPU, and a 32-core Neural Engine, as well as 64GB of RAM and a 1TB SSD.
For $4,999 you can buy an upgraded model with a 64-core GPU, and you can pay an extra $800 to double the memory pool up to 128GB. The storage is again expandable, up to 8TB ($400 – 2,200).
Our review unit arrived outfitted with a maxed-out M1 Ultra (20-core CPU, 64-core GPU), as well as 128GB of RAM and a 2TB SSD. To buy the same Studio direct from Apple would cost you roughly $6,199.
7.2 Design
Looks good on a desk, like a taller, heavier Mac mini
The tapered base aids airflow, makes the Studio appear to float
The Mac Studio's brushed aluminum chassis looks like a taller, bulkier Mac mini. It has the same 7.7 x 7.7-inch base, but at 3.7 inches in height. It's over two inches taller than the mini. It's over twice as heavy, too: a Mac Studio with M1 Max weighs about 5.9 pounds, while the M1 Ultra model is a hefty 7.9 pounds. Due in part to the extra weight of the material Apple uses to cool the more powerful chip.
7.3 Ports
Plenty of ports, including gasp a headphone jack
2 front ports are USB-C on M1 Max, Thunderbolt 4 on M1 Ultra
Apple did a good job of equipping the Mac Studio with enough ports to make it a viable creative powerhouse. On the back of every model, you'll find 4x Thunderbolt 4 ports, 2x USB-A ports, an HDMI port, a 10Gb Ethernet port, and a 3.5mm audio jack that supports high-impedance headphones or speakers. There's also a spot to plug in the power cable, and the aforementioned power button on the lower right-hand side (when viewed from the rear).
7.4 Performance
M1 Ultra blew past the competition in Geekbench multi-core CPU tests
However, in other tests, it was upstaged by the competition
The Mac Studio review unit Apple sent us is one of the most powerful you can buy, packing the beefiest M1 chip yet made, so I expected it to deliver some impressive performance in my hands-on testing.
7.5 Gaming Performance
Runs many Mac and iOS/iPadOS games well
Not great for gaming, especially versus dedicated gaming PCs
Unfortunately, many of the best PC games aren't optimized for Apple silicon and won't run well on the Studio. However, on the flip side, you gain access to a smorgasbord of games on Apple's App Store, both within the Mac App Store and the iOS/iPad App Stores since Apple's M1 chip can run iOS and iPadOS apps.
---
8. Conclusion/ Verdict
In the final tally, the Apple Mac Studio is a fantastic option for Apple users who need more power than other recent Mac offerings, but not a lot more power than they'd see in the M1 Max version of the MacBook Pro. It's a little cheaper when comparing configurations that use the same processor, but it also requires an extra monitor and peripherals, which erase the price differences pretty quickly.
On its own, the Mac Studio is a powerful little desktop, and a huge step up from the Mac mini and the Apple iMac. If you want a macOS desktop for video editing or similar media work, this is the little workstation to get. Comparable Windows systems from Corsair are just as expensive, and others may require a lot more work to get up and running, like the DIY-minded Intel NUC 12 Extreme Kit, which offers the power of "Alder Lake" 12th Generation Core processors, but is a barebones unit that requires bringing your own GPU, RAM, storage, and copy of Windows.
If you've been eyeing an aging 27-inch iMac and are due for an upgrade, or have considered the Mac Pro but know that it's way too much computer for your needs, then the Mac Studio is the perfect option. But for such an impressively built machine, that narrow appeal is the biggest problem with the new Mac Studio. It's a great machine, arguably one of the best Apple has made, but it's not a great fit for most.