HomeKit is a platform designed by Apple which lets you control all the internet-powered smart devices in your smart home. Through the Homekit platform, you can use your Apple device to operate all your Homekit enabled smart home appliances ranging from thermostats to window blinds.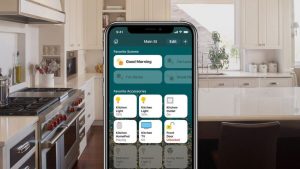 Apple's "Internet of Things" solution will receive several new functionalities in the upcoming iOS version this fall. A detailed section of the Worldwide Developers Conference's keynote explained all the upcoming features. In this article we will talk about all the new upgrades you will get to see in Apple's Homekit that can make your home even smarter.
Also Read: How To Recover Files From A Virus Infected USB Drive And Memory Card?
HomeKey 
Apart from releasing an updated version of CarKey, Apple is all set to bring a new Home key feature to the door locks in the upcoming iOS 15. After the release of the new iOS version, door locks having the support of HomeKit will be able to store a digital key in its wallet app. You won't have to carry any physical keys with you as you will be able to unlock your door using a virtual key stored in your Wallet app.
Apart from storing your house keys, you can also use the 'HomeKey' to pool your car keys, ID card, credit cards in your digital wallet.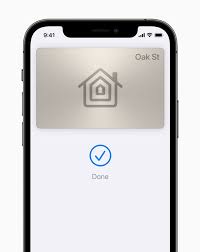 Unlocking the door with the HomeKey will be a hassle-free process and you won't have to ask Siri to unlock the door or open the Home App. Instead, a lock screen will appear on the digital door locks which you will be able to authenticate and unlock your door.
HomeKeys can be accessed by your iPhone as well as Apple Watch running on watchOS 8.
Also Read: How To Find Your AirPods, AirPods Pro And AirPods Max
HomeKit Secure Video
Homekit's camera can already detect and identify people, vehicles, and animals using the motion sensor so that it can alert you to any suspicious movement. But iOS 15 onwards, the camera will also be able to identify the arriving packages on the door as well. This will help you to know whether the package that arrived on the doorstep is the same that you were waiting for.
Homekit secure video feature is a part of iCloud+ with a price tag of $9.99 per month but now users will be able to configure unlimited video cameras instead of five.
Siri-enabled accessories
From iOS 15 onwards, Apple will allow the Homekit Powered accessories to integrate Siri functionality on them. This will be the first time in history that Apple's voice-controlled virtual assistant will be present on any non-Apple device. However, you will still be required to have a HomePod to act as a medium of communication between Siri and Siri-enabled third-party devices.
Reportedly, Ecobee will be the first company to bring out the first Eco Smart Thermostat with Siri functionality enabled on them.
Also Read: Smart Ring: Google's Patent To Control Devices Using Hand Gestures In 2021
Siri improvements
Through iOS 15, Apple is fulfilling the wish of the Homekit's users. Apple has allowed Third Party device manufacturers to integrate the functionality of Siri into their devices. After the integration, you can operate your Siri-enabled third-party accessories to set reminders, control devices, use a messaging app, and more.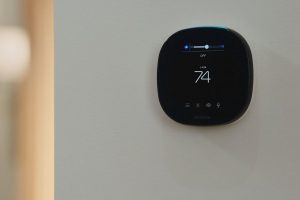 The integration of Siri will not be enabled soon after the launch of iOS 15 because the manufacturers need to implement this feature. You also need to own Apple's Homekit to avail this functionality on the Siri-enabled device otherwise there will be no medium to route the requests.
For instance, you can set a reminder and ask Siri to switch off the lights in 30 minutes or turn off the TV as you leave the living room.
Also Read: Apple AirPods To Get New Features With iOS 15
Apple Watch
Until now, Apple's Home app was not very functional on Apple Watch and only had few features. But with iOS 15, Apple Watch running on watchOS 8 will have a fully functional home app for the Homekit compatible devices.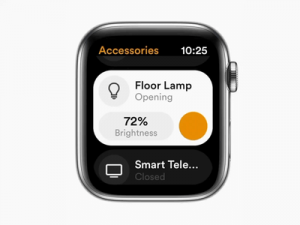 The app will have a handy intercom button to allow you to communicate with anyone easily within your house. A series of buttons will display the status of the sensors installed on the devices. Using machine learning, Apple will be able to sense which devices you might have to operate. 
You will also be able to view all the cameras in your home and also use their two-way audio feature directly from your Apple watch.
Apple TV
Apple has made a lot of improvements in the Apple TV support for Homekit cameras. Now you will be able to view all cameras in a grid form on the screen at once. You can also enable or disable the cameras and their accessories directly from the screen.
For instance, you can turn on the lights if you see someone approaching your front door.
Conclusion
These are all the integrations and improvements that you will see in Apple's Homekit after the official release of iOS 15 this fall. These features will surely elevate your smart home experience and provide ease of living.
Also Read: How To Protect Your Sense Of Hearing With Your iPhone And Smartwatch?