The thin bars that show at the top of your screen are called notification bars. These signs often have an urgent message or statement and a clear CTA button. You may use them to promote your mailing list, promote sales, or promote useful material. They're able to improve conversions by focusing visitors' attention on a single landing page. Thanks to the many available WordPress Notification plugins, establishing and managing alerts for a WordPress-powered site is a breeze. 
Pop-ups are frequently used by webmasters to draw visitors' attention to a new post, sale, or other significant news. Many readers, however, find them annoying and quickly dismiss them. Pop-up windows are annoying to Google as well. A notification bar is effective since it does not distract from the reading experience yet draws the reader's attention. A notification bar is preferable to a pop-up since it does not interfere with the user's experience. Quite a few of them are also compatible with mobile devices. 
Here, you'll find a plethora of free and paid WordPress plugins that may help you alert your audience to important updates on your site. To function, several of these plugins insert a bar into your site's interface. Most of them also have "Call to Action" buttons. Several of these plugins focus specifically on improving the WordPress email notification system. 
Advantages of Real-Time Notifications 
There are various advantages for website owners that implement push notifications: 
Not like emails, which might have poor open rates and hence go unnoticed, they are visible and may be acted upon quickly. 

They feel more like a direct communication from the sender than a message that has been tossed into a sea of others in the user's inbox. 

Users will feel more connected to the site and will think it's tailored just to them. Having devoted users is a major plus. 

Customers who have shown their loyalty to your business via the usage of push notifications are less likely to lose track of you. 

People are more likely to act on 'tailored' offers provided via push notifications than they are to open emails, which is good news for e-commerce companies. 
The best part is that with WordPress push notification plugins, you can easily create these notifications from your website. As long as the recipient has an active web browser, you may quickly and conveniently send them brief messages using them. It may not even be essential to have the browser open if you use a plugin that allows you to deliver push alerts to mobile devices like smartphones. 
When a user visits your site, they can choose to opt-in immediately, or they can choose to opt-in later on when they create an account. The trick is to encourage opt-in in a subtle manner and not to overwhelm them with unnecessary messages, since this will be perceived as "spammy" and turn them off permanently. The key is to provide just the correct amount of detail without coming across as intrusive. 
#1. WP/AMP Push Notifications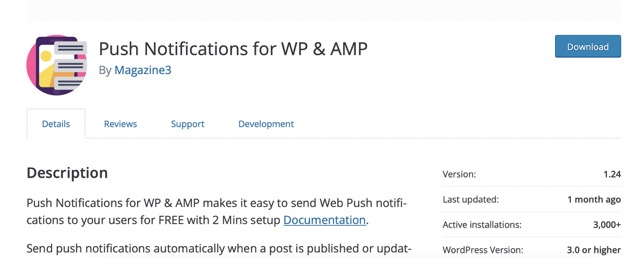 A newbie among WordPress push notification plugins, Push Notifications for WP & AMP is gaining popularity quickly. However, it's proving to be rather popular, with 3,000 current installations and a perfect 5.0/5.0 user rating. 
No premium upgrades are available for this plugin at the moment, therefore it is completely free but features-light. However, it could be the perfect entry point for individuals unfamiliar with push notifications or who have simple, low-traffic websites. 
#2. Gravitec.net.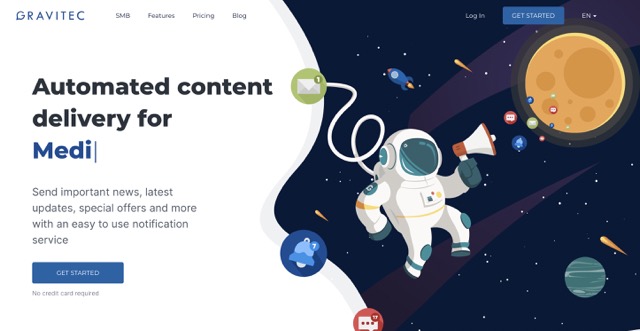 Gravitec.net allows you to send web push alerts to your readers quickly and easily. This extension works with Chrome, Firefox, Safari, Opera, and Yandex, and it's completely free to use to get the word out about your latest posts and deals. In addition, there are sophisticated options like subscription reminders, RSS-based automatic notifications, drip campaigns for introducing new users to your site, and a one-of-a-kind push digest of your most popular articles. You can rest certain that your readers are receiving your push notifications on Gravitec.net since it is optimized for use on any computer or mobile device. 
The Gravitec.net plugin requires a paid subscription in order to be used. However, you're in luck because Gravitec.net provides a permanently free plan for a single user with a whopping 30,000 members. All of Gravitec.net's features and integrations, as well as limitless alerts, are part of the price. However, a commercial plan is available with no limits on subscriptions or users, as well as white labeling, a developer-friendly RESTful API, and priority support. It's a good investment starting at just $4. 
#3. PushEngage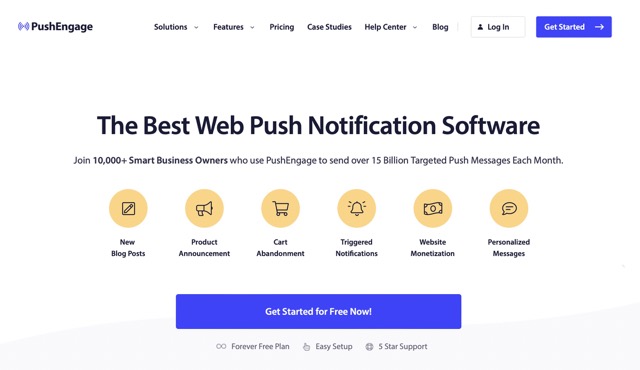 PushEngage is a popular WordPress plugin that adds push notifications to websites and blogs. The plugin, like the others on our list, is easy to install and use, and it sends web push notifications to your site's visitors to let them know about things like new blog posts or products, abandoned shopping carts, personalized messages, and triggered alerts. The product's main advantage is that it is compatible with a wide range of platforms outside WordPress, including Shopify, Magento, BigCommerce, Wix, Drupal, and any HTML5 site template. 
PushEngage's web push notification plugin helps retain customers by sending alerts to users' browsers. PushEngage is used by over 10,000 companies in over 150 countries. The free version of the plugin allows you to send out up to 30 campaigns each month to 200 subscribers. Monthly fees for the more expensive packages start at $9. 
#4. Beamer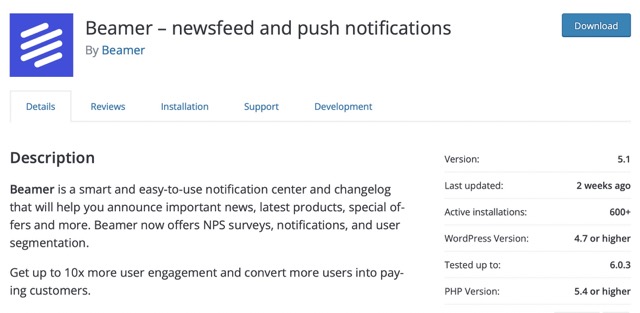 Beamer, in its free version, is a touch too rudimentary, especially considering its relatively low maximum of 1,000 visitors each month. However, it may be adequate if you just have a personal website and want to use it to send out the occasional push notice. The webpage for your forthcoming nuptials, for which you would want to notify guests via push notifications. 
But a premium plan is a reasonable choice for most sites. There are three plans to choose from: the Startup plan, the Pro plan, and the Enterprise plan, each of which costs $49 per month, $99 per month, or $249 per month, respectively, with yearly payment reductions available. 
#5. ONE SIGNAL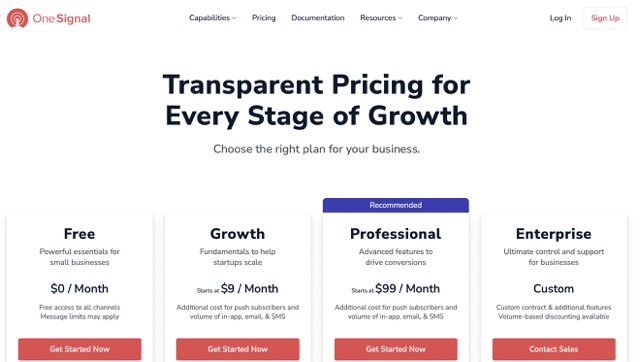 OneSignal is the best plugin for WordPress for sending out push alerts to your website's visitors. This plugin for WordPress is user-friendly and easy to set up and modify. Once set up, push notifications may be used to keep your site's users in the loop. They can then choose to be notified whenever a new article is posted. If consumers opt-in to receive alerts, they will continue to do so even if they are not currently on your site. More than 100,000 sites are now using this plugin, so it must be rather popular. 
OneSignal set a new benchmark for throughput with the transmission of over 8,500,000 push notifications in a single second. In other words, these are the new standard. because OneSignal sends over 6 billion alerts per day. However, most WordPress push notification plugins might take weeks or even months to send a large number of alerts. You can check the various plans and pricing it is offering.
#6. Webpushr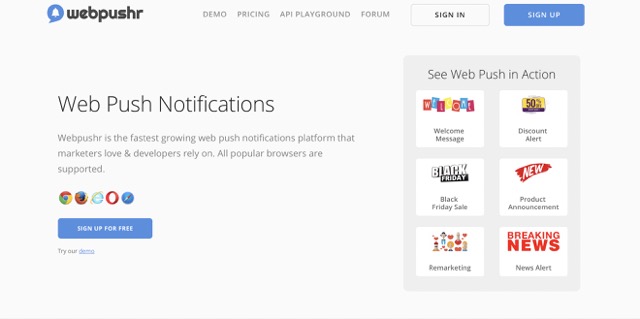 This WordPress plugin allows you to notify users' browsers even when they aren't actively viewing your site. 
Webpushr is a cheap push notification plugin for WordPress that is easy on developers. This is now the standard practice for sending notifications to users over the web. Unlike any other online push notifications plugin, up to 60,000 users can use all of the premium functions without paying a dime. 
Unlike similar online push notification plugins, its price does not rely on the number of features you use. The number of members, however, is the only factor in pricing. Users of any plan tier (even the free one) get access to all functions. 
#7. Notification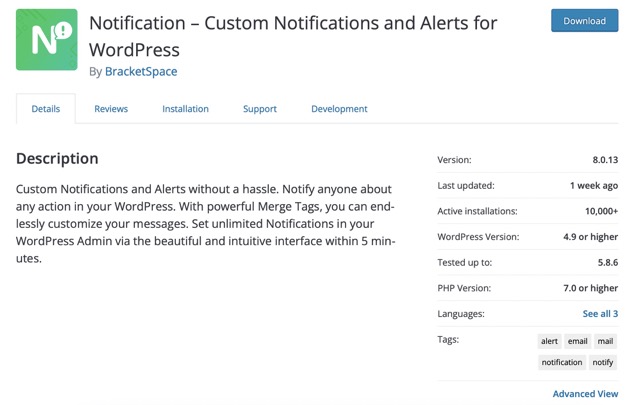 When you have the Notification WordPress plugin at your disposal, you can expect to send a lot of alerts. Setup and initial configuration are quick and painless, and then you're good to go. Send as many alerts as your heart wishes; there is no limit. 
Trigger, notice, and merge tag are the three primary parts of a notification. In its most basic form, sending out alerts entails selecting a trigger, creating a message with merge tags, and designating a list of recipients. 
Though Notification is simple enough for newbies to use, it's also a great option for experts in the field of software development. The Application Programming Interface (API) allows you to make extensive changes to Notifications in order to tailor it to your needs or those of a customer. 
#8. myStickymenu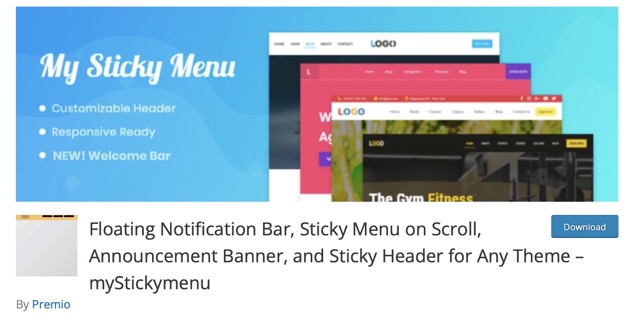 The versatile and useful myStickymenu WordPress plugin may be used for any objective. The helpful myStickymenu app makes it easy to set up a notification bar. The name of this feature comes from the fact that your invention will always be shown on top of the page, or "float," so that the user can easily access it at any time. The notification bar may be configured to your specifications, allowing it to match your brand's aesthetic. 
MyStickymenu's features include fade and slide transitions, user-defined HTML, background and button color, repeating displays, and link rerouting on click. MyStickymenu also allows you to show or conceal the notification bar depending on whether you're using a desktop computer, laptop, tablet, or smartphone. MyStickymenu allows you to be more original in your menu design, which will undoubtedly attract more customers. 
Your website's specific requirements will determine which of the many excellent WordPress push notification plugins is the best fit. All of these are promising options. But if you've never used push notifications before, it's probably best to start with one of the free plugins. A larger company with a sizable fan base may want to start out on the right foot by selecting one of the more expensive plans. These choices often provide additional customization possibilities, individualized assistance, and advanced functionality. 
At last, Pay close attention to the conversion rates of your push notifications regardless of the plugin you choose. You need to make sure the alerts are helping, and more importantly, not driving away, any of your followers.