The first Apple laptop with an M2 processor to hit the market is the 13-inch MacBook Pro 2022 (starting at $1,299). Apple promises a significant improvement in performance, whether you're editing photographs or movies or running many applications simultaneously, despite the fact that the design hasn't changed.
According to our tests, the M2 processor performs admirably, outperforming rival Windows laptops. In numerous benchmarks, the M2 chip outperforms the M1 processor by a wide margin. Additionally, the new MacBook Pro 2022's battery life, which exceeds 18 hours, is among the longest we've observed on a contemporary laptop.
While this notebook features a fresh piece of Apple silicon, the design is outdated. The form factor, connections, display, and webcam are all the same. The new MacBook Air 2022, on the other hand, features a 1080p webcam, a bigger display with smaller bezels, and a thinner, lighter design.
It would be simple to argue that the new MacBook Pro is unimportant and that it would be wiser to wait for its MacBook Air-era cousin. Although there is some truth to that statement, it would be foolish to disregard this product since it is still one of the best laptops for power users.
To find out if the MacBook Pro 2022 is a worthwhile investment, read the remainder of our comprehensive review.
Also Read: Apple Entry-level MacBook Pro M2 Has Slower SSD Speeds Than Its M1 Counterpart
M2 Chip Explanation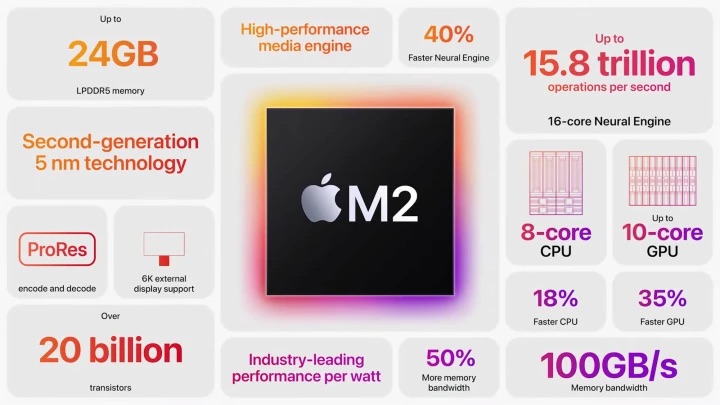 Apple's next-generation System on a Chip (SoC) for Macs and iPads is the M2. It signifies Apple's continuous efforts to move away from the Intel CPUs used in Macs until 2020.
As a "System on a Chip," the M2 integrates a variety of components, such as the CPU, GPU, unified memory architecture (RAM), Neural Engine, Secure Enclave, SSD controller, image signal processor, encode/decode engines, Thunderbolt controller with USB 4 support, and more, which all power the Mac's various features.
Prior to the introduction of Apple silicon, Macs utilised various chips for CPU, I/O, and security. However, Apple's efforts to merge these chips are the reason why the M2 is far quicker and more efficient than Intel processors. Apple's unified memory architecture is also a significant feature, as it enables all M2 technologies to access the same data without having to switch between several memory pools.
Built into the M2 chip, the unified memory architecture allows the CPU, GPU, and other processor components to access the same data pool without the need for data copying. This memory design means that RAM cannot be upgraded by the user, which is not surprising given that few Macs have user-accessible RAM. M2 Macs support up to 24GB of RAM, however 8GB is sufficient for daily tasks.
MacBook Pro 2022 Review: Cost and Configurations
On Apple's website, the M2-powered MacBook Pro may be purchased right now for a starting price of $1,299 (opens in new tab). Although it costs $100 more than the future MacBook Air 2022's $1,199 starting price, this is identical to its predecessor.
A 13.3-inch (2560 x 1600) display, an M2 processor with an 8-core CPU and a 10-core GPU, 8 GB of shared memory, and 256 GB of storage are included in the base model. If you have $2,499 available, you can upgrade to up to 24 GB of unified memory and 2 TB of storage. Our evaluation unit cost $1,899 when configured and had 1 TB of storage and 16 GB of unified memory.
A 67W USB-C power adapter is included with each setup. Either a silver or a space grey finish is an option.
Also Read: Why Buying macBook Air M1 Is Better Choice Than New macBook Air M2
MacBook Pro 2022 design and ports review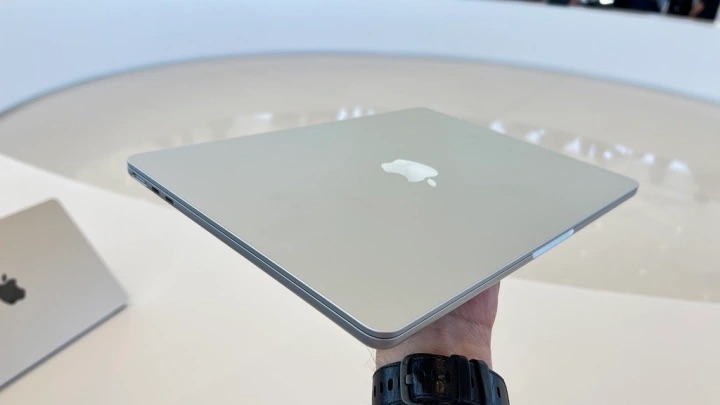 The MacBook Pro 2022 has the same aluminium unibody design that has been in use for almost a decade. This new laptop is not unattractive, but its high bezels and iconic Touch Bar make it appear antiquated in comparison to the MacBook Pro 14-inch, MacBook Pro 16-inch, and MacBook Air 2022.
The port choices is limited, with only two Thunderbolt/USB4 ports and a headphone jack on the left and right, respectively. There are no setups with additional ports available.
The new MacBook Air has the same amount of ports as the MacBook Pro, in all fairness. You could argue that the Air has more available ports than the MacBook Pro 2022 because it supports MagSafe charging.
Apple MacBook Pro 2022: Display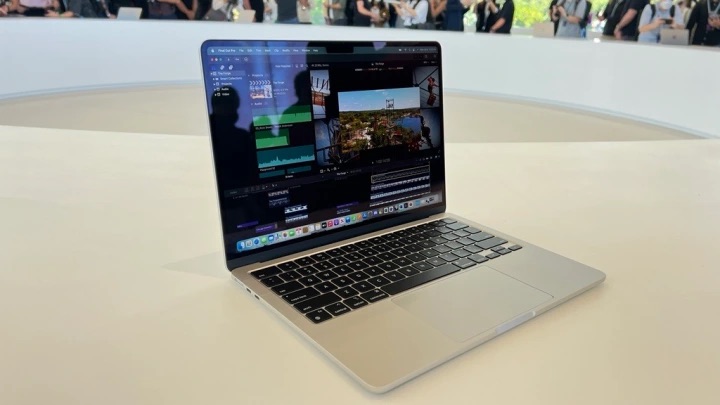 Similar to its appearance, the MacBook Pro features a 13.3-inch Retina display. The display provides sharp images with rich colours. Whether you are seeing the Final Fantasy VII Rebirth trailer on YouTube or Prehistoric Planet on Apple TV+. So, the overall picture quality will not disappoint.
Disappointingly, this Retina Display lacks the stunning image quality of the MacBook Pro 14-inch's brilliant mini-LED Liquid Retina XDR screen. Perhaps I am asking too much, but it would have been good for a machine with "Pro" in its name to have a better display.
The MacBook Pro 2022 averaged 474.6 nits of ordinary brightness and 490 nits of HDR brightness, according to our laboratory tests. Though less than the stated 500 nits, it is brighter than the M1 MacBook Pro's average of 439 nits.
Our colorimeter reveals that the 13-inch MacBook Pro's display produces 109.4% of the sRGB colour space (the closer to 100 percent , the better). Interestingly, this figure is slightly lower than the 111 percent that its M1-powered predecessor produced. The MacBook Pro 2022 scored 77.5 percent in the DCI-P3 colour gamut test, which is lower than the M1 MacBook Pro's 79.2 percent.
Also Read: Enable Screen Saver In Mac Devices Running macOS Ventura
Apple MacBook Pro 2022: Audio
The MacBook Pro 13-inch's dual speakers are just as impressive as they were before, producing crisp and powerful sound that fills an entire room.
The audio in programmes like Waveform: The MKBHD Podcast and UrAvgConsumer's YouTube videos is clear and crisp, giving the impression that you are in the same room as the hosts and guests of those programmes. Songs such as "Egypt (the chains are on)" by Dio and "Sunset Over the Empire" by Arch Enemy lack bass but sound significantly better than they would on most laptop speakers.
While the audio quality of the 14-inch MacBook Pro's speakers is superior, the M2 MacBook Pro's audio is still extremely excellent. In the audio department, though, the Lenovo Yoga 9i Gen 7 with its Bowers and Wilkins speaker system outperforms them both.
MacBook Pro 2022 performance evaluation
Apple promised that the M2 chip that powers the new MacBook Pro and MacBook Air would provide improved performance. Even while the new CPU is not as powerful as the M1 Pro and M1 Max chips, it is a significant upgrade from the original M1 chip. Currently, this is the most powerful 13-inch MacBook Pro base model that Apple has ever released.
The multicore section of Geekbench 5.4, which measures overall performance, yielded a score of 8,911 for the MacBook Pro 2022. This is significantly higher than the M1 MacBook Pro's Geekbench 5.3 score of 7,571. However, the M1 Pro-powered 14-inch MacBook Pro earned an astounding 12,477.
In the same performance test, the new Apple laptop outperformed the finest Windows laptops, including the Asus Zenbook 13 OLED (6,411) and the Dell XPS 13 OLED (5,420). The Lenovo Yoga 9i Gen 7 (7,140) came close to matching the score of the previous MacBook Pro, but even it cannot match the heights reached by the new M2 laptop.
The MacBook Pro performed admirably in our Handbrake video editing test, which included the transcoding of a 4K clip to 1080p. It encoded a video in 6 minutes and 51 seconds, but the M1 MacBook Pro required 7 minutes and 46 seconds to do the same operation.
The Dell XPS 13 OLED required 18 minutes and 12 seconds, and the Yoga 9i required more than 12 minutes. Note that we have not yet tested the new Dell XPS 13 with a 12th-generation Intel processor. But we anticipate improved performance.
Also Read: macOS Ventura: How Is It Different From All Other versions
Graphics and gameplay on the MacBook Pro 2022
The M2 chip is a beast when it comes to manipulating video and audio. However, it is a significant letdown in terms of gameplay, especially with Mac-optimized titles.
Rise of the Tomb Raider obtained an average of only 25 frames per second at 1920 x 1200 resolution and Very High graphics settings. Using a resolution of 1440 x 900, the M1 MacBook Pro produced comparable results. Even while the MacBook Pro 14-inch fell short of the required 60 frames per second, it still managed an average of 39 frames per second. Lara Croft merits better treatment than this.
Even with Sid Meier's Civilization VI: Gathering Storm running at 51 fps compared to the M1 MacBook Pro's average of 38 fps, it is evident that Macs are not yet extremely capable gaming devices. Possibly Metal 3 will be the gaming ace up Apple's sleeve with the release of macOS Ventura, but gaming on Macs is not yet up to par.
Consider rigs like the Alienware x14 or Asus ROG Zephyrus G14 if you want one of the greatest gaming laptops with MacBook Pro portability.
Also Read: Syncing Memoji From iOS To macOS
Review of the MacBook Pro 2022 keyboard, touchpad, and Touch Bar

The MacBook Pro 2022's Magic keyboard is spacious enough for extended typing sessions. This entire review was composed and edited on the laptop without interruption.
When pressed, the backlit keys provide an adequate amount of resistance. I type rather vigorously, yet I did not perceive the keys to be brittle. This is a minor gripe that frequent laptop users will not share. Ultimately, I am a fan of mechanical keyboards.
The touchpad is as responsive and spacious as the keyboard. Its smooth surface makes swiping and other movements simple. Enabling "Tap to click" in the system options eliminated the hollow sound created when tapping the touchpad, which I dislike. Who said Apple did not allow customization?
I have conflicting opinions regarding the Touch Bar. Although I don't particularly dislike the OLED touchscreen that rests above the number pad, I would have preferred function keys. Given that last year's Pro models eliminated the Touch Bar, its presence in the 2022 MacBook Pro is unexpected. This is just another design element of this new gadget that makes it feel obsolete.
MacBook Pro 2022 Webcam review
Regarding relics from the past, let's analyse the laptop's average webcam. A 720p camera is suboptimal in a world where so many people rely on video conferencing for work and to stay in touch with loved ones. This is amplified by the fact that 2021 MacBook Pros and the new MacBook Air will all feature 1080p cameras.
Despite this, the visual quality is not terrible. Even though the image is rather blurry and washed out, you will still appear professional to anybody you are conversing with. Apple said that the M2 improves the overall image quality of the 720p webcam, and based on my experience, I must say this is generally accurate. Acceptable or not, a 720p webcam is difficult to excuse.
Aslo Read: MacBook Air 2022 – All You Need To Know
Review of MacBook Pro 2022 battery life and heat
The M1 MacBook Pro was a durable notebook that did not generate excessive heat. Fortunately, the same can be said for its M2-powered replacement. In fact, it is one of the most durable laptops we have ever examined.
The MacBook Pro 2022 lasted 18 hours and 20 minutes in our Tom's Guide battery test, which included of constant web browsing over Wi-Fi at 150 nits screen brightness. Apple claimed 20 hours of battery life, but this is still very long. In comparison, the new Pro surpasses its M1 predecessor (16:25) and the 14-inch MacBook Pro (14:08). Simply put, the MacBook Pro is capable of lasting an entire workday and beyond.
In comparison, the Snapdragon 8cx-powered Lenovo Flex 5G from the year 2020 lasted 17 hours and 28 minutes. And according to Laptop Mag's list of laptops with the longest battery life, the Dell Latitude 9510 with a runtime of 18:17 is the closest challenger among contemporary laptops.
This laptop, like the 2020 M1 MacBook Pro, does not become excessively heated. Its underside achieved a maximum temperature of 85 degrees. Ten degrees less than what we consider to be unbearably hot for a laptop. Similarly, the touchpad temperature never exceeded 79 degrees.
This is one of, if not the, most silent and cool-running laptops I've ever used.
Review of MacBook Pro 2022 software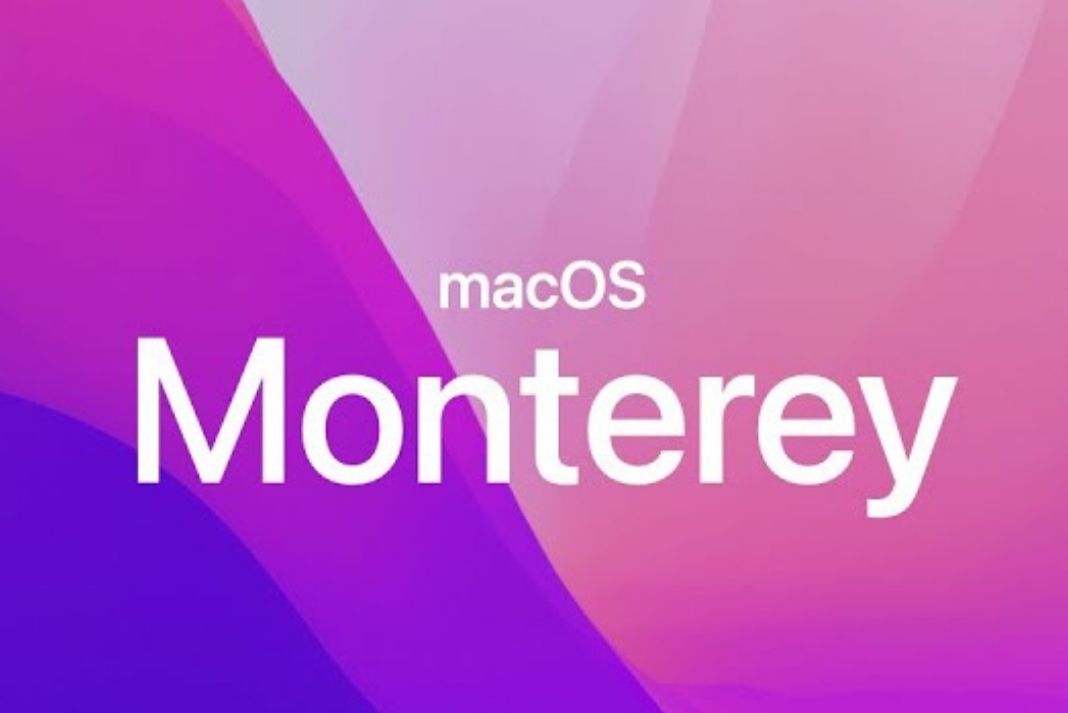 The release of macOS 13 Ventura is slated for Fall 2022. Consequently, the M2 MacBook Pro ships with macOS 12 Monterey. 
You may be new to macOS, but if you've used Windows for years. You may find Apple's operating system to be intuitive and easy to manage. Instantaneously upon clicking, apps launch, and  you are able to maintain a large number of them on screen without experiencing perceptible delay. Not only is macOS a well-designed operating system, but the M2 chip under the hood also contributes to this. It will be intriguing to see what macOS Ventura can do for Macs with M2 processors.
Also Read: M1 And Intel: Top Strategy Games For Mac 2022
Greater Environmental Benefits
With 100% recycled rare earth components in the enclosure magnets and 100% recycled tin in the solder of the main logic board. The new 13-inch MacBook Pro is reducing its environmental effect. The 13-inch MacBook Pro continues to be free of a number of dangerous compounds. Complies with Apple's strict energy efficiency requirements, and uses packaging made of wood fibre that is derived from recycled materials or responsibly managed forests. With a goal of having a net-zero climate effect throughout the whole company by 2030, including all product life cycles and manufacturing supply chains, Apple is currently carbon neutral for its global corporate activities. As a result, every Mac produced by Apple will be completely carbon neutral throughout the entire production process.
Final Verdict
When the MacBook Pro 2022 is first unveiled at WWDC 2022, users are first hesitant. Despite having an M2 processor, the "new" laptop's design appeared antiquated in comparison to the sleek and contemporary MacBook Air 2022. The fact that you spend only $100 more than for the thinner laptop makes it much more difficult to rationalize.
Though I think that the new MacBook Air is the superior value overall. Considerable hands-on testing has altered the opinion of the Pro. The new 13-inch Pro is a highly capable professional laptop. It is objectively one of the greatest laptops available.
The 13-inch Pro's active cooling system, standard 10-GPU cores. Extraordinarily extended battery life make this laptop arguably worth the premium price. And while the M2 chip may not be as strong as the M1 Pro and M1 Max processors. It is significantly more powerful than the M1. As stated previously, this is the most powerful 13-inch MacBook Pro basic model Apple has ever manufactured.
The MacBook Pro 2022 is a substantial advance over its predecessor, design considerations aside. M1 surpasses even the cherished MacBook Air. The new MacBook Pro has therefore earned a slot on our list of the finest laptops.
The MacBook Pro 2022 is a worthwhile investment if you require a laptop with continuous performance and unparalleled battery life. This is especially true for people still carrying around an Apple laptop powered by Intel. However, if you do not need a computer for creative endeavours, you may wish to wait for the new Air.